Petition Calls to Cancel 'Disgraceful' Opera Based on Murder of Emmett Till
A petition has gained traction online as a student at John Jay College in New York City is calling for the planned premiere of Emmett Till, A New American Opera to be canceled.
Mya Bishop first launched her petition earlier this week, which has already received over 10,000 signatures, asking the public to "urge" the college to "cancel the play."
The opera's source material is a 2013 play Emmett, Down in My Heart, written by white playwright Clare Coss. According to Playbill, those critical of the new work take issue with Coss' involvement in the piece as well as its alleged focus on a fictional white woman. The new work is a collaboration between Coss, 86, and Black composer Mary D. Watkins, 83.
The show is set to premiere March 23-24 at John Jay College's Gerald W. Lynch Theatre.
Bishop told Newsweek that when she first learned about the opera, starting a petition felt like something she "had" to do. She said John Jay College is a school that "encourages social activism and says that it cares about social justice."
"So especially being that it, ironically, is an offensive play that will be premiering at John Jay College," she said. "I felt like it was something that I had to do, was speak up about it."
Richard Relkin, director of media relations at John Jay College told Newsweek over the phone that there were some errors stated in the original petition including its implication of the school's involvement and said that the school is not involved in the production of the show.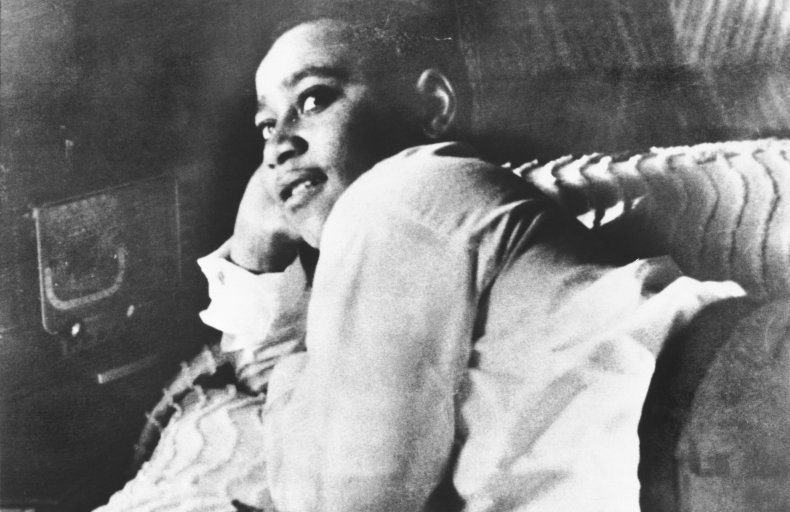 In the text of the petition, Bishop writes:
"If we are going to tell the story of Emmett Till, it should only be from a Black perspective, a Black writer, and permission and approval from Till's family. Clare Coss is out of line for taking it upon herself to turn Black trauma into entertainment and for exploiting a Black tragedy to propel her career and relieve her of her guilt about her whiteness."
Bishop also writes that despite "facing mass criticism" from the Black community, "she has not called off her disgraceful play," referencing Coss.
Emmett Till was 14 years old when he was brutally murdered by two white men after allegedly flirting with a white woman. When his body was recovered three days later, it was so mutilated that he was only identified by an initialed ring, History.com reported.
Till's mother decided to have an open-casket funeral for her only son so the world could see what was done to him. A photo of the casket was featured on Jet magazine and was picked up by mainstream media soon after, according to History.com
Bishop told Newsweek that she finds the idea of "profiting" off of Till's story "odd."
"I think it's a little odd to use Emmett Till's name, story and likeness in this way, especially being that he is deceased," she said. "He did not receive justice, and he cannot receive justice. I think it's odd to generate profit from his likeness and the likeness of his mother, especially as the woman Carolyn Bryant, who's responsible for his death still walks freely."
Bishop said she has not spoken with anyone involved in the production.
"I think, regarding Emmett Till, there are more important things that we can be doing, than making an inappropriate opera about what happened to him," she said. "We can fight for justice. We can say, oh, you know, arrest Carolyn Bryant, which still hasn't been done. You know, I don't think it's the time to make an Opera about it."
Nina Flowers, a spokesperson for Emmett Till, A New American Opera told Newsweek in an email that she feels a lot has been "lost in translation" surrounding this piece of work.
Most notably, she says, is the perception that the story is centered around a white woman and that Coss is the "sole creator."
"It is erroneously asserted that Clare Coss is the sole creator and driver of the opera when, in fact, the opera was co-created with renowned composer Mary D. Watkins, a Black woman. The petition completely minimizes Ms. Watkins' role," Flowers told Newsweek in an email.
"...Both Ms. Coss and Ms. Watkins have worked tirelessly to develop this work together for the last several years and it is such a disservice to her hard work, contributions and input in this piece to suggest otherwise," she continued.
She also explains that the petition's assertion that the play is centered around a white woman is also incorrect and, rather, says the play is primarily centered around the "strength of Mamie Till-Mobley"—Till's mother.
"The opera also addresses other themes and character POVs including the bravery of Till's uncle Mose Wright, the failure of the justice system, and the quandary of the white schoolteacher who represents the concepts of white silence and white supremacy," Flowers said.
"In fact, Ms. Coss has stated that the character is 'not a white savior, she is a coward because she is silent and her arc sees her taking baby steps toward finally speaking up. She represents how white silence enables white supremacy.' However, she is not the main character and the story does not center around her."
Flowers told Newsweek that at the time of Till's murder, Coss was a college student in nearby Louisiana and "vividly remembers" the murder and its impact on her.
"For her part, Ms. Watkins was a teen when Emmett Till was murdered and she has said that this opera is a way for her to share her feelings on it after all of these years of not being able to express it," Flowers said. "As they both lived through that terrible time and it affected and influenced them as individuals, they both feel that it is part of their story."
Pushback for the production also appeared on social media with many people sharing their disdain for the show's existence.
"You know, I was somewhat open to the idea of the Emmett Till opera being made...until I heard it was being written by a white woman, and the plot is centered around their own white guilt. Immediate no. Just dead wrong," one Twitter user wrote.
"Please. I beg of you all. Leave the story of Emmett Till alone. It does not need to be a movie, tv, play, opera. It needs to remain in the history books and that's it. No self-loving Black person wants to see this because the story is too painful," wrote another.
In a statement provided to Newsweek, Watkins says she finds it "very disturbing" that people are condemning the piece without having "seen or heard it."
"They have jumped on the fact that the playwright is white, and assumed all kinds of things about the content of the play. Even though there are many artists of color involved in this project, the critics are assuming that we have had no impact on the final shape of the piece and that the playwright has somehow forced all of us to tell her story. It is an insult to me as a Black woman and to the company members who are African-American," Watkins said.
She also calls Coss an "ally" and "life-long activist" and says she has "every right as an artist to tell the story of Emmett Till."
In a statement provided to Newsweek, Coss explains that she and Watkins have been collaborating on the piece since 2013.
She says the one invented white character in the piece, Roanne Taylor, is a school teacher who "cares, but is silent." She says the silence reflects Martin Luther King Jr.'s "ultimate tragedy: the silence of the good people."
Bishop said she is not planning on attending the production in part because this is just one instance in which "John Jay has made Black students uncomfortable."
"I'm just uncomfortable on campus. I don't want to spend extra time," she said.
She said she is disappointed that "student concerns are not being taken seriously."
"Especially at an institution like John Jay, which says it's 'educating for justice.' They're not taking student concerns seriously, and they're still choosing to welcome this play."
Relkin told Newsweek in an email that Karol Mason, president of John Jay College, held a meeting with students regarding the opera last week and that he believes Bishop was invited and chose not to attend.
However, Bishop told Newsweek that members of the Black Student Union (BSU), as well as honor students, were invited to meet with the president, as Mason was "under the impression" that the petition was started by members of the BSU. Bishop said she is neither a member of the BSU nor an honor student.
"While I did end up getting the information, I got the information 15 minutes before the meeting actually happened," Bishop said. "And I live on Staten Island. So my only option at that point was to join virtually, and I didn't feel like I could get my point across that way."
"I also didn't want to attend the meeting because I knew that Karol Mason would not be stopping the play. So at that point, what would be the reason that I would go just to be disappointed?" Bishop said.
Mason took to Twitter on March 22 to share about the meeting:
"Educating for justice means supporting critical dialogue about challenging issues. Thank you to students who joined me to share multiple viewpoints about Emmett Till, an opera using the theater. Students can engage directly with the opera's creators at a TalkBack after the show," the tweet read.
Though Bishop is not attending the show, she is is considering writing an article about the situation including interviews with people who do attend the production.
Newsweek contacted the Emmett Till Legacy Foundation for comment but did not immediately hear back.
Updated 03/22/22 6:45 p.m. EST: This story has been updated to include comment from Mya Bishop. Newsweek also contacted John Jay College for additional comment based on new claims.
Updated 03/23/22 1:40 p.m. EST: This story has been updated to include comment from John Jay College including a tweet from the college's president. Additional comment from Bishop was also added.
Correction 03/24/2022, 6:42 p.m. ET: This article was updated to correct the spelling of Karol Mason's name.