Six online petitions calling for Congress to deliver monthly stimulus checks of $2,000 until the end of the pandemic have now collectively surpassed 2.3 million signatures.
The largest Change.org petition for recurring stimulus checks—created by Stephanie Bonin, a Denver restaurant owner—asks the U.S. House of Representatives and Senate to pass legislation that will provide monthly "$2,000 payments for adults and $1,000 payments for kids" until the pandemic ends.
At time of publication, more than 2,128,800 people have signed the petition, with over 100,000 new supporters in the past week. If it passes its goal of 3 million, it will become one of Change.org's most signed petitions.
Bonin has regularly updated the petition since it was launched a year ago when former President Donald Trump was in office. Recently, she wrote that the third check of $1,400 passed under President Joe Biden "won't solve our problems."
"People are just too far behind," one update read. "Like we've been saying from the beginning of this pandemic, people need to know when the next check is coming. And the best thing our government can do right now is send emergency money to the people on a monthly basis."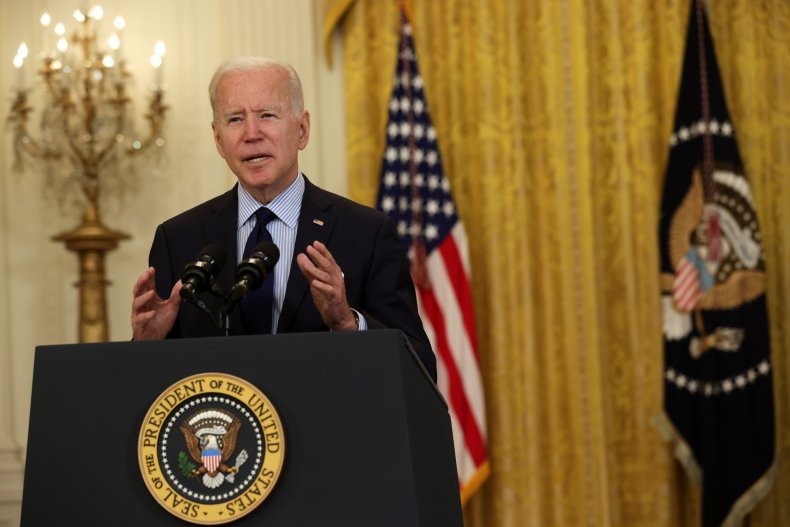 Five smaller ongoing petitions calling for recurring stimulus checks have also continued to gather signatures in recent weeks.
One of the smaller petitions launched under Trump's term, calls for the president to "be a Hero to the People'' by fighting for monthly direct payments. It has garnered nearly 73,000 signatures at time of publication—roughly 2,000 short of its 75,000 goal.
A second smaller petition calling for Biden to deliver "recurring stimulus checks" references Democratic senators who have recently pushed for monthly direct payments. Launched by Tanner Duski, the petition urging political leaders to "GO BIG and GO BOLD right now" has garnered over 53,700 signatures at time of publication, with a goal of 75,000.
A third smaller petition, titled "Immediate $2,000 + for every American per month," surpassed 48,200 signatures at time of publication—less than 2,000 short of its 50,000 goal. Support for the petition increased by 8,000 from 40,000 over the past three months.
A fourth started by Tyson Su calls for the Senate to pass $2,000 per month direct payments throughout the pandemic for unemployed individuals and those earning under $130,000 annually, as well as full rent and mortgage payment forgiveness for primary residences. At time of publication, the petition had passed 29,100 signatures—an increase of 4,000 new supporters from four days prior.
A fifth smaller petition for $2,000 monthly checks launched by Clayton Morris asks "why isn't the richest country in the world" taking care of its citizens. After hitting 25,000 supporters three months ago, the petition had increased to more than 28,400 at time of publication.
The six petitions have collectively drawn more than 2,360,000 signatures and continued to gain support on Saturday.
This year, 74 congressional lawmakers have pushed for recurring checks for the duration of the pandemic.
In January, two months before Biden signed the latest stimulus bill which provided the third check of $1,400, 53 House Democrats urged the president and Vice President Kamala Harris to back monthly direct payments. "One more check is not enough," the group wrote in a letter.
About 21 Senate Democrats joined the effort with their own letter to Biden on March 30.
"This crisis is far from over, and families deserve certainty that they can put food on the table and keep a roof over their heads," the group wrote. "Families shouldn't have to worry about whether they'll have enough money to pay for essentials in the months ahead."
Newsweek reached out to the White House for comment. This story will be updated with any response.