Six ongoing online petitions calling for President Joe Biden and Congress to deliver monthly stimulus checks of $2,000 until the pandemic ends have now collectively passed 3 million signatures.
The largest Change.org petition for recurring direct payments—created by Stephanie Bonin, a restaurant owner in Denver—asks the U.S. Senate and House of Representatives to pass a bill that would provide monthly "$2,000 payments for adults and $1,000 payments for kids" for the duration of the coronavirus pandemic.
More than 2,630,740 have signed the petition at time of publication, with over 242,400 new signatures in the past three weeks. It will become one of Change.org's most signed petitions if it reaches its goal of 3 million. At its current pace, the petition could hit the benchmark in August.
Bonin has expressed confidence that it will. "The most common reason [people sign] is that uncertain feeling," she told Newsweek. "We're still in uncertain times. And it's times like this that it feels like people go back into a fear-based life."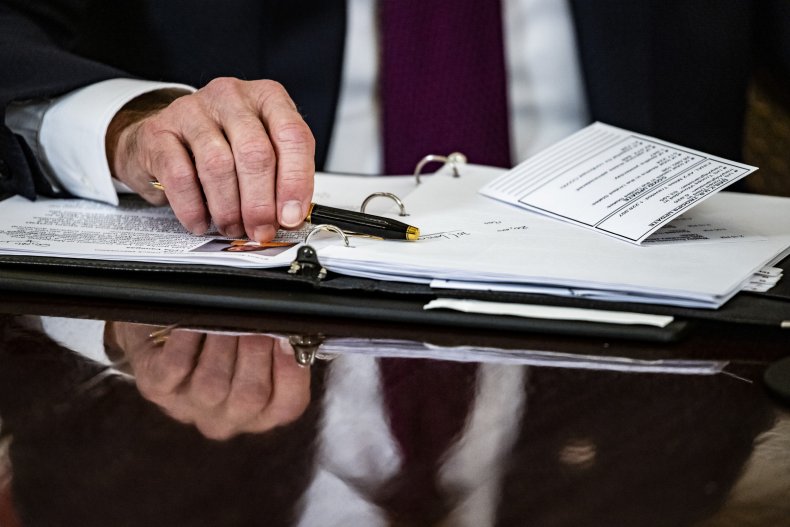 Bonin has regularly updated the petition since it was launched during the first wave of the pandemic under the administration of former President Donald Trump. After Biden signed the $1.9 trillion American Rescue Plan, which included the third check of $1,400, into law earlier this year, she said "our country is still deeply struggling. The recovery hasn't reached many Americans." Bonin added, "We need immediate checks and recurring payments so that we can keep our heads above water."
Five smaller petitions on Change.org calling for recurring cash payments have also gained momentum in recent weeks, as the more-virulent Delta variant continues to spread rapidly throughout the country.
The first smaller petition, launched under Trump, calls for the federal government to "fight for monthly payments and be a hero to the people." More than 73,600 have signed the petition at time of publication—just 1,400 short of its 75,000 goal.
A second smaller petition asks Biden and the two legislative branches of Congress to back a group of senators who have called for the White House to include further stimulus checks in the next federal economic recovery bill. In March, Senators Bernie Sanders of Vermont, Elizabeth Warren of Massachusetts and other progressive lawmakers sent a letter asking the Biden administration to deliver recurring cash payments.
More than 58,300 have signed the petition at time of publication, with nearly 2,000 new supporters in the past month.
A third smaller petition—launched by John Smith and addressed to Biden, his administration and Congress—asks for "immediate $2,000 + for every American per month." Smith initially set a goal of 50,000 signatures, but amended the benchmark to 150,000 after his petition gained more support than anticipated. More than 146,400 have signed the petition at time of publication, with nearly 65,000 new supporters in the past month.
A fourth smaller petition, started by Tyson Su, asks the Senate to deliver $2,000 monthly checks until the pandemic ends for individuals with an annual salary under $130,000 and unemployed people. "Our tax money, our country," the petition said. It has surpassed 125,100 signatures at time of publication, with nearly 32,000 new supporters in the past two weeks.
A fifth smaller petition, spearheaded by Clayton Morris, calls for Americans to demand "$2,000 a month stimulus payments to keep our citizens out of poverty." More than 30,200 have signed the petition at time of publication—about 5,000 short of its 35,000 goal.
The six petitions have drawn over 3,064,140 signatures collectively, and continued to receive support on Saturday.