PGE Power Outage Map, Updates As Unprecedented Planned Outages to Stop Oregon Fire Spread
Thousands of Portland residents are without power as northwest Oregon experiences a windstorm. Extremely critical fire weather conditions are also forecast in parts of Western Oregon and a small part of far southwestern Washington state.
There are currently hundreds of power outages across Oregon, some caused by downed power lines and others by planned public safety power shutoffs.
Portland General Electric (PGE) is experiencing outages in Clackamas, Columbia, Marion, Multnomah, Polk, Wasco, Washington and Yamhill counties, affecting more than 88,000 customers.
Late on Monday night, PGE said that around 100,000 customers were hit by 560 downed power lines.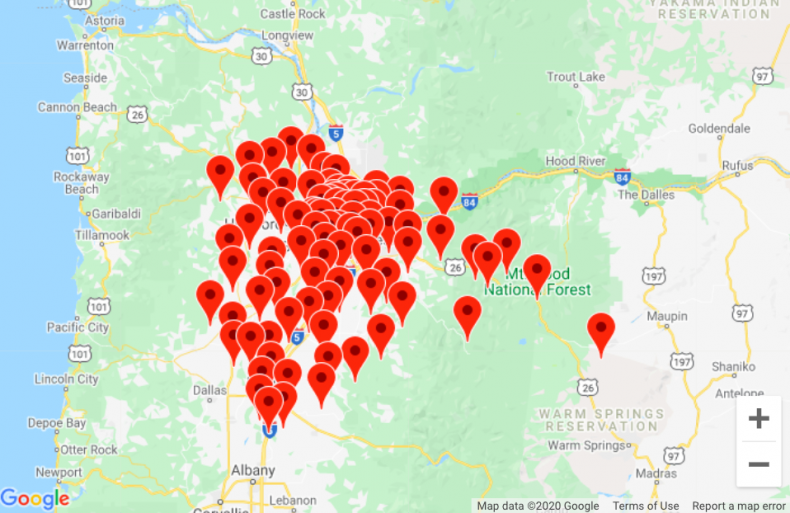 Some outages in the Portland area were caused by a public safety power shutoff to reduce the risk of fires, due to the wildfire danger along the Highway 26 corridor near Mt Hood. Other outages are storm-related outages that have been caused by high winds.
As of 3 a.m. PDT in Clackamas County, 115 outages are affecting 42,021 customers, while there is one outage in Columbia County affecting 47 customers. There are 29 outages in Marion County, affecting 7,002 customers and in Multnomah County, 22,541 customers are affected by 100 outages.
In Polk County, one outage is affecting 1,421 customers, and in Wasco, there is one outage that is affecting one customer. Some 46 outages are affecting 8,745 customers in Washington County, and in Yamhill County, there are 32 outages are affecting 7,773 customers.
PGE said in a statement on its website: "Even in historically wet, mild Oregon, summers are getting hotter and dryer with longer wildfire seasons and the overall risk of wildfires is increasing.
"Because the electrical grid has the potential to cause wildfires, we're doing more now to reduce the risk later, and keep you—and Oregon—safe."
Pacific Power is also experiencing outages, with more than 30,000 customers in Oregon affected by 675 outages.
More than 12,000 Pacific Power customers in Lincoln County are facing outages, while Clatsop, Jackson and Linn counties each have more than 2,000 customers affected by power outages.
Portland Fire and Rescue said on Twitter they are responding to calls of trees falling on houses and branches falling on pedestrians, though there have been no serious injuries.
The Fire and Rescue team is advising people to stay home during the high winds and as the risk of fire is high, Portland residents are urged not to light outdoor fires and to use caution if using barbeques.