Phil Klay Nabs Fiction Prize at National Book Awards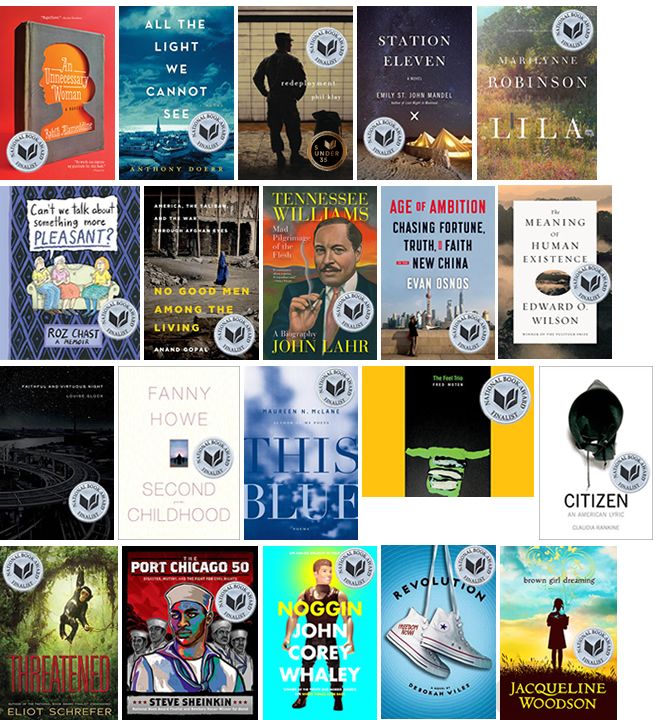 A U.S. Marine Corps veteran, a New Yorker staff writer, a former U.S. Poet Laureate, and an African American author who grew up as a Jehovah's Witness took top honors at the National Book Awards Wednesday night. The winners were announced at a ceremony and benefit dinner for the National Book Foundation in New York City.
"This night is being described as like the Oscars, if nobody gave a shit about the Oscars," quipped author Daniel Handler, who hosted the ceremony. "But we do. For us this is pretty glam."
Handler, best known for his bestselling collection of books, A Series of Unfortunate Events, written under the pen name Lemony Snicket, combined humor with a reverence for literature throughout the evening.
"Let us take a moment to marvel at the nominees," he said. "An old Lebanese woman losing her grip… the tension and horrors of WWII, the Iraq War, the Afghanistan war and the apocalypse. The fiction committee really knows how to party."
The fiction committee awarded its prize to Phil Klay for Redeployment while Evan Osnos won in nonfiction for Age of Ambition: Chasing Fortune, Truth, and Faith in the New China, Louise Glück won in poetry for Faithful and Virtuous Night and Jacqueline Woodson won in young people's literature for Brown Girl Dreaming.
The foundation announced its 20 finalists in the categories of young people's literature, fiction, nonfiction, and poetry last month. Separate panels of judges had whittled them down from an even longer list of candidates, which they read over the summer. Each committee met for lunch Wednesday to make its final decision, said David Steinberger, National Book Foundation chairman.
On Tuesday, the finalists attended a private medal ceremony where they each received $1,000, a medal and a citation. An annual "Finalists Reading" followed, during which each writer read an excerpt from their nominated book. The event was open to the public and live streamed online.
The winner of each category received $10,000 and a bronze sculpture.
Before the winners in fiction, nonfiction, poetry and young people's literature were announced, two additional awards were presented.
Mary Pope Osborne, a children's book author famous for the Magic Tree House series, presented the 2014 Literarian Award for Outstanding Service to the American Literary Community to Kyle Zimmer, founder of First Book, an organization dedicated to "overcoming childhood illiteracy and promoting educational equality."
Zimmer "has built [First Book] from an idea to an award-winning social enterprise," since its inception in 1992, Osborne said, using market principles to solve a social issue. The organization has distributed more than 120 million free and low cost books.
Writer Neil Gaiman also presented the foundation's 2014 Medal for Distinguished Contribution to American Letters, a lifetime achievement award, to Berkeley-born Ursula Le Guin, a writer best known for science fiction and fantasy stories whose work includes 22 novels, seven books of poetry and 13 children's books.
Gaiman, who is known for his fantasy, science fiction and children's literature books and said he grew up on Le Guin's books, called her "a giant of literature who is finally getting recognized," he said. "She made me a much better writer and more than that, she made me a much better person who wrote," he added, referring to her bold exploration of issues like gender. Le Guin was the recipient of a National Book Award in 1973 for her novel The Farthest Shore.
Wednesday's event is part of National Book Award Week, which began with a celebration Monday of this year's "5 Under 35" authors, recognizing Yelena Akhtiorskaya for Panic in a Suitcase; Alex Gilvarry for From the Memoirs of a Non-Enemy Combatant; fiction-winner Phil Klay for Redeployment; Valeria Luiselli for Faces in the Crowd; and Kirstin Valdez Quade for Night at the Fiestas.
On Wednesday morning, Gaiman and Daniel Handler handed out free books in Manhattan's Washington Square Park. Friday through Sunday, finalists and winners will appear at Miami Book Fair International.
The winners are the most recent additions to a list of literary greats who have won in previous years, including William Faulkner, Ralph Ellison, John Cheever, Bernard Malamud, Philip Roth, Norman Mailer, Saul Bellow, Alice Walker, and Colum McCann.
Last year James McBride won the fiction category for The Good Lord Bird; George Packer took nonfiction for The Unwinding: An Inner History of the New America; Mary Szybist won in poetry for Incarnadine; and Cynthia Kadohata received the award for young people's literature for The Thing About Luck.
The books she and her fellow fiction committee members read explore "the exhilaration of being a human being," said Pulitzer Prize-winning author Geraldine Brooks, who presented this year's fiction award to Klay. They are "about the amazing power of art to elevate our spirits, about the redeeming power of faith and the healing power of love."
Brooks said she was thrilled "to see the richness of the writing that is being done in a single year."