Phil Murphy Survives Close NJ Governors Vote After Disastrous Run for Progressives
Governor Phil Murphy narrowly beat back Republican challenger Jack Ciattarelli Tuesday in a tight race to become the first Democrat to be reelected governor of New Jersey in 44 years.
The 64-year-old Democrat managed to do what no other member of his party has done in his state since Brendan Byrne was reelected in 1977. The last two sitting Democratic governors, Jim Florio and Jon Corzine, lost to Republicans when seeking another term.
However, Murphy just barely managed the victory, with the vote count remaining too close to call until 6:30 p.m. Eastern Time on Wednesday when the Associated Press called the election.
Though Murphy won, other high-profile races spell serious trouble for Democrats, as the GOP may have landed on a successful playbook for 2022 and beyond. Voters across the country appeared to send a message to Democrats on Tuesday, with the election of a Republican in Virginia, a law and order Democrat in New York City, an anti-socialist candidate in Buffalo, New York and the rejection of a measure that would have replaced police in Minneapolis with a "public safety" team.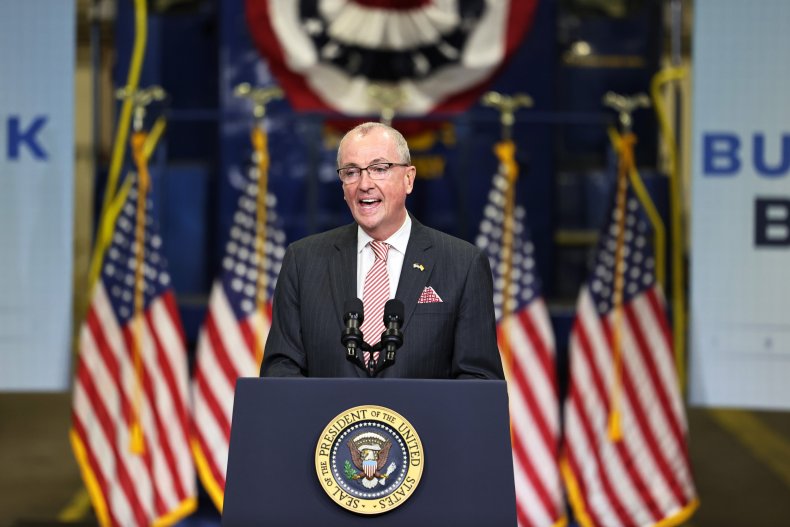 Though the Garden State has over a million more registered Democrats than Republicans, voters there have supported GOP candidates over the years, including recent two-term Governors Christie Todd Whitman and Chris Christie.
Murphy's campaign constantly linked Ciattarelli, 59, to former President Donald Trump, but the strategy was questioned in recent weeks as President Joe Biden's approval rating in New Jersey continued its downward trajectory.
Ciattarelli, for his part, neither distanced nor aligned himself with Trump while on the campaign trail. Although he backed the divisive former president in 2020's election and has been seen by many as a Trump ally, Ciattarelli has largely avoided bringing him up.
"I go out there and campaign on my own," Ciattarelli said during the second gubernatorial debate in October when asked about Trump. "I'll win my own election."
However, a TV ad from Murphy's campaign attacked Ciattarelli for attending a "Stop the Steal" rally in Bedminster, New Jersey, in November 2020. Trump remains largely unpopular in New Jersey, as he is in New York state.
Ciattarelli acknowledged attending the Bedminster rally but has claimed he wasn't aware of the event's theme. During an October rally in Newark for Murphy, former President Barack Obama questioned Ciattarelli's honesty.
"Apparently Phil's opponent says, well, he didn't know it was a rally to overturn the results of the last election. He didn't know it. Come on," Obama said. "When you're standing in front of a sign that says 'Stop the Steal' and there's a guy in the crowd waving a Confederate flag, you know this isn't a neighborhood barbecue."
More than their views on the former or current president, New Jersey voters may have chosen their governor based on two central issues in both campaigns: taxes and COVID-19.
Whenever he had the opportunity, Ciattarelli reminded voters that New Jersey homeowners pay the highest property taxes in the country. But Murphy never fought back on high taxes and instead embraced their existence, telling WNYC that New Jersey residents get what they pay for.
"That means the best public schools in America," Murphy told the station. "It means among the best health care systems in America. It means a location second to none that we need to invest aggressively in."
Murphy was also seen as a steady and calm leader throughout the coronavirus pandemic. Though he never received the same adulation as the now scandal-ridden Andrew Cuomo, New York's former governor, Murphy quietly managed the public health crisis in his state. The fact that he did so soon after undergoing surgery for a cancerous kidney tumor also showed his grit, especially when he got updates from this hospital bed.
Meanwhile, Ciattarelli does not support mask mandates for school kids or vaccine mandates, but polls show heavy support for those measures in New Jersey.
On Monday, Murphy said New Jersey is aiming to move past the image it had under Christie, saying that during that time the state was "constantly on lists you don't want to be on."
"I'm here to tell you: Those days are over," Murphy told a crowd of supporters in South Orange. "We have turned a page to a new era in New Jersey, and we're not going back."
On the same night as Murphy's victory, Republican Glenn Youngkin cruised to victory in Virginia's gubernatorial race against Terry McAuliffe, with a campaign that largely consisted of a platform against critical race theory being taught in schools. Youngkin vowed to ban teaching CRT, while McAuliffe said he didn't believe parents should dictate what their children are taught.
In New York City, former police officer Eric Adams was elected the next governor, as crime and public safety became a hot button issue in the city. Adams rejected the idea of defunding the police, which became a rallying cry of some protesters in the last few years.
Meanwhile, in Minneapolis, voters rejected a measure that would have gotten rid of the city's police department and replaced it with Department of Public Safety. And in Buffalo, self-proclaimed Democratic Socialist India Walton was defeated by Byron Brown, the former mayor who ran as a write in candidate rallying voters against socialism.