Video of Philadelphia Residents Dancing in the Streets as Biden Takes Lead in Pennsylvania Goes Viral
A video of West Philadelphia residents dancing in the street as Joe Biden takes the lead in the state has gone viral.
The former vice president is on the cusp of winning the 2020 election as key battleground states Pennsylvania and Georgia flipped in his favor today.
As two crucial states turn blue, Donald Trump's chances of being re-elected are gradually slipping away, as his team continues to allege voter fraud.
The news of Biden's success in the City of Brotherly Love has gone down well with voters there.
Local news reporter Ellie Rushing of the Philadelphia Inquirer shared the joyful video to Twitter Friday morning.
"West Philly reacts to Biden's lead in Pennsylvania by dancing in the street, of course," Rushing tweeted.
A number of residents can be seen outside houses in a suburban area dancing (socially distanced) to Diana Ross' celebration anthem "I'm Coming Out" as passing cars honk in the background in solidarity.
The feel-good video has been viewed more than three million times at the time of publishing, with more than 200,000 likes.
Renowned filmmaker Ava Du Vernay responded to clip, tweeting: "I wanna be like this! Getting my playlist together to blast my street with Black celebratory classics!"
While another person replied to say: "This is the best thing I have seen in a long time. Tears of joy."
Another added: "this looks like the ending of a feel-good movie."
"Don't we all feel this way right now? Absolutely joyous," actor and filmmaker Paul Feig added.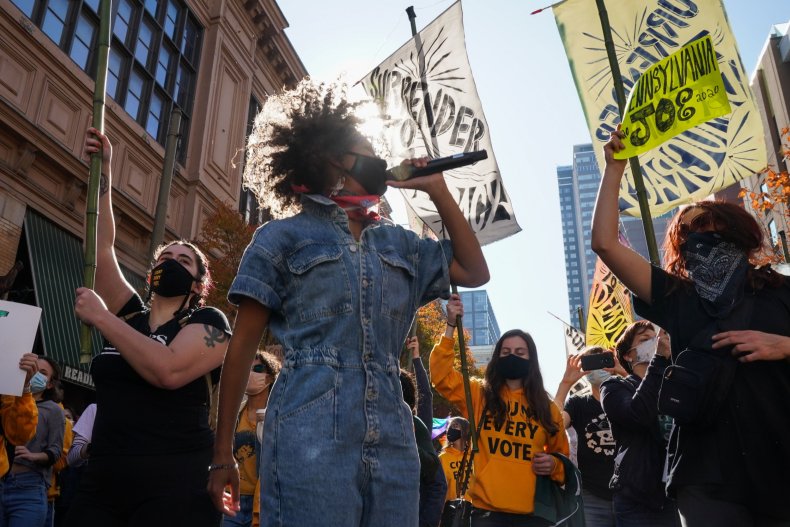 Elsewhere in the city, hundreds have gathered for a "Count Every Vote" block party organized by Democrat groups in the city. Many also gathered outside the Pennsylvania Convention Centre where votes are being counted, where more singing and dancing took place.
News of Biden taking the lead in the Keystone State also prompted a flurry of memes online.
A Biden win in Pennsylvania would give him 20 more electoral college votes to a total of 273, taking him over the line of the 270 needed to win the presidency.
Biden also narrowly edged ahead of Trump by in Georgia in the early hours of Friday morning, and later increased his lead over the president in Nevada.