Philadelphia Rules Prompt Mask Mandate Reinstated, Despite Low COVID Levels
Philadelphia announced Monday plans to reinstate the city's indoor mask mandate over rising numbers of COVID-19 cases.
The city was one of many in the United States to rescind its mandate within the past few months as the winter's Omicron-fueled surge lessened. But next Monday, it is set to become the first to reinstate the mandate amid a rising, but still relatively low number of cases.
The health department announced the move on Twitter, pointing to "increasing COVID-19 cases." The mandate will go into effect on April 18 to allow for "a one-week educational period for businesses" and will apply to all indoor public spaces, including schools and childcare settings.
"The mask mandate is tied to the COVID Response Levels, and as COVID cases rise in Philly, we want to protect our most vulnerable residents. Wearing a mask around others is an easy way to do that," the health department wrote.
The move is required by the city's self-imposed response levels.
An indoor mask mandate is triggered when the city enters its level two response—which is when the daily average of new cases reaches 100, hospitalizations reach 50 or when cases increase by at least 50 percent in the previous 10 days.
On Monday, the city had an average of 142 new cases per day, according to the health department.
"This looks like we may be at the start of a new COVID wave like Europe just saw," Philadelphia Health Commissioner Dr. Cheryl Bettigole said. "Our city remains open. By wearing masks consistently we can continue to go about our daily lives and continue to take part in the life of our city without contributing to increasing transmission of COVID-19."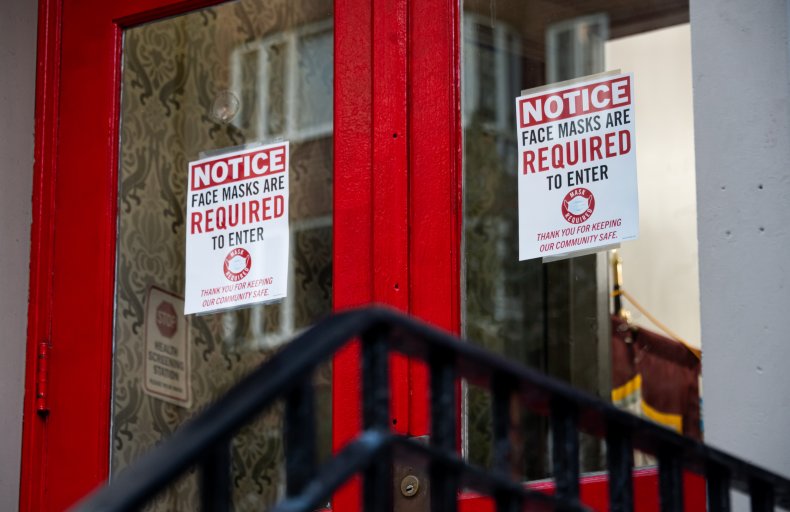 The mask mandate previously ended on March 2, meaning the city had just more than one month with no mask rules.
The decision quickly received pushback from some businesses. The Pennsylvania Restaurant & Lodging Association wrote in a statement they are "extremely disappointed" about the mandate being reinstated.
"This announcement is a major blow to thousands of small businesses and other operators in the city who were hoping this spring would be the start of recovery," the statement said.
Coronavirus cases have slightly increased in recent weeks across the United States, but remain much lower than when they peaked in January.
On Sunday, the U.S. had a daily average of 39,148 new cases per day, up from 30,371 two weeks earlier, according to Johns Hopkins University.
Other parts of the world, including parts of Europe and eastern Asia, have seen higher rates of the virus than the U.S. Some experts have suggested the U.S. could again see a new wave in COVID-19 cases tied to the BA.2 sub-variant.