Omicron BA.2 COVID Variant Symptoms Explained As New U.S. Wave Possible
Another COVID wave could be on its way in the U.S. as the spread of the COVID sub-variant BA.2 continues, experts have said.
BA.2, a sub-type of the Omicron variant, was estimated to have been found in around 35 percent of U.S. COVID samples between March 13 and March 19, according to the most recent variant proportion data released by the Centers for Disease Control and Prevention (CDC).
This prevalence marks an increase from an estimated 22.3 percent the previous week and 12.6 percent the week before that. The sub-variant's increase can be seen in the graph below, from Statista.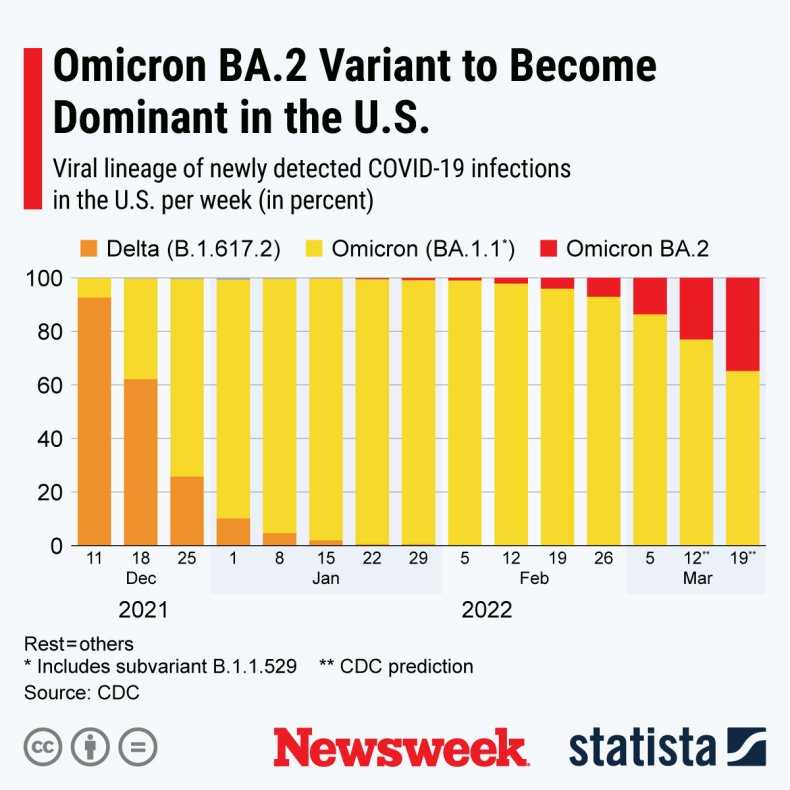 Experts told Newsweek last week that BA.2 could become the dominant COVID type in the U.S. this spring.
Yet U.S. COVID cases in general remain low compared to a couple of months ago. Figures have plummeted from an Omicron-driven winter peak of more than 800,000 infections per day, to less than 30,000 per day.
In some European countries, including the U.K., France and Italy, cases are on the rise once more despite those countries already having experienced Omicron peaks of their own over winter. The U.S. might soon follow.
"This is very much something I've been following," Matthew Fox, professor of epidemiology at Boston University, told Newsweek. "I do think that we are going to see a new wave here in the U.S. much like we are seeing in Europe. This is because we expect waves of infections to occur periodically, with the hope that over time, those waves get smaller and smaller and are less deadly.
"We are increasing our interactions and reducing our mitigation steps at the same time there is now a more infectious variant coming—the new Omicron sub-variant. But at the same time, we are in a better position than in Europe in that they never really reached the lows we are seeing now."
Raina MacIntyre, head of the Biosecurity Research Program at the Kirby Institute, University of New South Wales in Sydney, Australia, also thinks a surge in cases could be on the way in the U.S.
She pointed to factors such as a slow booster vaccine uptake and lack of immunity from Omicron generally. "That does not bode well for the U.S., especially with most states dropping mask mandates and other mitigations," she told Newsweek. "Availability of testing and uptake of testing can also affect apparent case numbers. I think we will see a surge in the U.S. within the next few weeks."
Symptoms of BA.2
There is still not much information available about the specific symptoms caused by BA.2 in comparison to BA.1—the Omicron sub-type that has generally been the dominant form so far.
Tim Spector is one of the founders of the ZOE COVID symptoms study—a U.K.-based COVID surveillance project that collects reports of symptoms from participants.
Asked whether the ZOE team had noticed any change in reported symptoms between BA.2 and BA.1, Spector told Newsweek: "We are not seeing any obvious change in symptoms—just more cases!"
Spector shared a list of symptom prevalence from people who had tested positive for COVID, most of whom were estimated to have caught BA.2, he said.
Top of the list with a prevalence of 80 percent was a runny nose, followed by headache, fatigue, sore throat and sneezing, all with a prevalence of between 65 and 70 percent.
A persistent cough was reported by 50 percent of people and other symptoms such as fever and altered smell were reported in 31 and 23 percent of people respectively.
This tallies with a ZOE press release from earlier this year, which stated that Omicron "may feel more like a cold to many of us." It should be noted that Omicron still has the potential to make some people very, even fatally, ill.
However, this is not a definitive list of BA.2 symptoms. Plus, as Dr. David Cutler, family physician at Saint John's Physician Partners in Santa Monica, California, told Medical News Today earlier this year: "It seems quite notable that people affected by the same variant may experience quite different symptoms."
Update 03/23/22, 12:40 p.m. ET: This article was updated to add a graph about BA.2.