Police in Philadelphia found a van filled with explosives on Wednesday night—as the tensions prompted by the police killing of Black man Walter Wallace continued for a third night.
They recovered propane tanks, torches and possible dynamite sticks from the van at Logan Circle in Center City, WPVI reported.
The bomb squad has launched an investigation, the station reported. It was not immediately clear if any arrests had been made. The Philadelphia Police Department has been contacted for comment.
Police fatally shot 27-year-old Walter Wallace Jr. in the 6100 block of Locust Street in the Cobb Creek neighborhood on Monday afternoon.
A video posted on Twitter shows Wallace walk into the street while two officers with their guns pointed at him move backwards. Shouts of "put the knife down!" are heard moments before a series of gunshots ring out and Wallace drops to the ground.
"Bro, they just killed him in front of me," a man's voice is then heard saying. "Y'all ain't have to give him that many f***ing shots!"
Philadelphia police have said Wallace was armed with a knife, had not obeyed orders to drop the weapon and had "advanced toward" the officers.
Wallace's family said he had a history of mental health problems and was on medication. His mother, Catherine Wallace, said she had tried to defuse the situation and pleaded with the officers not to shoot.
Hours after Wallace's death, protests that escalated into rioting and looting erupted in Philadelphia and continued on Tuesday night.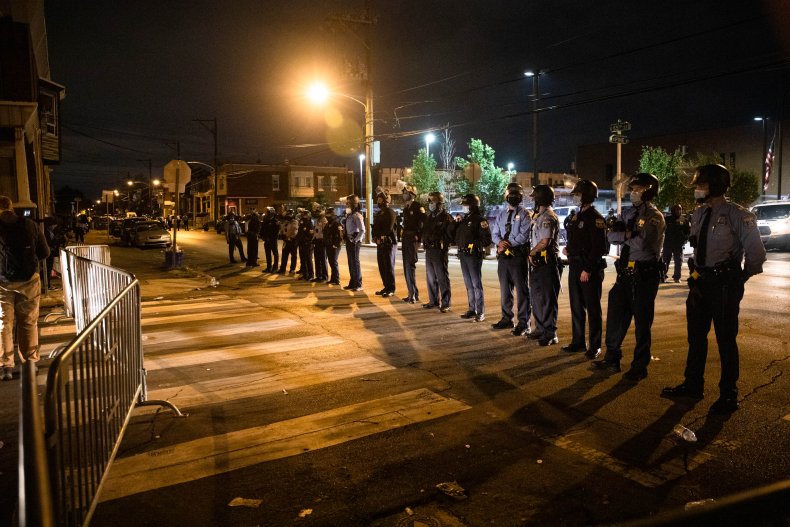 Philadelphia Gov. Tom Wolf called in the National Guard. A 9 p.m. curfew was declared on Wednesday night, to remain in effect until 6 a.m. Thursday. There were no reports of serious unrest after the curfew took effect, The Philadelphia Inquirer reported.
The city's police commissioner, Danielle Outlaw, has vowed to release 911 audio and body camera footage after Wallace's family reviews the material. At a news conference on Wednesday, Outlaw said the police department doesn't have a mental health unit, but she would like to implement one "as soon as possible."
On Twitter, Philadelphia Mayor Jim Kenney said the footage is expected to be released "in the coming days."
"I know our city is still hurting. Many Philadelphians are rightfully feeling outraged following the shooting of Walter Wallace, Jr. I thank those who have joined in our shared call for peace in Philadelphia as we seek justice," Kenney said. "We're committed to a thorough investigation."
Announcing the curfew, Kenney also said it was clear that many people "were taking advantage of the situation" by looting businesses.
"The looting that has taken place is distressing, and it is clear that many of these folks are taking advantage of the situation, harming our businesses and communities, and doing a great disservice to those who want to protest the death of Walter Wallace, Jr.," he said.