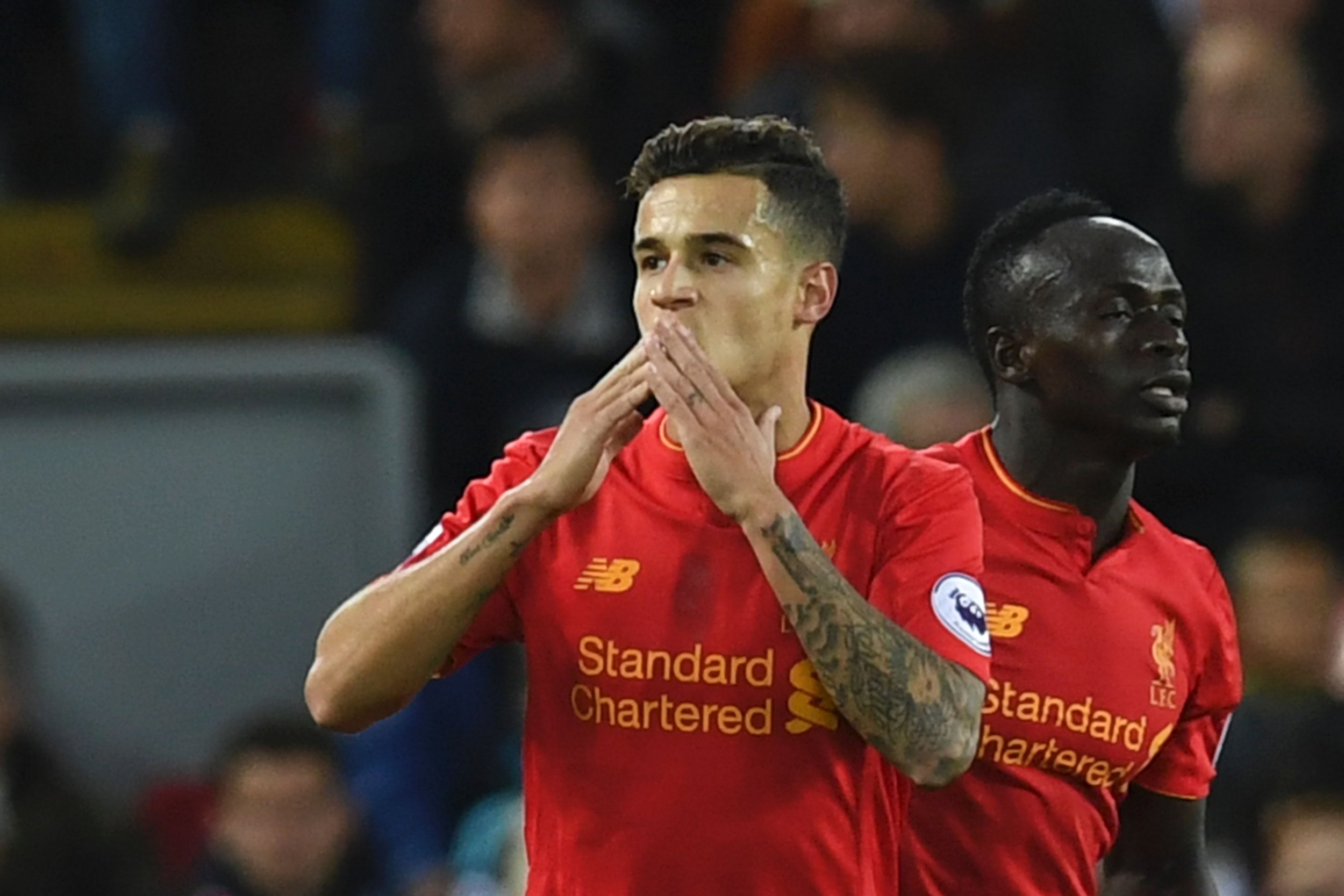 As Philippe Coutinho has grown into one of Liverpool's, and by association the Premier League's, very best players, so the murmurs have grown louder.
Sport—the Barcelona-based newspaper, it should be noted—claimed on October 30 that Coutinho, 24, has been "liked by Barcelona for a long time and would love to wear the Blaugrana [Barcelona nickname] shirt."
Now, it is not much of a stretch to imagine that Coutinho inspires at least a liking in most football clubs in the world. Tranmere Rovers, across the Mersey from Liverpool, almost certainly like Coutinho, but for a football transfer to take place that feeling must be reciprocated.
Hence why the second part of Sport's claim should be worrying for Liverpool's owners, manager Jurgen Klopp and its fans.
The lure of Barcelona can be almost impossible to resist, as Liverpool found out when it lost Luis Suarez to La Liga in the summer of 2014. Suarez departed Liverpool as one of world football's great strikers and has gone beyond himself at Camp Nou, with almost a goal a game.
Coutinho is not yet at Suarez's level in terms of quality, while he may never reach the Uruguayan in importance to his club because Klopp's attacking system relies on four or five players in concert, rather than two—Suarez and Daniel Sturridge–leading a bit-part orchestra.
But it is undeniable that this season, Coutinho has taken a giant leap to become Liverpool's most consistently brilliant attacking threat. Against Crystal Palace in the 4-2 victory at Selhurst Park on Saturday he was superlative, twisting the home defenders into knots. Coutinho's dual weapons—his passing is as good as his dribbling—make him an almost unique talent in the modern professional game.
Almost, because for more than a decade Barcelona has had its own superlative creative player in the midfield. But Andres Iniesta is 32 and injured, and a sinkhole has opened up in the Barcelona side without him.
Against Granada at the weekend in a 1-0 victory, Denis Suarez, signed from Villarreal in the summer, was used in Iniesta's roving attacking midfield role. The experiment was unconvincing.
Andre Gomes performed better in the role during the 3-1 defeat to Manchester City on Tuesday—Marca praised him for "stepping up" amid poor displays from Ivan Rakitic and Sergio Busquets—but it is not yet clear whether the 23-year-old Portuguese is the long-term answer, either.
Where Iniesta has been so dangerous for so long for Barcelona is in taking the ball from the left wing and driving towards the 18-yard box, whereupon he can play the one-two or assist Barcelona's attacking trident.
Coutinho, too, has been excellent in that role for Liverpool. While the word is that Barcelona thinks it is sufficiently stocked in attacking midfield, it will soon need to think about replacing the almost irreplaceable in Iniesta. Right now, there are a select few players in world football who could come close to doing that. Coutinho is one. Expect the murmurs to turn into roars in the next two seasons.
About the writer
Sportswriter at Newsweek.