Philippines President Duterte: 'My Only Sin Is the Extrajudicial Killings'
Populist Philippine President Rodrigo Duterte made a stunning admission on Thursday, telling government executives the only "sin" he was guilty of was "extrajudicial killings."
This was the first time that Duterte, whose brutal and unrestrained war on drugs has left thousands dead since he took office in 2016, admitted to extrajudicial killings by Philippine authorities, which could add weight to two official complaints against him that are currently before the International Criminal Court.
Speaking to government officials at the presidential palace in the capital city of Manila, he said he told the country's armed forces and police to remove him from his post if they weren't happy with his performance, The New York Times reported.
"I told the military, what is my fault? Did I steal even one peso?" Duterte said. "My only sin is the extrajudicial killings."
The president did not elaborate on his comment, but human rights groups and domestic political opponents have consistently accused Duterte's government of an overzealous "shoot first ask questions later" approach to anti-drug enforcement since the president took office.
Casualty estimates vary, and definitive numbers are difficult to ascertain. Human Rights Watch claims that at least 12,000 people have been killed since the crackdown began, of whom more than 4,000 were killed by security forces. Government estimates are even higher at around 20,000, though it appears no one really knows the extent of the violence.
The majority of deaths have been attributed to unidentified gunmen and categorized as homicides. Duterte has publicly encouraged citizens to take justice into their own hands, once declaring, "Do it yourself if you have the gun—you have my support." The drug war has become a convenient way for private citizens and authorities to settle scores with a ready-made justification.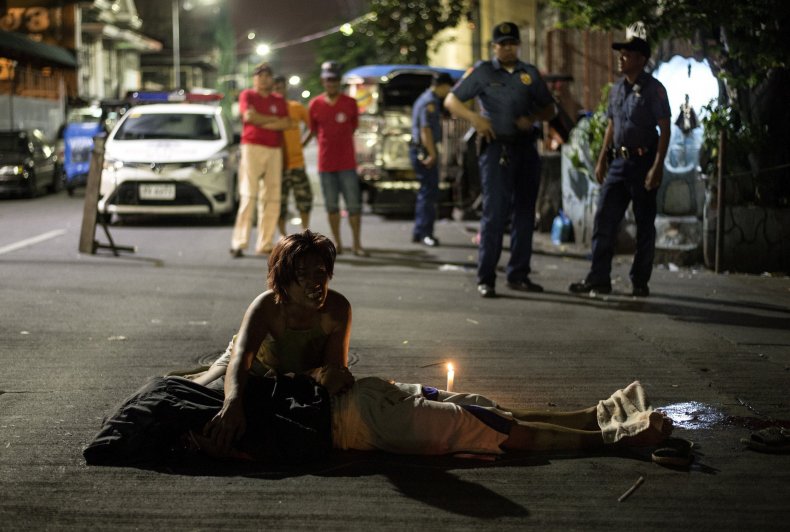 Police have argued that all killings carried out by officers were justified, as suspects were resisting arrest or were armed. Human rights and opposition groups have dismissed these suggestions. Witness statements and video footage also indicate this is not true.
The first of the two criminal complaints sent to the International Criminal Court come from two men, both self-described assassins who claimed they killed for Duterte when he was mayor of the southern city of Davao.
The second complaint was brought by the relatives of eight people killed in the drug war. It accused Duterte of crimes against humanity, citing the thousands of deaths under his stewardship.
The president has been bullish in opposing International Criminal Court investigations, telling police officers earlier this year not to cooperate with any investigators. "When it comes to human rights, or whoever rapporteur it is, my order to you: Do not answer. Do not bother," he told officers.
Addressing the International Criminal Court directly, he asked, "And who are you to interfere in the way I would run my country? You know very well that we are being swallowed by drugs."
Duterte has vowed to continue his anti-drug crusade until he leaves office in 2022. "It will not end," he said. "As I have said, I will put on the table my life, the presidency. I can lose it anytime. My honor."