Dead Vice Mayor in Philippines is Third Official Murdered This Week
Philippine Vice Mayor Alexander Lubigan was shot dead on Saturday by two gunmen in a van, the third official to die in the past week, according to a report by the Associated Press.
Unlike the death of two mayors earlier this week, no video footage is available to the press featuring Lubigan. The Vice Mayor representing Trece Martires city was outside a hospital when he was shot. Another investigative team has been formed to find the motive and identity of the killers. No information is publicly available about whether Lubigan was tied to the drug trade. The number of officials that have died since Duterte's presidency began in June 2016 is estimated to be at least 13.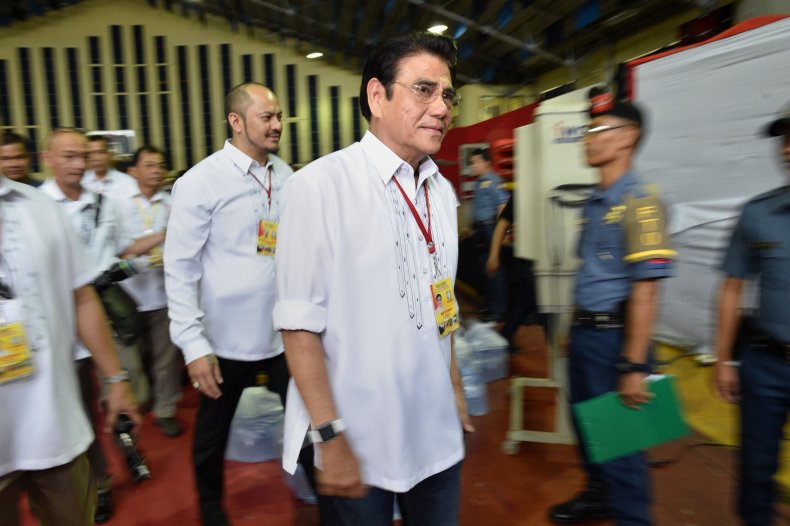 "The series of killings has renewed calls for more effective gun control in a country long plagued by a surfeit of unlicensed firearms," the AP report said.
The estimated number of guns held by civilians in the Philippines is just above 3.7 million, 2 million of which are estimated to be unlicensed, according to a report from GunPolicy.org. The website provides academic information on the rules and regulations for guns in each country. In a June 2017 report from the Graduate Institute of International and Development Studies in Geneva, only 450,000 of the four million guns in the country belong to military firearm holdings.
In the 2018 Global Peace Index, the Philippines ranked 137 of 163 countries, knocked down by one ranking since last year. The political terror score for the Philippines rose since President Duterte started a war on drugs.
Dubbed "the murder capital of Asia," the situation follows former Mayor Ferdinand Bote's death on Tuesday. Bote was shot by gunmen on motorcycles in a tinted Toyota Fortuner. Police found 18 shells at the scene of the crime, and Bote was pronounced dead after being rushed to the MV Gallego hospital.
On Monday, former Mayor Antonio Halili was shot singing the national anthem at a ceremony. The song sung in a chorus by a crowd, raises their voices to shrill screams as the video recorder's voice exclaims "Oh my God" and the crowd runs away from the sound of the gunshot.
Police have not confirmed these murders are connected.