Philly Police Scanner Reveals Horrific Scenes in Philadelphia As Fans Riot After Super Bowl Victory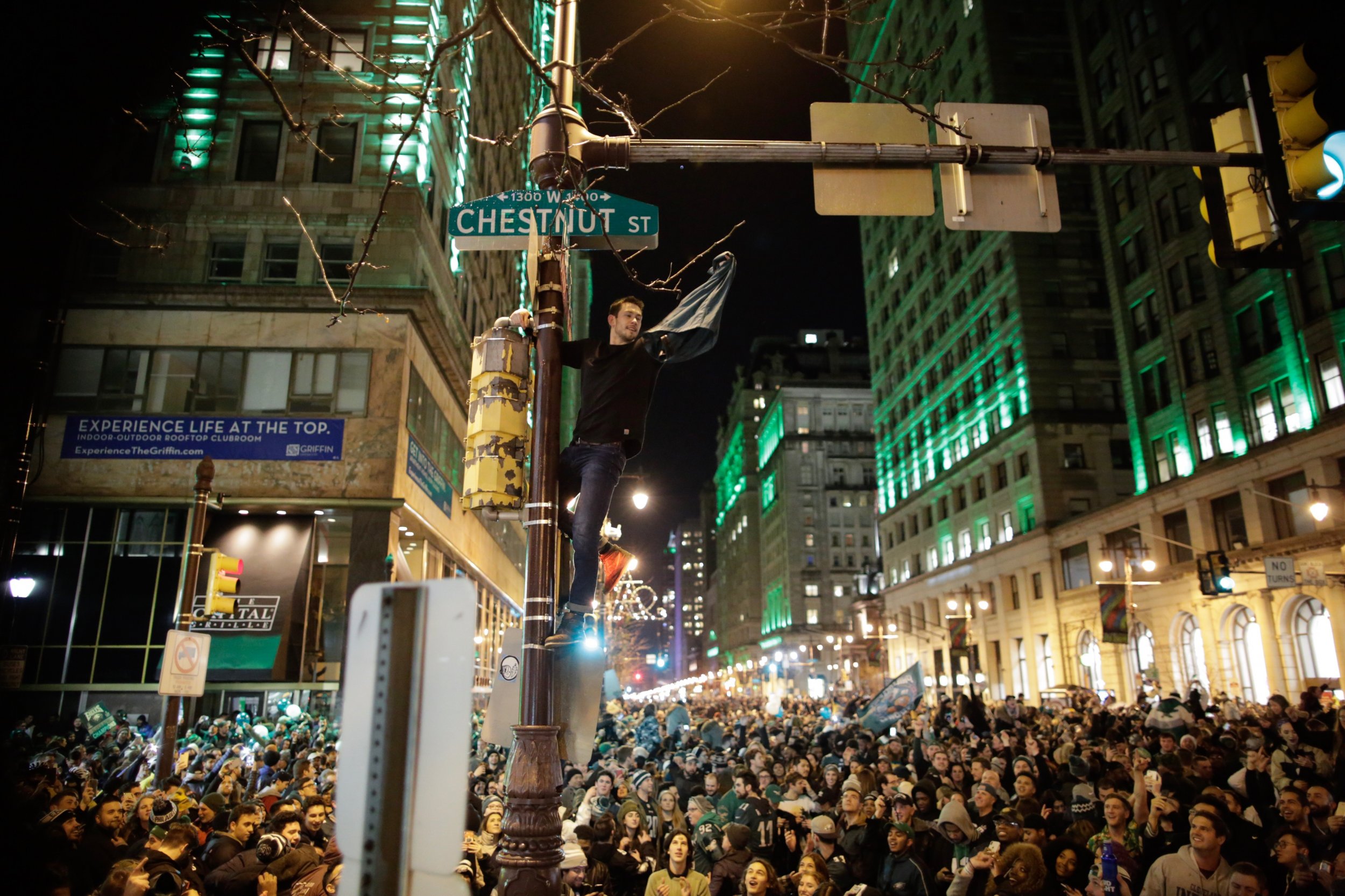 Between stolen horses, burning Christmas trees, calls for Homeland Security and reports of multiple injuries, the Philadelphia police faced all-out mayhem in the hours following the Eagles' Super Bowl win on Sunday.
The hashtag #PhillyPoliceScanner was trending on Twitter overnight as riots broke out across the city and people tuned in to hear chaos unfold in real time.
"We have multiple people on Broad Street swinging on light poles," one officer could be heard reporting on the police scanner at around 11:14 p.m., according to Slate.
"They just flipped a car over here," another said.
"I need to get the fire extinguisher out of my trunk," an officer chimed in. "Someone lit a Christmas tree on fire."
Another officer said he had arrested a man claiming to be an "off-duty cop."
At some point, two police horses were reported to have been stolen, with one of the horses quickly recovered.
Alongside the lurid and the surreal, messages relayed over the scanner system suggested far more serious incidents, with one officer stating: "This is extremely horrible. We need rescue here, we got someone horribly injured from a fall."
"A guy in a four-wheeler just ran over a cop," another officer alleged.
One responder said: "A man jumped off the light pole and landed on his head."
Read more: Mass riots erupt in Philadelphia as fans celebrate Eagles triumph
Rioters also appeared to take over Philadelphia's City Hall, with images shared on social media showing fans climbing the building's gates.
Video shared on social media also depicted chaotic scenes, with Twitter footage showing the awning of the Ritz-Carlton hotel in Philadelphia crashing down under the weight of a group of revelers who had decided to climb the building.
Police reportedly had to call in help from SWAT teams, Marine units, and even requested assistance from Homeland Security and the National Guard.
One exasperated officer said over the scanner: "It's endless, chief. Endless."
The last tweet sent out by the official Philadelphia Police account congratulated the Eagles on their win—and asked people to "please be safe out there."