Photo of Former Vice President Joe Biden Speaking With Homeless Man Goes Viral
"Character is about what you do when no one is watching."
That was the impression D.C. Public Affairs consultant Paul Equale was left with after seeing a photo of former Vice President Joe Biden helping out a homeless man on his way home from a trip to the movie theater with his granddaughter in Georgetown, a neighborhood in Washington, D.C.
The photo of the exchange snapped by a bystander identified as Caleb Bacawent went viral after it was shared by Equale on Facebook. As of early Monday morning, it had been shared more than 115,500 times.
"Joe Biden took his granddaughter to the movies in Georgetown last night," Equale wrote on Facebook on Friday. "On his way out, he stopped to speak with a homeless man. A bystander took this candid shot. Character is about what you do when no one is watching," he added.
Baca told Fox 5 he snapped the image outside the Georgetown AMC movie theater. He said Biden apepared to write a note while inside the theater and then gave it to the homeless man on his way out.
"I'm not sure exactly what he gave the homeless man, but he appeared to write something down on a piece of paper inside the movie theater, which he then proceeded to give the homeless man outside," Baca said.
Equale said since posting the image to Facebook, he has received more than 25,000 friend requests and heard "from media everywhere."
The post renewed calls from the public for Biden to run for U.S. President in 2020, with many taking the opportunity to criticize the country's current leadership.
"Will he run for pres against the worm in our house in 2020?" Facebook user David Laurence wrote, commenting on the photo.
Read more: Trump Presidency 'is a Tragedy,' Former Vice President Joe Biden Says
"This strikes home the contrast, and does it so incredibly well. It simply is who he is," Joe Slade White wrote. "It is always about family and in Joe Biden's world that means two things: there is nothing more important than family; and to Joe Biden, family includes every human being he encounters."
Biden supporters may soon get their wish, with the former Vice President reportedly moving closer towards making a 2020 run the top job in the White House.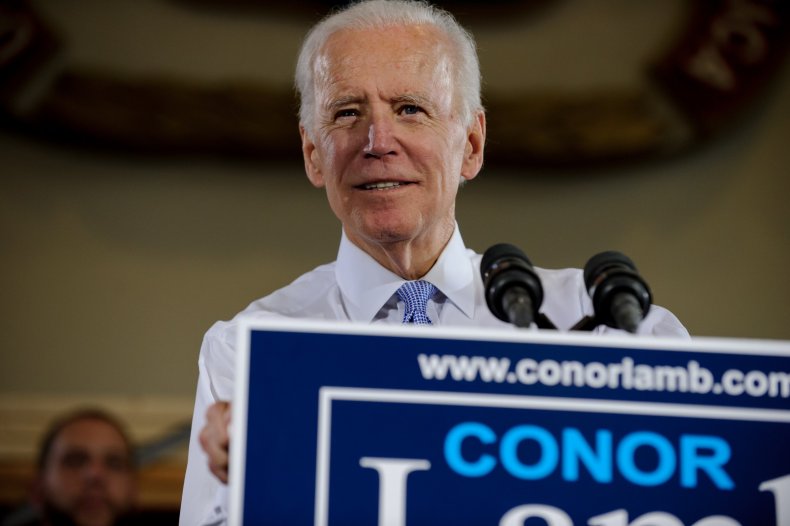 Aides working closely with Biden, who has previously called the Trump presidency a "tragedy", told Politico they are preparing for the possibility of a campaign bid. One insider said Biden would try to sell voters on the idea of a "reset presidency," while another said the former Vice President's campaign would likely be an "unconventional" one.
Biden is currently on a book tour for his new novel about the loss of his son Beau, who died in May 2015 after being diagnosed with a malignant brain tumor.
So far, he has yet to announce any plans for a 2020 campaign run.