A family was sitting in a car in San Francisco, California this week with two young children in the backseat when a robber broke into the vehicle and stole multiple items.
The family members, who were visiting California from Chicago, had stopped their rental car near the city's Lombard Street when the smash-and-grab theft occurred, local news station KRON reported.
A witness was able to capture photographs of the alleged suspects during the break-in.
A photo posted to Twitter by KRON reporter Taylor Bisacky on Thursday shows a man reaching through the rear windshield of a car, which is clearly broken.
"I was in the car when it happened. All I could hear was a smash and then I said 'No,' I jumped out of the car, but it was quick, it was like five seconds," Kimberly Balde said in an interview with the news station.
Kimberly's sister Katherine was also in the vehicle with her two toddler daughters.
"You could see that people were in the car, so each seat was taken and my two daughters were in the back, one's two and one's four," Katherine said.
The neighbor who witnessed the incident said three cars had been circling the area before the smash-and-grab, KRON reported.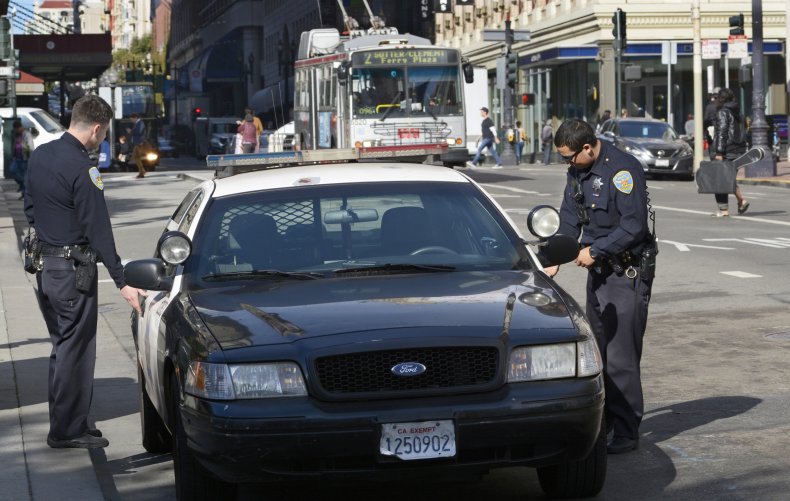 "It was an organized crime for sure, they have it very well thought out. It was a five-second deal. And if they can get away with it in five seconds, why wouldn't they keep doing it," Kimberly said.
Items stolen include a bag, a computer, headphones, a passport and the children's birth certificates.
Newsweek reached out to police in San Francisco for comment.
The unsettling incident comes as California's Bay Area has seen a spike in smash-and-grab robberies in recent weeks.
In November, 80 people entered a Nordstrom store in Walnut Creek and stole merchandise. A video of the robbery showing people running from the store went viral.
It happened just one day after people looted and ransacked stores in San Francisco's Union Square, including Louis Vuitton and Yves Saint Laurent.
San Francisco recently passed legislation aimed at helping businesses curb smash-and-grab thefts by allowing them to hire deputies with the city's sheriff's office as security officers.