Photo Shows 'Greedy' Squirrel Who Got Stuck in Garden Bird Feeder
An animal charity had to rescue a squirrel on Saturday after it got trapped in a bird feeder.
A resident called the U.K.-based animal charity the Royal Society for the Prevention of Cruelty to Animals (RSPCA) was called to a garden in the English town of Northwich after they noticed a squirrel had gotten stuck in their neighbor's bird feeder.
The feeder, which was intended for small birds to use from the outside, was hanging from a bird table before the squirrel got in, according to the RSPCA.
RSPCA inspector Caren Goodman-James visited the garden, and found the squirrel was not able to escape from the feeder because its claws had got stuck and its jaw was caught on the object's rim.
Goodman said in a statement: "This greedy boy must have gone in and obviously had such a good feed he was unable to exit.
"As his bum [butt] was trapped he really must have felt like he had quite literally hit the bottom, but luckily his predicament was spotted by the neighbor who alerted us or he could have endured prolonged suffering."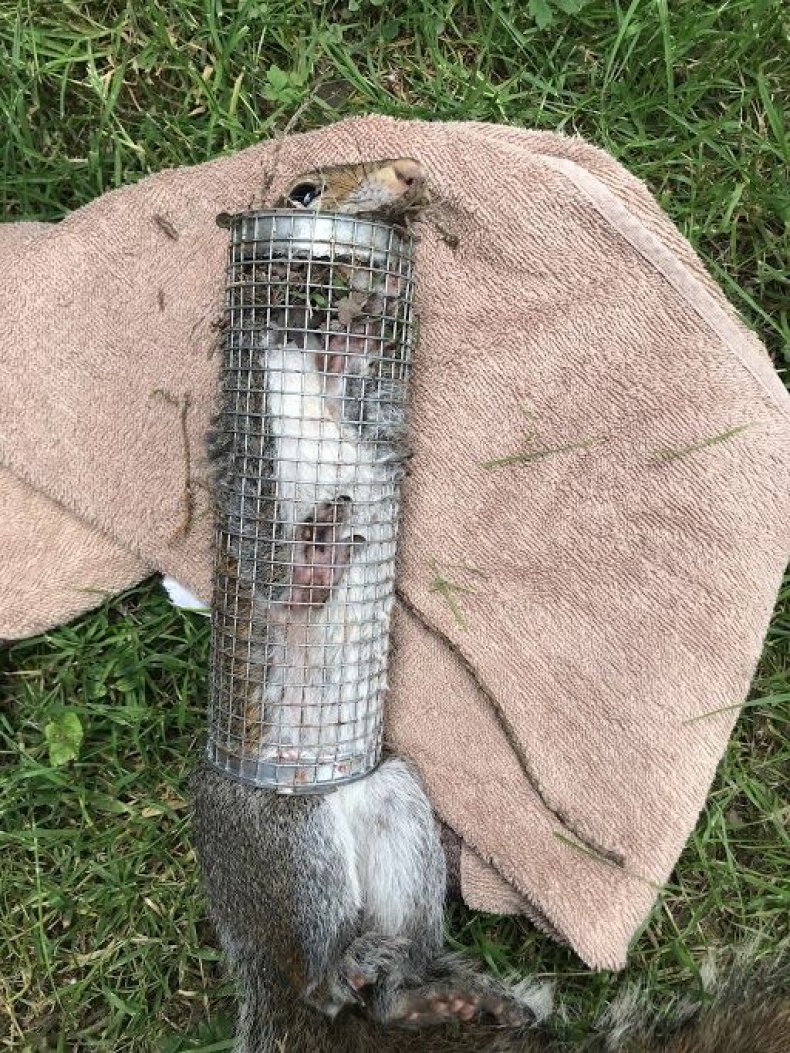 Goodman said she wasn't sure if the squirrel entered the feeder upside down then realized he wasn't able to leave.
"In his struggle the feeder fell to the floor and when I arrived had rolled into some nearby bushes," she said.
"He was obviously frightened but otherwise appeared unscathed from his ordeal, however he probably needs to lay off the nuts for a while!
"I freed him in situ and as soon as he was free he made a quick getaway, which was good to see."
Cheryl Hague, RSPCA regional press officer for the Midlands, told Newsweek via email: "Our main message is people need to be aware of this and monitor feeders regularly to make sure no wildlife is trapped and to take them down if they are going on holiday, etc."
Asked if any other animals are at risk of getting trapped in bird feeders, Hague said the charity has previously rescued rodents such as mice and hedgehogs when feeders were on the floor.
In 2018, the charity warned that even feeders marketed as squirrel-proof can be a threat to wildlife, after a squirrel was put to sleep after it got stuck in one. An RSPCA inspector said at the time they were called to a similar incident the day before.
Goodman said: "There are many types of 'squirrel-proof' feeders available but it seems that a few could still trap wildlife."
She went on: "Alternatively use non-squirrel proof feeders which may attract other wildlife but at least it will prevent animals like squirrels getting trapped."