Photojournalist Calls Out Photo of Mailboxes Being Used as Evidence Trump is Sabotaging USPS: 'Been There for Years'
The stockpile of discarded United States Postal Service (USPS) mailboxes that fed national panic last week is not a product of alleged efforts to undermine the federal agency, photojournalist Gary He said on Monday.
In a thread of messages posted to Twitter Monday morning, He noted that the mailboxes pictured in a widely shared social media photo, taken in Wisconsin "have been there for years."
"OK so everyone has seen the 'viral' photo going around of the piles of mailboxes in Wisconsin being used as evidence that Trump is sabotaging USPS," the photographer wrote Monday, referencing the barrage of operational changes to USPS currently fueling concerns about mail-in ballots and voter suppression ahead of November's election.
"Problem is, they have been there for years: Hartford Finishing Inc. powder coats and refurbishes the old mailboxes," his tweet continued. After recounting a conversation with an employee of the southeast Wisconsin company, who reportedly said Hartford Finishing Inc. secured a government contract to restore USPS mailboxes "from all over," He confirmed the stockpile's location himself.
"To find this location on Google, you have to search for 'Hartford Finishing.' It's a side road, not like you can spot the mailboxes from a highway," the photojournalist added. He also pointed out the mailboxes' proximity to the finishing company's sign, estimating 20 feet between them, and criticized other photojournalists for omitting the information in photos taken last week.
Kim Frum, a USPS public relations representative, confirmed the postal agency's working relationship with Hartford Finishing Inc. in comments to Newsweek on Tuesday.
"They are a contractor that repairs or destroys old collection boxes," Frum said, adding that the company now builds new boxes as well. "Photos such as this appear every couple of years," she continued.
He's initial explanation came several days after activist and organizer Thomas Kennedy tweeted a photo that saw dozens of trademark blue USPS mailboxes piled on top of one another in an enclosed outdoor yard. Kennedy suggested the photo was representative of large-scale changes to the postal agency's operations, which are causing service delays across the country.
"This is happening right before our eyes," Kennedy tweeted on Friday, alongside the photo. "They are sabotaging USPS to sabotage vote by mail. This is massive voter suppression and part of their plan to steal the election."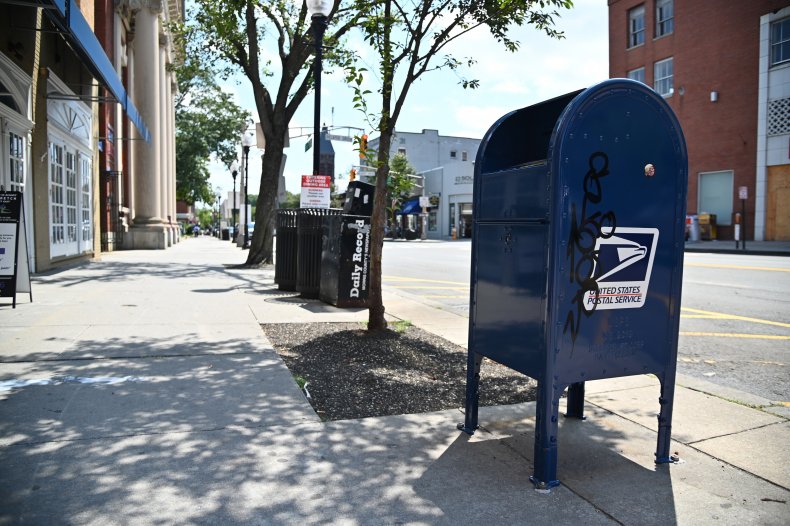 Trump's reluctance to approve additional funding to USPS under the next coronavirus relief package compounded suspicions that prolonged delivery times and a since-paused mailbox removal initiative were part of a federal attempt to "sabotage" the postal service. The president vehemently criticizes voting by mail, a practice many states have expanded to reduce physical contact at polling sites amid the pandemic.
While Frum noted that USPS will not uproot additional collection boxes for another 90 days, the representative told Newsweek removals happen every year, with input from community members. She said USPS evaluates regional collection box densities "on a routine basis" to determine how many are actually being used, and suggests decommissioning them accordingly.
"This process is one of the many ways the Postal Service makes adjustments to our infrastructure to match our resources to declining mail volumes," Frum explained.
Newsweek reached out to Hartford Finishing, Inc., for comments but did not receive a reply in time for publication.
08/18/20 (4:11 p.m. ET): This story was updated to include Frum's comments.