Photos Show Crow Killed by Illegal Blow Gun in Texas
A crow in Texas has died after being illegally shot down with a blow gun, photos shared by Blue Ridge Wildlife Center show.
The bird was found critically injured by the Animal Welfare League of Arlington on April 19, in the Fairlington neighborhood.
Photos shared by the League on Facebook show the crow when it was found, with the dart still lodged in its back. Animal control officers applied basic wound care to the animal and removed the dart from the bird.
The crow was then immediately rushed to the Blue Ridge Wildlife Center for treatment. When the injured crow arrived to the center, it was already nearing death.
American crows are a protected species in the state of Texas, under the Migratory Bird Treaty Act. This means it is illegal to shoot them. Crows are only allowed to be controlled in the state if they are proving a nuisance to other wildlife, livestock or crops.
Jen Riley, director of veterinary services at the Blue Ridge Wildlife Center told Newsweek: "Medically, this animal was near-death upon admission. The wound was multiple days old and had necrotic/infected tissue and bone. I'm shocked that this patient survived long enough to be contained and transported."
Riley said that although veterinarians started pain medications and antibiotics immediately, "it was too late and the crow did not survive the night."
Recently, people in the area where the crow was found had been complaining about the birds, Riley said. They have also had a wildlife control company come in and perform "legal-but-questionable deterrents."
"People are apparently taking matters into their own hands. Not only is it illegal to shoot crows (unless you're a licensed hunter during the hunting season, which is not now), but Arlington is a densely populated area where there are regulations against discharging a variety of weapons," Riley said.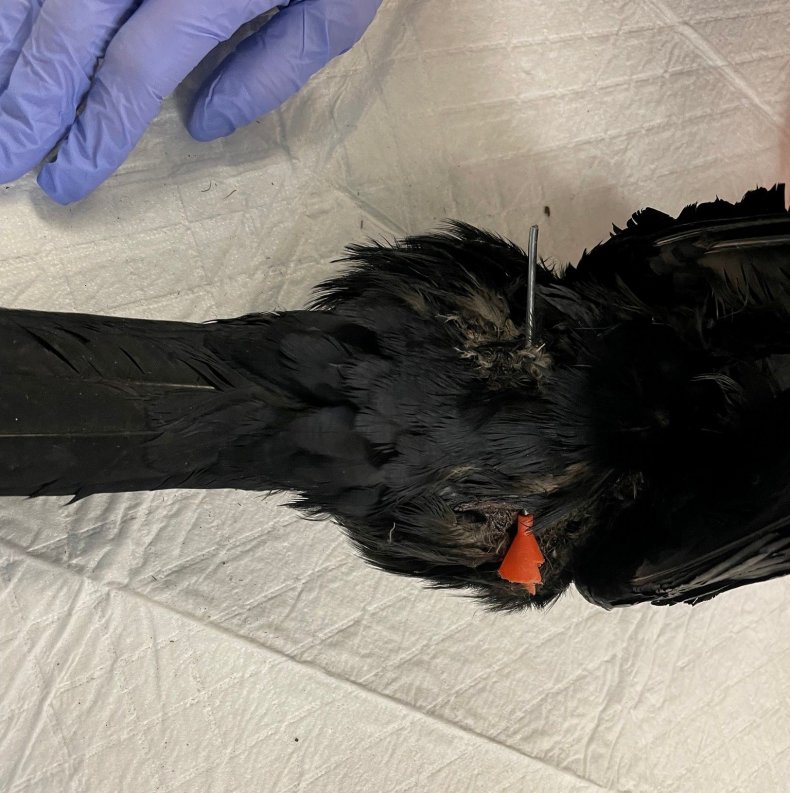 In an update posted to Facebook on April 20, the Animal Welfare League of Arlington said it was grateful to the Blue Ridge Wildlife Center "for doing everything they could to care for this crow, and making sure he wasn't in any pain."
Following the crow's death, the League has launched an investigation into the incident and is urging anybody with information to come forward.
Jennifer Toussaint, chief of animal control at the Animal Welfare League of Arlington, said in a statement: "This is why we put so much time and emphasis on teaching tolerance and harmonious coexistence with wildlife. When groups, associations, or organizations teach intolerance for living things, our native wildlife pays the price."
Newsweek has contacted the Animal Welfare League of Arlington for comment.