Photos of Kim Jong Un With Bandaged Head, Unexplained Green Spot Fuel Health Speculation
Photos of North Korean dictator Kim Jong Un that appear to show a spot or bruise on the back of his head are likely to fuel renewed speculation about his health.
The images, released by state broadcaster Korean Central Television, also show the 37-year-old leader with a bandage on the back of his head at events in late July.
NK News, a specialist news agency covering North Korea, analyzed photos of the events Kim attended between July 24 and 29 from KCTV and state news agency KCNA, highlighting the large, greenish spot or bruise.
In some photos, the spot is covered by a bandage. Official videos from the events did not show the back of Kim's head, but it is visible in the still images released by state media.
The cause of the spot is not known but it will add to the frequent speculation about Kim's health in secretive North Korea.
The spot and bandage were visible when Kim attended a military event between July 24 and 27 and again between July 27 and 29, when he attended a conference for war veterans and other related events.
However, there was no sign of either during a meeting of the country's politburo on June 29. When Kim attended an event with musicians on July 11, the back of his head was not shown in photos.

Speculation about the dictator's health has been rife since his rapid weight loss earlier this year, which prompted a rare acknowledgment from state media. KCTV interviewed a man from the capital, Pyongyang, about Kim's weight on June 25.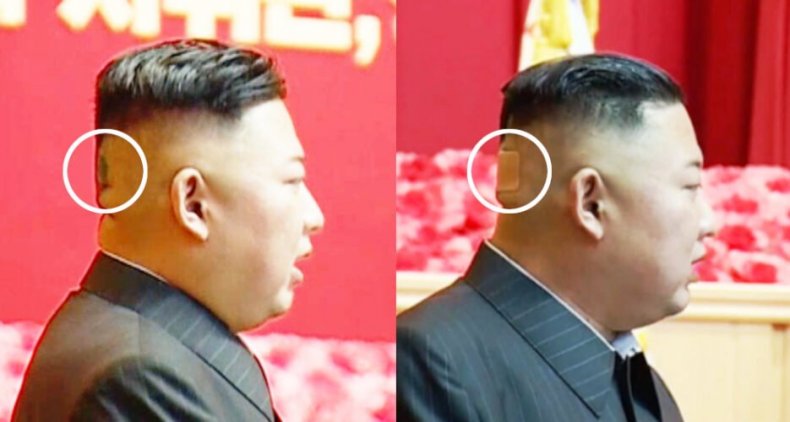 "Seeing our respected comrade General Secretary become emaciated like that, all the people became so heartbroken," the man told state media. "Everyone is talking about it. We all just started to cry," he added.
The renewed speculation comes as North Korea grapples with serious difficulties linked to the COVID-19 pandemic and a shortage of food. The country has also been hit by a shortage of medicine and medical staff.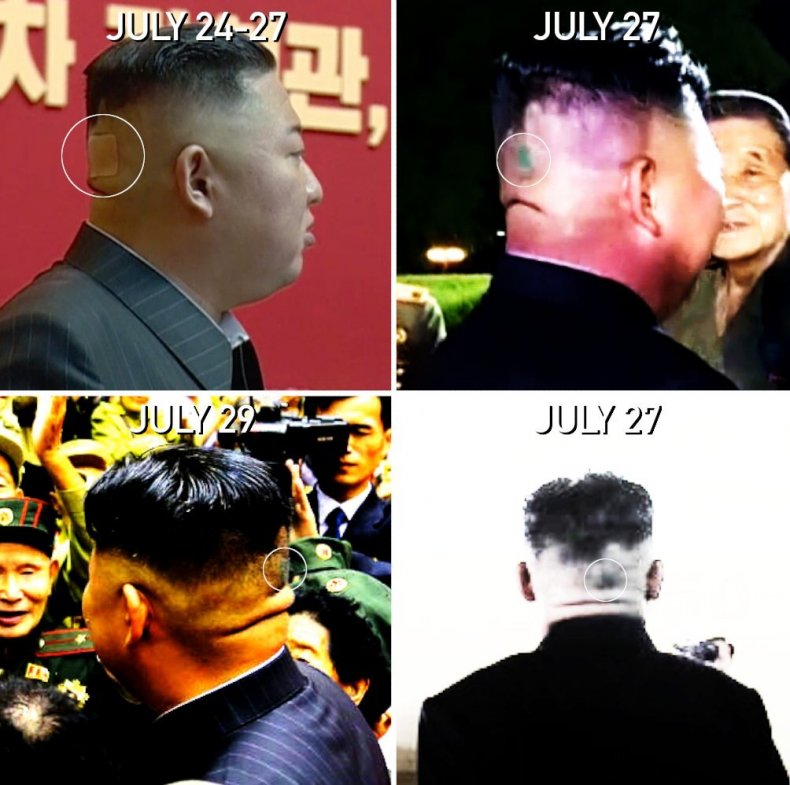 On Tuesday, it was revealed that North Korea is releasing its emergency military rice reserves as food shortages and a drought continue to affect the country. South Korea's National Intelligence Service told a parliamentary committee that Kim's government would release the rice to citizens who have little food, as well as laborers and rural state agencies. The rice reserve is intended for use during wartime.
Update 8/4/21 9.45 a.m. ET: This article was updated to add new photos of Kim Jong Un.