Photos of Obamacare Recipients Will Fill Senate Democrats' Seats at Barrett Committee Vote
In lieu of Democrats attending Thursday's Senate Judiciary Committee vote to advance the nomination of Supreme Court nominee Amy Coney Barrett, poster-size photos of Affordable Care Act (ACA) recipients will take the place of the 10 Democratic lawmakers on the panel.
Democrats argue that by confirming the conservative judge nominated by President Donald Trump, the Obama-era health care law could be struck down. The high court will hear a case just one week after Election Day that seeks to dismantle the ACA. The case is part of a lawsuit from by the Trump administration and Republican state attorneys general.
"Throughout the hearings last week, committee Democrats demonstrated the damage a Justice Barrett would do—to health care, reproductive freedoms, the ability to vote, and other core rights that Americans cherish," Senate Minority Leader Chuck Schumer (D-N.Y.) said in a statement.
"We will not," Schumer continued, "grant this process any further legitimacy by participating in a committee markup of this nomination just twelve days before the culmination of an election that is already underway."
A Senate Democratic aide confirmed to Newsweek that the poster-size photos of ACA recipients will take their place. The news was first reported by HuffPost. Democrats had similar posters on display during Barrett's confirmation hearing last week.
Despite the boycott, Barrett's nomination will still be advanced out of committee on Thursday. Republican aides actually welcomed the maneuver, which will allow for a unanimous vote.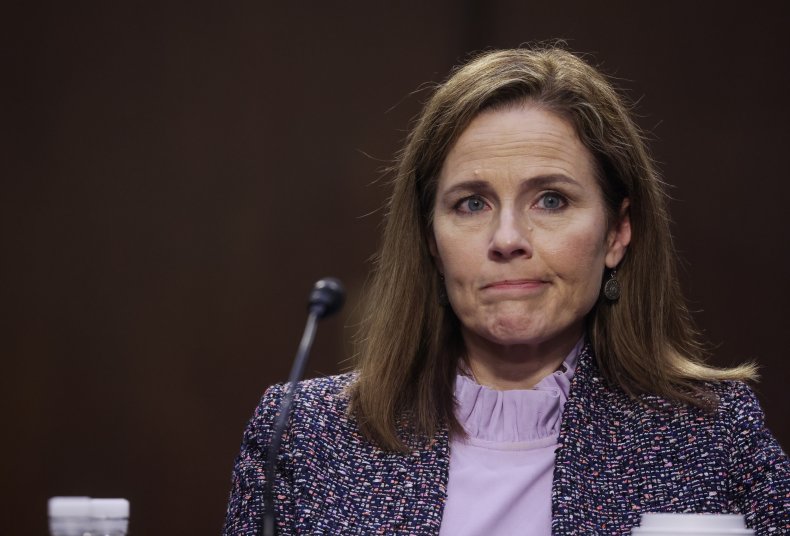 Senate Majority Leader Mitch McConnell (R-Ky.) plans for the full chamber to confirm her to the nation's highest court on Monday. Republicans have the necessary votes. Sen. Susan Collins (R-Maine) is the lone Republican who has indicated she will vote against Barrett's confirmation.
Sen. Lisa Murkowski (R-Alaska)—who, like Collins, voiced objection to confirming a new justice so close to an election—has held her cards close to her chest. She has yet to say how she plans to vote.
By Democrats refusing to show up, they're refusing to give Republicans the necessary quorum to proceed under Senate rules. At least two minority members are required to be present to reach quorum.
However, Republicans say it won't matter.
Judiciary Committee Chairman Lindsey Graham (R-S.C.) said he will proceed anyhow and indicated he's willing to change the rules, if need be. Democrats could raise issue over a rules change with the Senate Parliamentarian, per Just Security, only to have McConnell overrule any objection from the Parliamentarian with a floor vote.
"She's one of the best people anybody could ever nominate to the court, and she deserves a vote," Graham told reporters. "She's going to get one."
Schumer side-stepped a question from reporters about their boycott equating to a political stunt.
"We're not giving the quorum they need to provide [a vote]," Schumer argued. "The rules require it."
This story was updated with comments from Graham and Schumer.