Photos Show California Reservoir Water Levels Before and After Major Storm 
A slew of storms has replenished several California reservoirs, a much-needed respite from the extreme drought that, until recently, plagued the West Coast.
Another atmospheric river hit the state on Friday, with a second in less than a week dumping even more precipitation on Tuesday night. Given California's tumultuous weather patterns lately, the storms posed a life-threatening flood risk while sating several depleted reservoirs and returning them to 100 percent capacity.
Lake Oroville
A tweet by KSL meteorologist Matthew Johnson showed an impressive change in water levels at Lake Oroville, California's second-largest reservoir. The excessive precipitation has allowed the lake's levels to rise by more than 200 feet.
"California's second largest reservoir was down to its lowest levels ever recorded in September 2021 (628'). Incessant parades of atmospheric rivers have almost refilled the 3.5 million acre-foot reservoir by March 2023 (845')," Johnson tweeted on Tuesday. "Lake Oroville, CA recovered 217 FEET!"
Whale Rock Reservoir
Other reservoirs have benefitted as well, with Whale Rock Reservoir in San Luis Obispo County filling with so much water that it overflowed for the first time since 2005.
According to a report by The Modesto Bee, this is the 13th time the reservoir has overflowed since its construction in 1961. The reservoir hasn't exceeded 90 percent capacity since the spring of 2019.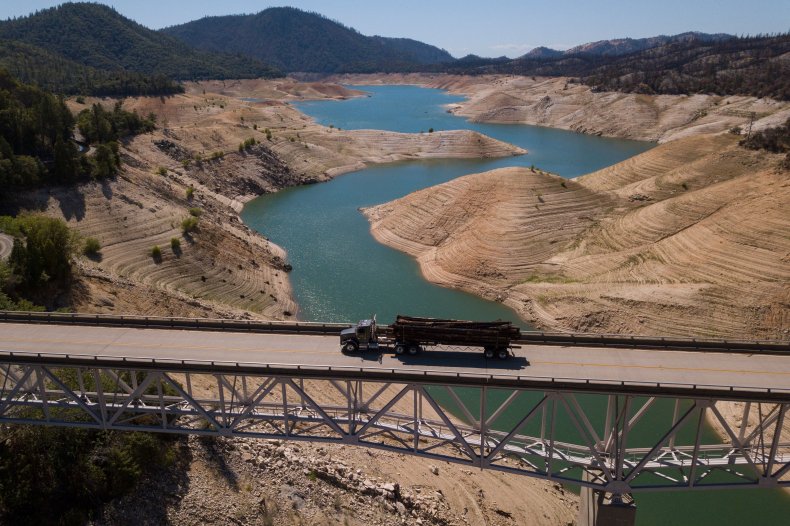 Santa Margarita Lake
Santa Margarita Lake, another reservoir in the same county, has overflowed since January.
A week ago, The Tribune released video of the overflowing Salinas Dam at Santa Margarita Lake.
An End In Sight
AccuWeather also addressed the ongoing drought recovery and anticipated that most or all of the short-term drought parching the state would be remedied by mid-April.
"While this latest installment in the series of moisture-laden storms this wet season across California will once again bring a variety of life-threatening impacts, the storm will also provide additional drought relief, building on the relief from previous storms," an AccuWeather spokesperson told Newsweek in an email.
A Look Back A Year Ago
The development is a sharp turnaround for California.
One year ago, the U.S. Drought Monitor Map reported that the entire state of California suffered from moderate drought.
More than 86 percent of the state suffered from severe drought, and more than 12 percent of the state suffered from extreme drought.
The numbers worsened at the start of the 2022 water season in September, with the areas suffering from extreme drought more than tripling to 40 percent.
More than 16 percent of the state was upgraded to exceptional drought.
Current numbers by the map show that more than 26 percent of the state is now free from drought. None of the state suffers from extreme or exceptional drought.
AccuWeather meteorologist Brandon Buckingham told Newsweek that even more precipitation is forecasted for California with an incoming storm expected to hit the area next Monday.
Newsweek reached out to a Whale Rock Reservoir representative by email for comment.