California Reservoir Water Levels Before and After Winter Storm
After another week of severe winter weather, levels in California's recovering water reservoirs have continued to rise, signaling good news for the state's summer water supplies.
This follows weeks of considerable rain and snowfall in California since the start of 2023.
"Statewide the reservoirs are generally in good shape with most at or above their historical averages and some reservoirs having to let significant water go to maintain space for floods," Jeff Mount, senior fellow at the Public Policy Institute of California's Water Policy Center, told Newsweek.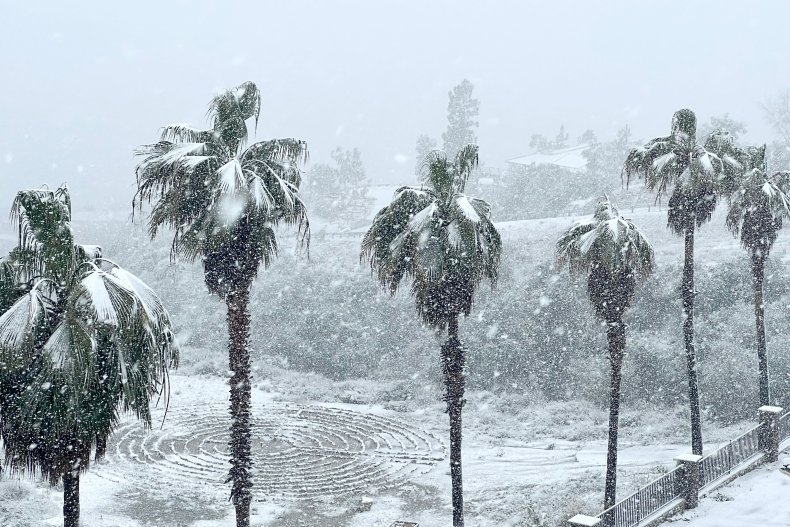 This comes after one of the driest periods on record across the state. "We've had three consecutive years of drought, probably one of the worst droughts California has ever experienced," Ernest Conant, regional director of the California branch of the U.S. Bureau for Reclamation, previously told Newsweek.
At the beginning of this water year, which started on October 1, 2022, the state's largest water reservoir, Lake Shasta, was a third full, at 33 percent. It was at 60 percent as of March 1 and rising, according to the Bureau of Reclamation. That puts it at 84 percent of where it would usually be usually at this time of year.
Other reservoirs across the state boast significantly higher water levels than their historical averages. The state's second largest reservoir, Lake Oroville, stands at 73 percent of its total storage capacity, while historically its average stood at 62 percent in early March, as per data from the California Department of Water Resources.
Since December 2022, water levels have risen in at least 13 of of the state's 15 largest lakes, largely thanks to the unusually wet and snowy weather.
| | | | |
| --- | --- | --- | --- |
| Lake | Water Level (ft) 12/26/22 | Water level (ft) 02/02/23 | Water level (ft) 03/01/23 |
| Shasta Lake | 921 | 988 | 997 |
| Lake Oroville | 673 | 810 | 833 |
| Trinity Lake | 2,189 | 2,226 | 2,231 |
| New Melones Lake | 883 | 941 | 956 |
| San Luis Reservoir | 412 | 479 | 505 |
| Don Pedro Reservoir | 737 | 784 | 789 |
| Lake Berryessa* | 394 | 412 | 415 |
| Lake Almanor | NA | NA | NA |
| Folsom Lake | 386 | 417 | 424 |
| Lake McClure | 676 | 800 | 810 |
| Pine Flat Lake | 766 | 857 | 863 |
| New Bullards Bar Reservoir | 1,861 | 1,916 | 1,917 |
| Diamond Valley Lake | NA | NA | NA |
| Lake Tahoe | 6,223 | 6,224 | 6,225 |
| Lake Havasu | 447 | 448 | 448 |
Source: Lakes Online *Lake Berryessa data from Solano County Water Agency. All are measured above sea level.
As well as rising water levels, significant snowfall and retention in the Sierra Nevada mountains add more volume to water storage across the state. "Snowpack provides 30 percent of California's freshwater and plays a critical role in the replenishment of reservoir levels when it melts and increases streamflows in the spring and early summer," Andrew Schwartz, lead scientist and manager at the UC Berkeley Central Sierra Snow Laboratory, previously told Newsweek. "It acts as its own storage system on top of the mountains."
This year has seen above-average levels of snow accumulation across the state. "From the Central Sierra south, California has accrued a very thick snowpack—about twice the average [for] March 1st," Mount said. "To the north, in the mountains that drain into the Shasta and Trinity River, the snowpack is less, but it is still about 150 percent of the March 1st average."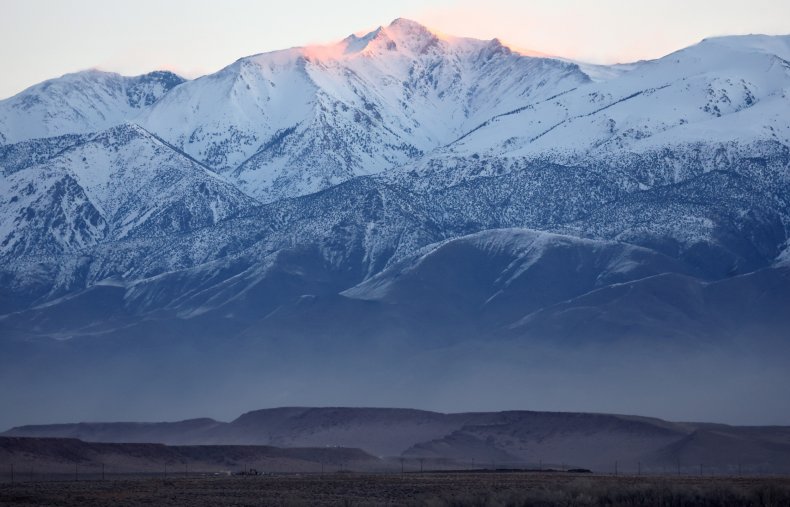 Although the majority of California is still considered to be under at least moderate drought, as per data from the U.S. Drought Monitor, the recent weather has eased concerns over the state's summer water supplies. The snow is also expected to continue falling in parts of California for the next few weeks, according to forecasts from the National Weather Service Climate Prediction Center.
"I think we can safely say we are in very good shape compared to last year," Mount said. "We have one month to go before snowmelt typically begins in California and we are highly confident that we will have a robust snowpack that will feed into our reservoirs and fill them in the spring.
"We are likely to fill even our biggest reservoir since we just got an immense amount of snow up there over the past week, with more to come. So I feel very confident that we are going into the summer in good shape."