Over the years, the White House has been home to countless presidential dogs. Its current residents are Champ and Major, who joined President Joe Biden in Washington, D.C., last month. Very few presidents have not had a dog while in office—Donald Trump was the first president in nearly 130 years to lack a canine companion.
The first dogs have often made headlines and won over the hearts of the nation, with Laddie Boy, the dog of Warren G. Harding, considered the first celebrity presidential dog. Other famous dogs have included Franklin D. Roosevelt's dog Fala, who accompanied him to Pearl Harbor, and Bill Clinton's Buddy, who famously feuded with Socks the cat.
Take a look at 20 photos of dogs with their presidential owners below—who is your favorite?
Joe Biden, Champ, and Major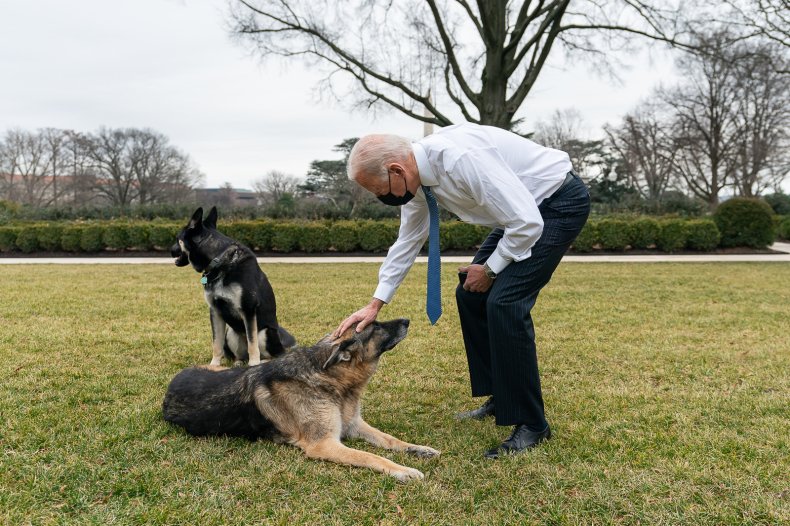 President Joe Biden has two German shepherd dogs named Champ and Major. Champ has been a part of the Biden family since 2008, while Major was rescued in 2018.
Champ and Major moved into the White House in January shortly after President Biden's inauguration. Michael LaRosa, press secretary for the first lady, Jill Biden, revealed that "Champ is enjoying his new dog bed by the fireplace and Major loved running around on the South Lawn."
Barack Obama and Bo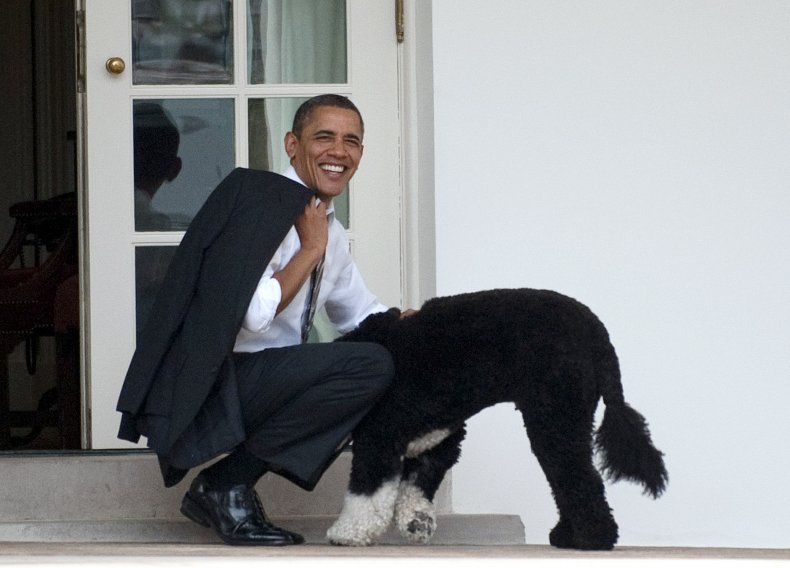 Barack Obama introduced Bo, a Portuguese water dog, to the family in April 2009, after promising his daughters Malia and Sasha a puppy during his 2008 campaign.
Barack Obama and Sunny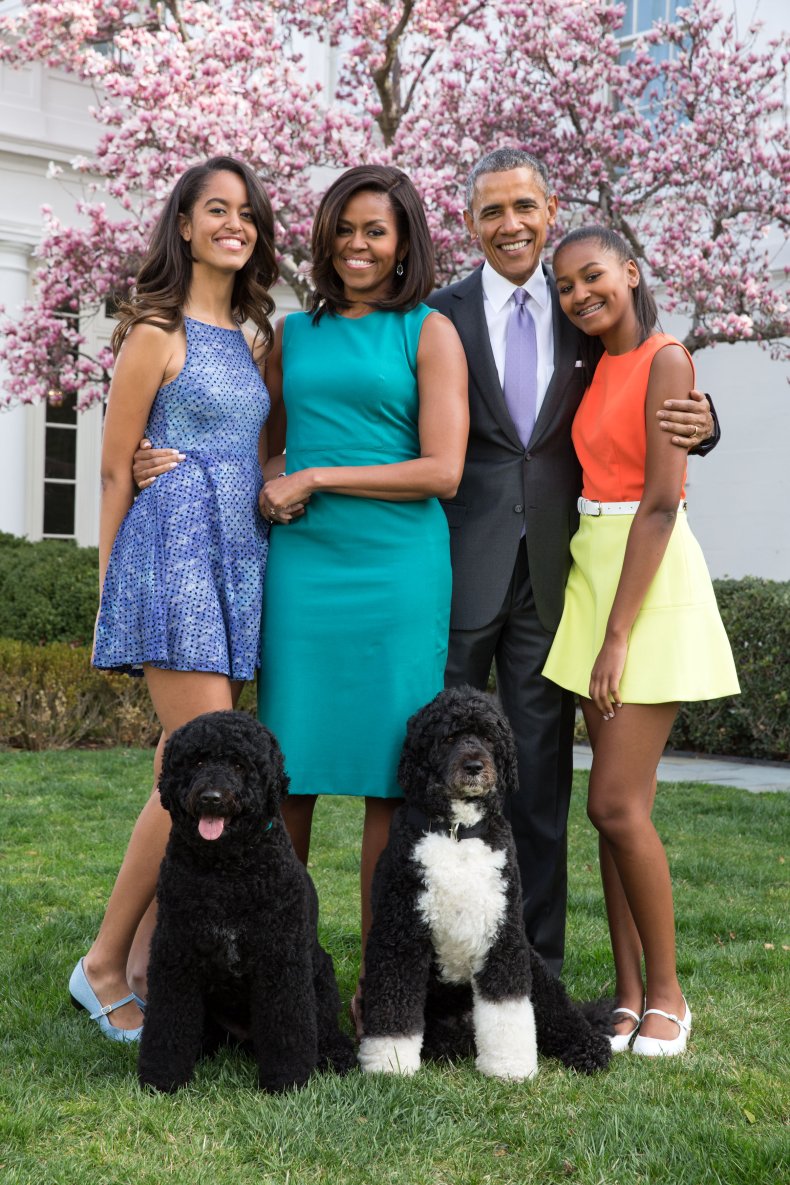 Bo was joined by Sunny, a female of the same breed, in August 2013. The Obamas chose the Portuguese water dog breed as they are hypoallergenic, and Malia has allergies.
George W Bush, Barney, and Miss Beazley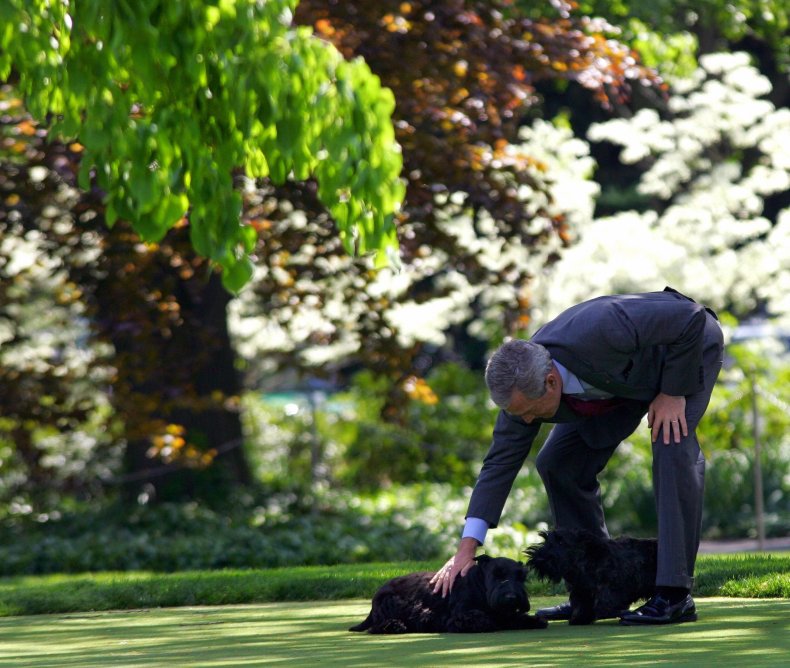 Barney and Miss Beazley were Scottish terriers who joined the Bush family in 2000 and 2004, respectively. Both dogs were gifts from George W. Bush to his wife, Laura Bush.
Barney was said to have loved to play with his volleyball, as well as soccer balls, golf balls, tennis balls and horseshoes.
Bill Clinton and Buddy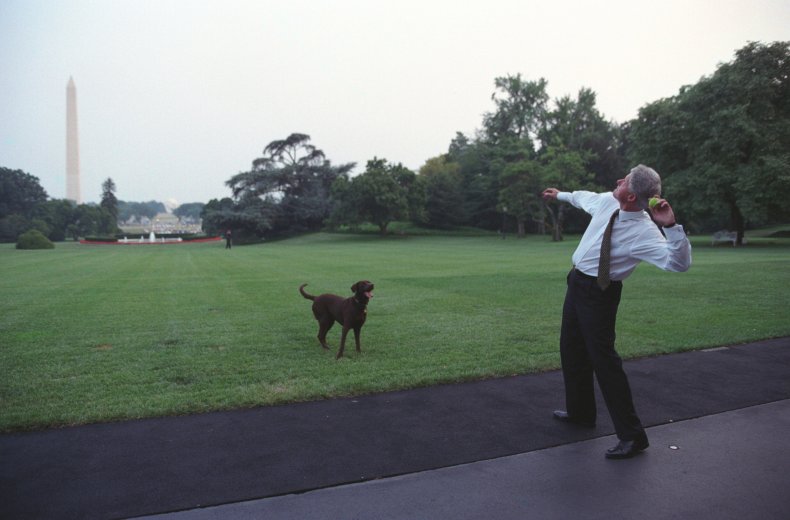 Bill Clinton's dog was a chocolate-colored Labrador retriever named Buddy. Clinton named his dog after his great-uncle Henry "Buddy" Grisham, who had recently died.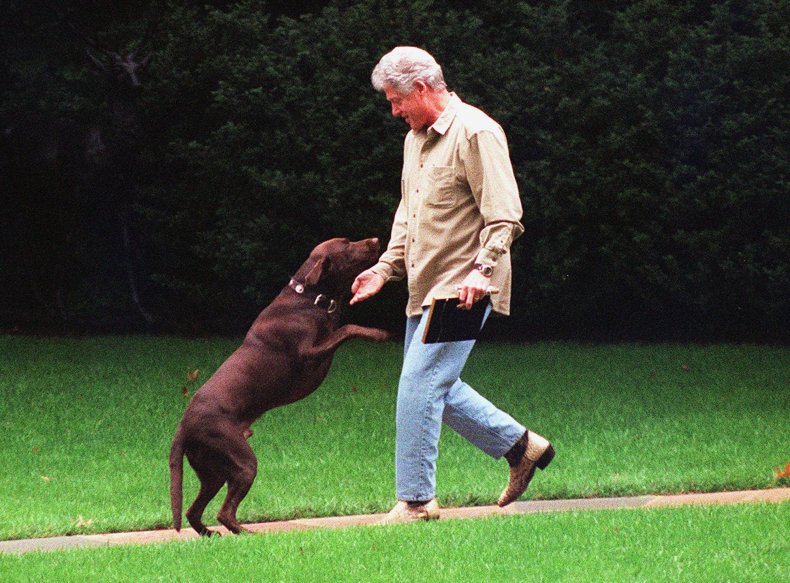 Buddy didn't get along with another presidential pet—Socks the cat—but had plenty of other fans, even inspiring dedicated fan clubs and websites.
George H. W. Bush and C. Fred
George H. W. Bush had a golden cocker spaniel, C. Fred. When Bush was vice president, his wife, Barbara Bush, wrote a book titled C. Fred's Story: A Dog's Life, about the dog's adventures in Washington, D.C., and donated the proceeds to her campaign for literacy.
Ronald Reagan and Rex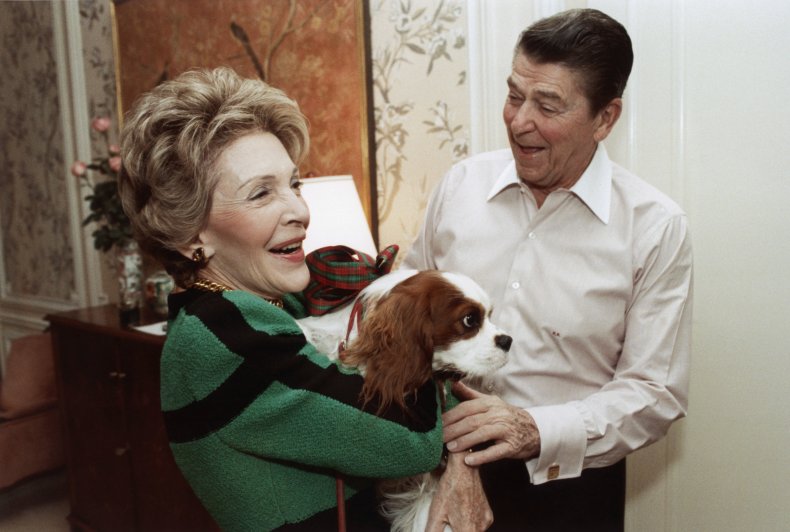 Rex, a cavalier King Charles spaniel, joined the Reagan family in 1985, during Ronald Reagan's second presidential term. Rex joined the family after Lucky, a Bouvier des Flandres dog, had to move from the White House to Rancho del Cielo in California, as she needed more space.
Rex lived at the White House until the end of Reagan's term, when he moved to Los Angeles with the rest of the family.
Gerald Ford and Liberty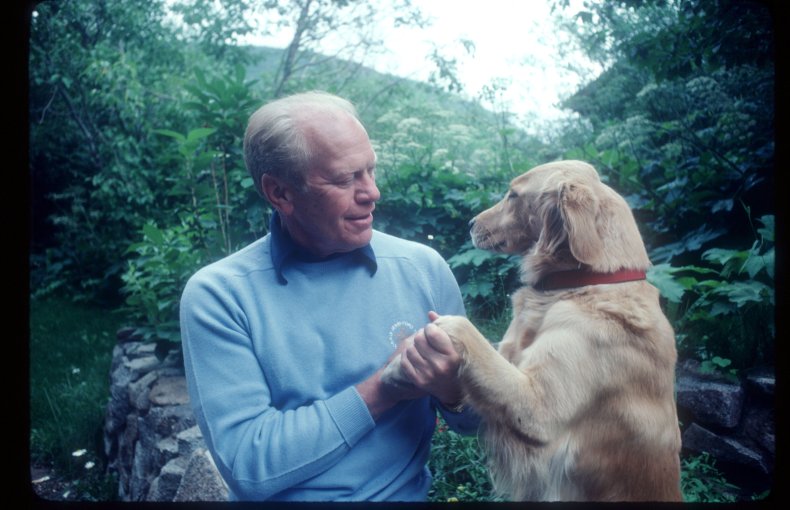 Gerald Ford had a golden retriever named Liberty. In Ford's memoir, A Time to Heal, he wrote about first meeting Liberty: "Delighted, I grabbed the pup, put her on my lap, then got down on my hands and knees and played with her on the rug.
"That was a joyous experience, and I knew that Betty would be just as thrilled as I was to welcome the new addition to our family."
Richard Nixon, King Timahoe, Pasha, and Vicky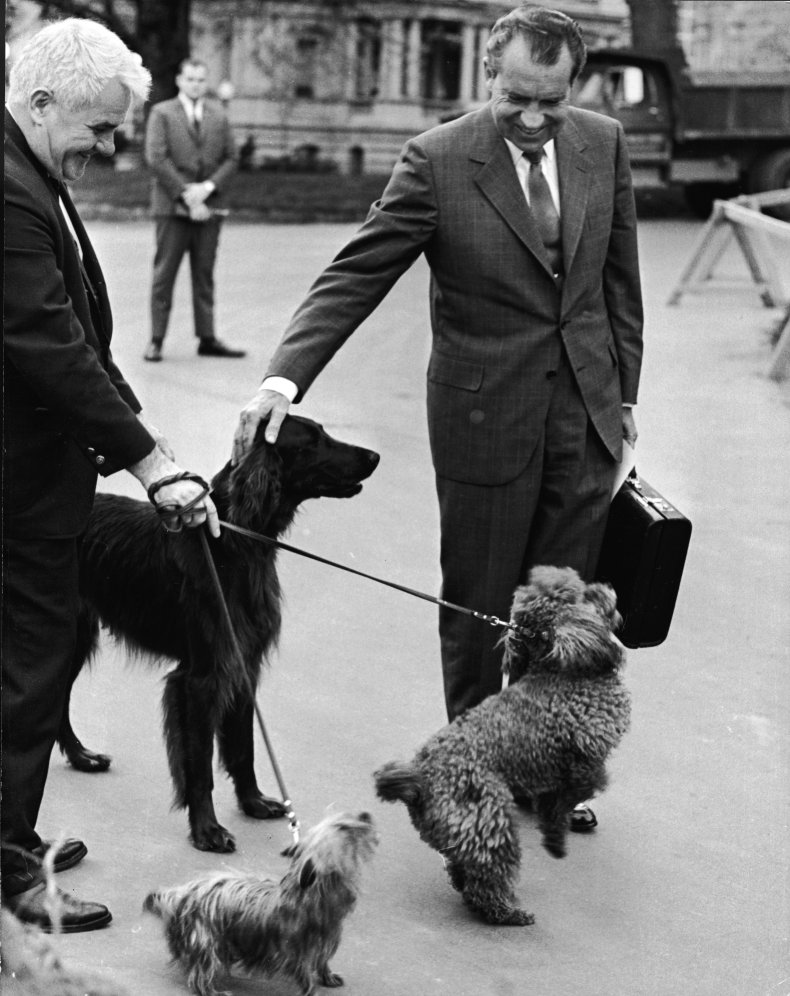 Richard Nixon had an Irish setter named King Timahoe, a Yorkshire terrier named Pasha, and a French poodle named Vicky.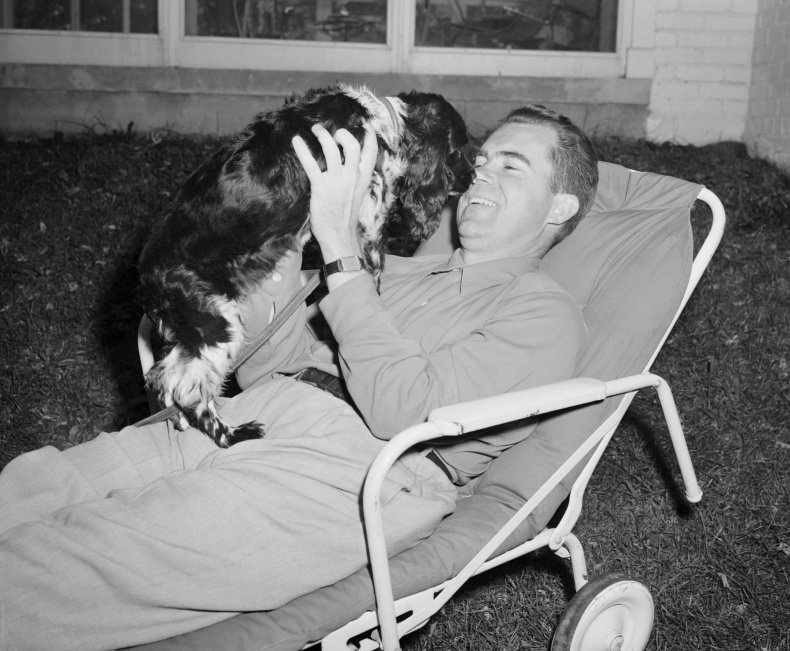 Before these dogs, the Nixons also had a black and white cocker spaniel named Checkers. Checkers also gave the name to Nixon's "Checkers Speech," in which he admitted that the dog was a political gift.
Lyndon B. Johnson and Yuki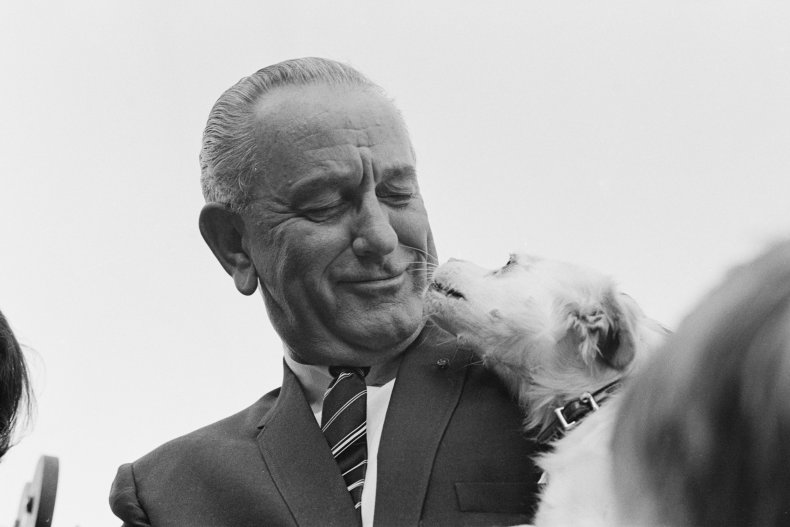 Lyndon B. Johnson had a mixed-breed dog named Yuki, which was found by his daughter, Luci on Thanksgiving Day in 1966. Yuki's name means "snow" in Japanese.
Lyndon B. Johson, Him, and Her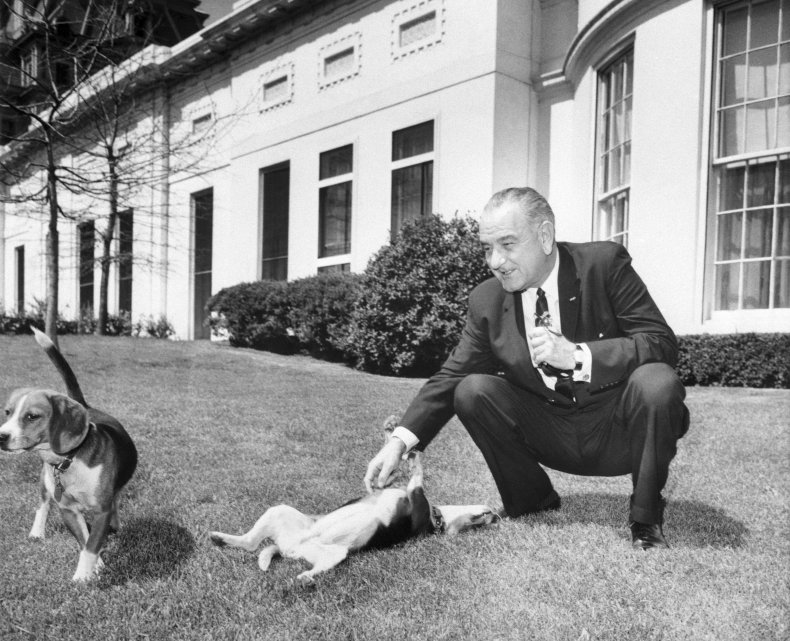 Johnson also had two beagles named Him and Her, a beagle named Edgar, and a white collie named Blanco.
John F. Kennedy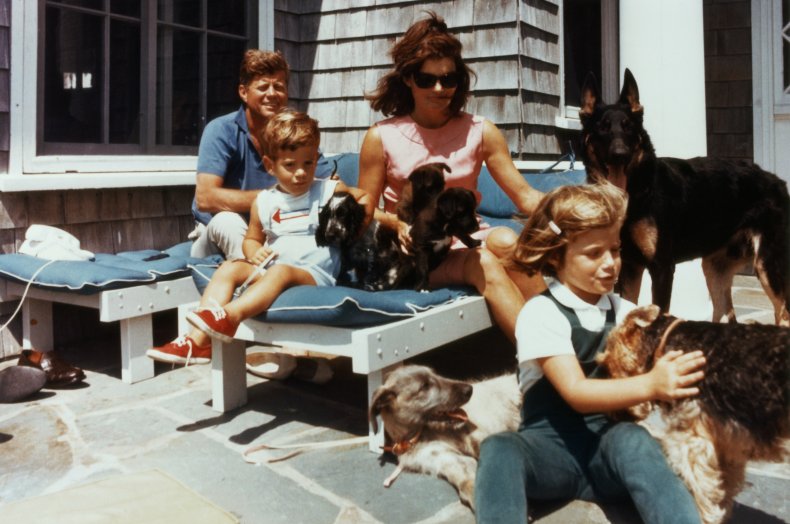 John F. Kennedy and his family had many pets, including three dogs: a Welsh terrier named Charley; a German shepherd named Clipper; a cocker spaniel named Shannon, a mixed-breed named Pushinka, and Wolf, an Irish wolfhound.
Other pets in the Kennedy family included pet hamsters Debbie and Billie, a gray cat named Tom Kitten; a canary named Robin, ponies Macaroni and Tex, and parakeets Maybelle and Bluebell.
Franklin D. Roosevelt and Fala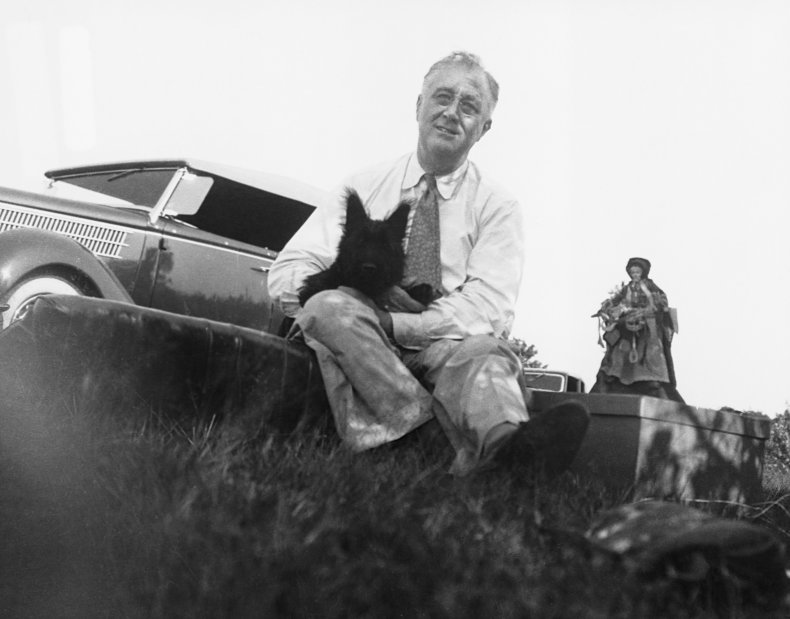 Franklin D. Roosevelt had a Scottish terrier named Fala, named after a Scottish ancestor, the "outlaw" John Murray of Falahill.
Fala joined Roosevelt on his voyage to Pearl Harbor, where he became popular with the ship's crew. Roosevelt's speechwriter, Sam Rosenman, said: "Fala like his master, loved people: and would quickly begin to fraternize in almost any company.
"It was his custom, as soon as he was permitted on deck in the morning, to scamper forward and find his way below to the seamen's quarters. This was not just natural curiosity. He had learned quickly that little scraps of delicacies would be fed to him on these forays below. "
Herbert Hoover and King Tut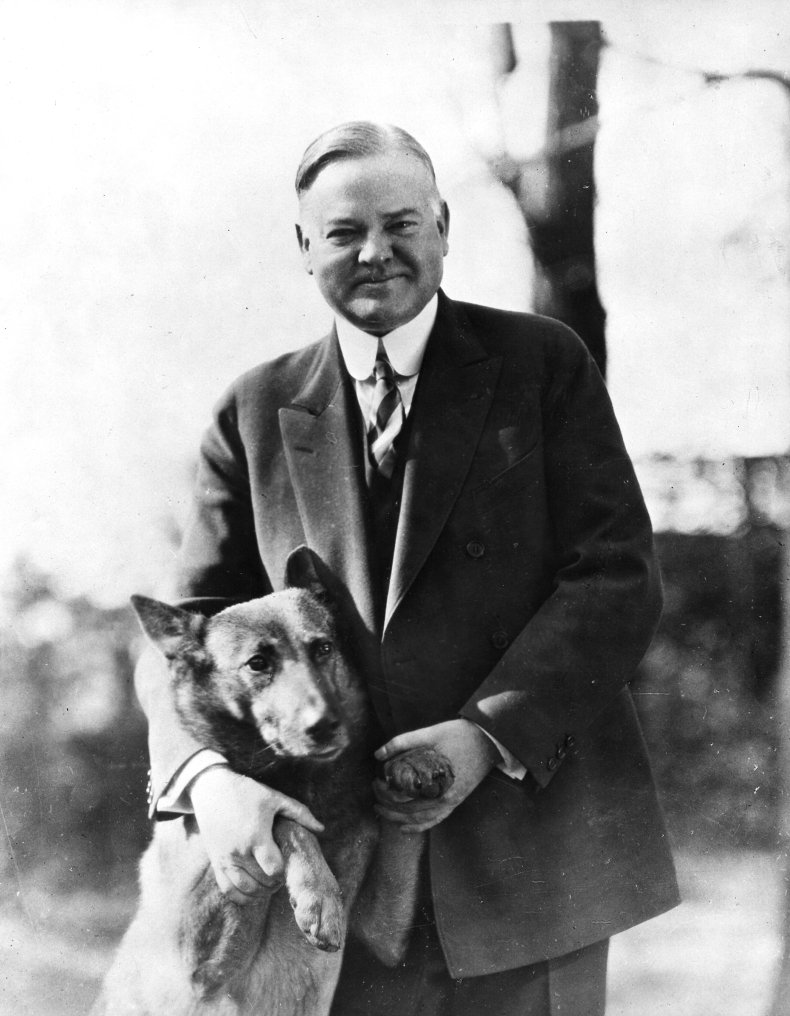 Herbert Hoover had many dogs, but King Tut, a Belgian Malinois or Belgian Shepherd, was said to be his favorite. King Tut went to live with Senator Frederic Collin Walcott from Connecticut, who was renting the Hoovers' home while they lived at the White House, as the home was familiar to him.
Calvin Coolidge, Blackberry, and Rob Roy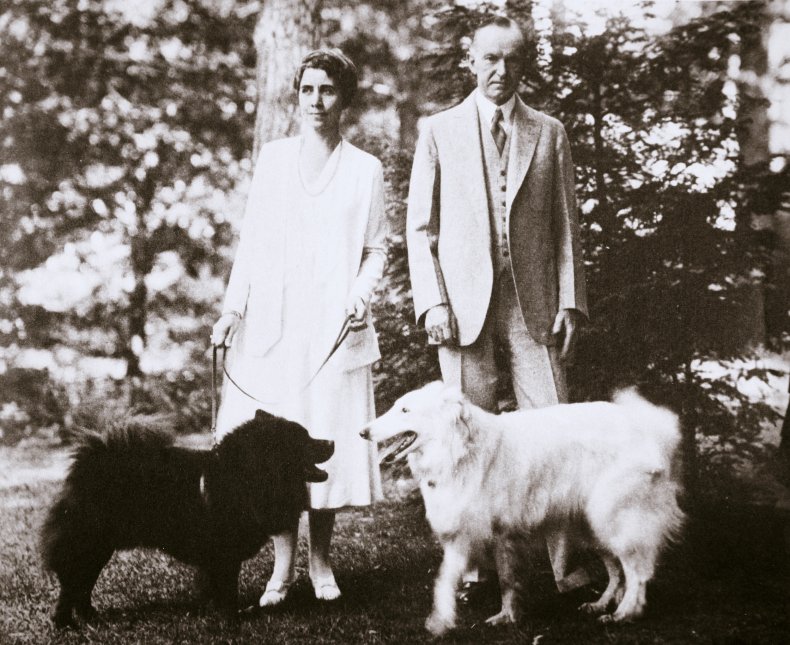 Calvin Coolidge had multiple dogs, including Peter Pan, Paul Pry, Rob Roy, Beans, Prudence Prim, Tiny Tim, Calamity Jane, Blackberry, and King Cole.
Rob Roy, a white collie, was said to have been Coolidge's favorite dog.
Warren G. Harding and Laddie Boy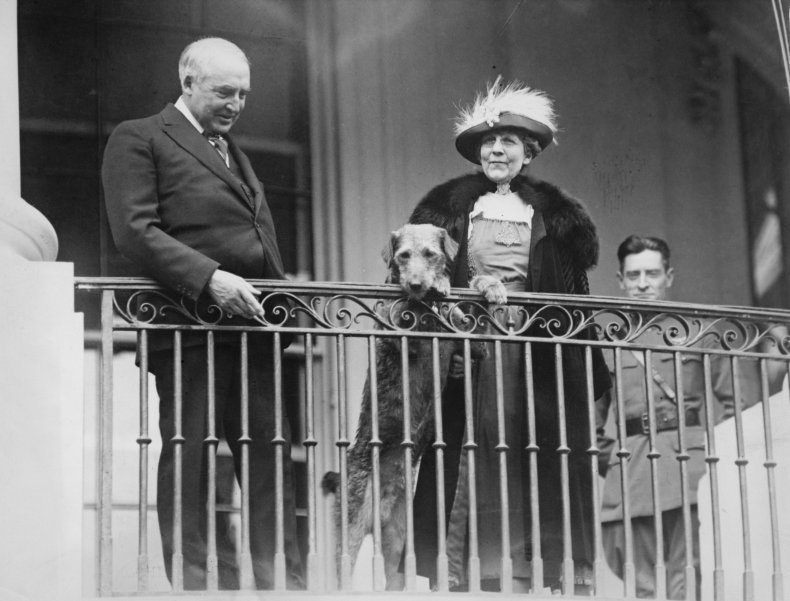 Warren G. Harding had an Airedale terrier named Laddie Boy, who was considered to be the first celebrity presidential pet, receiving more media coverage than the first pets before him.
Tom Crouch, a Smithsonian Institution historian, told the Smithsonian Magazine: "While no one remembers him today, Laddie Boy's contemporary fame puts Roosevelt's Fala, LBJ's beagles and Barney Bush in the shade.
"That dog got a huge amount of attention in the press. There have been famous dogs since, but never anything like this."
Theodore Roosevelt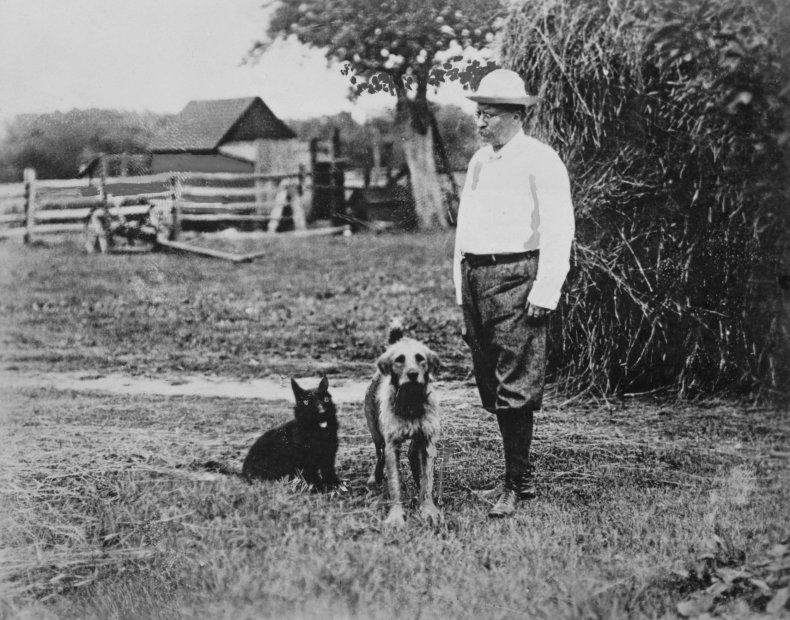 Theodore Roosevelt and his family had numerous animals, including several dogs such as Sailor Boy the Chesapeake retriever, Jack the terrier, Skip the mongrel, and Pete, a bull terrier.
The Teddy Roosevelt Terrier breed of dog was named after the president, who was thought to have owned a similar breed.
Grover Cleveland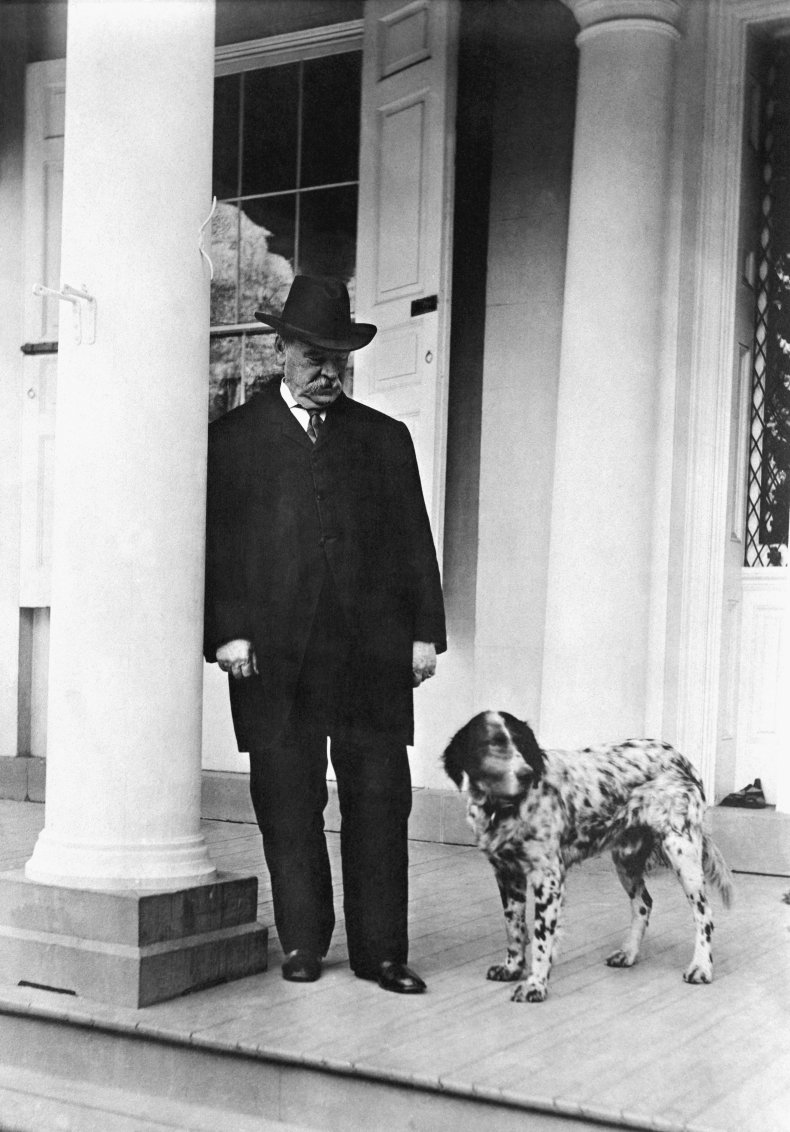 Grover Cleveland had many dogs, including a cocker spaniel, a collie, a St. Bernard, dachshunds, and foxhounds. Cleveland's spaniel was thought to be named Gallagher, though not much is known about this dog.