Pictures Show Donald Trump Leaving the White House for the Final Time As President
Pictures and footage show Donald Trump leaving the White House for the last time in his four years in office.
The 45th U.S. president was joined by the first lady Melania Trump as they emerged from the building on Wednesday to board Marine One.
Footage and photos of the historic moment, showed the outgoing president and first lady walking out onto a red carpet, which had been rolled out for his send-off.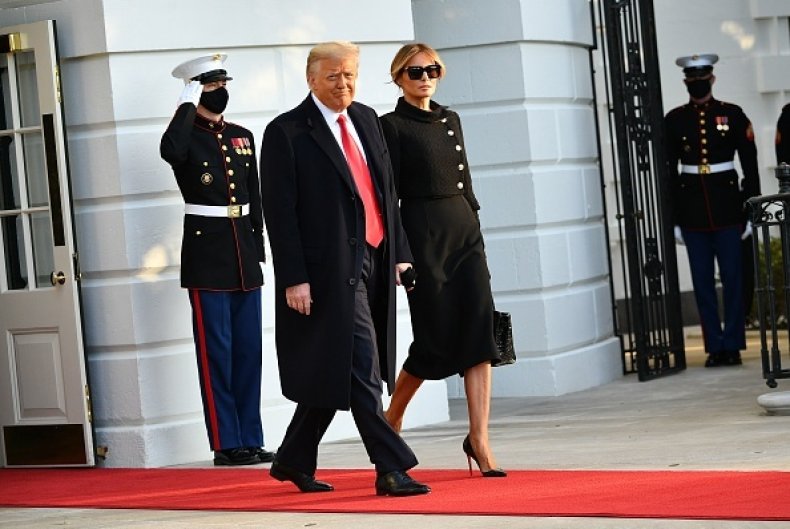 Trump was captured pausing to briefly to speak to the press, saying: "It's been a great honour, the honour of a lifetime."
He then strolled hand-in-hand with Melania across the South Lawn to board the helicopter. As Trump walked up the steps into the aircraft, he was pictured waving to the small crowd of staff, reporters and soldiers gathered by the lawn.
Marine One then took off, travelling to Joint Base Andrews in suburban Maryland.
His family were waiting at the airfield for the farewell ceremony, which began with a military band playing Hail to the Chief and the 21 gun salute that Trump had wanted.
Breaking with tradition, Trump will not attend President-elect Joe Biden's inauguration, instead ending his term at the Mar-a-Lago golf club in Florida.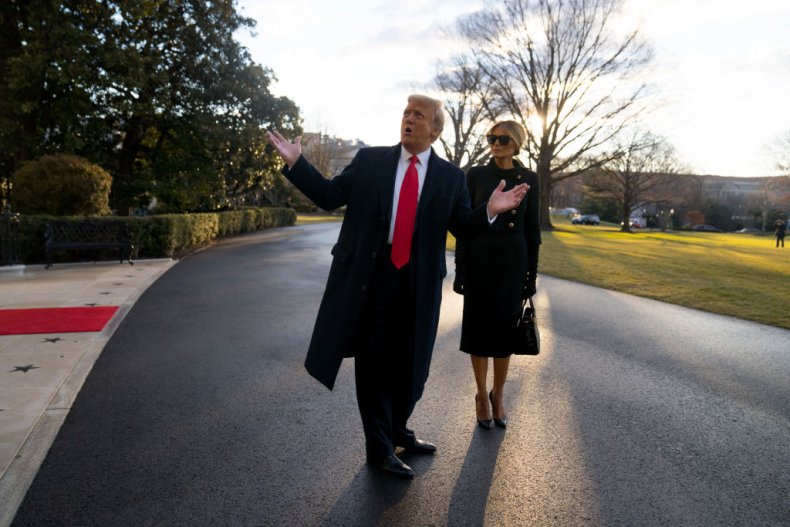 In Focus
President Donald Trump and first lady Melania Trump depart the White House on January 20, 2021 in Washington, D.C.
Launch Slideshow

5 PHOTOS
At the airfield, the outgoing president invited his wife to say a few words first before he gave a speech to the crowd.
Trump outlined claims of what his administration had achieved, like creating the U.S. Space Force, tax cuts, and building the greatest economy the U.S. has ever seen.
He then tried to take credit for "incredible numbers" that are going to emerge in the next few months under the new Biden administration, saying they have "the foundation to do something truly spectacular."
"Now, as I prepare to hand power over to a new administration at noon on Wednesday, I want you to know that the movement we started is only just beginning," he said.
"There's never been anything like it. The belief that a nation must serve its citizens will not dwindle but instead only grow stronger by the day."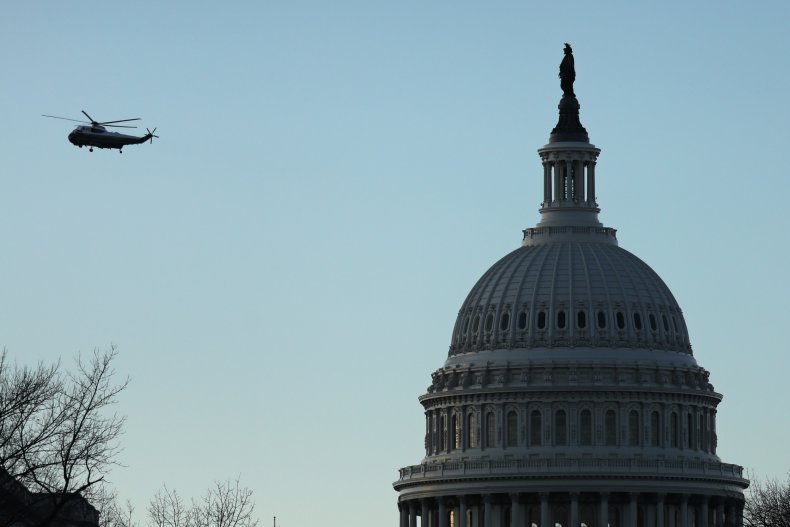 After his speech, the president and first lady boarded Air Force One. Trump paused at the top of the steps for one last wave before he entered the aircraft.
In Washington, D.C., Biden is now preparing to take the oath of office in a noon ceremony, which has been heavily fortified after pro-Trump supporters stormed the Capitol on January 6.
Around 25,000 troops will guard the inauguration ceremony, as illustrated in the graphic below by Statista, and there will be no traditional crowd of spectators due to the COVID-19 pandemic.