Detective Under Investigation for Attending Trump Rally Before Capitol Riot
A Philadelphia police officer is being investigated over allegations that she attended last Wednesday's rally in Washington, D.C. where President Donald Trump exhorted his supporters to march on the U.S. Capitol.
Detective Jennifer Gugger was removed from her role from the department's Recruit Background Investigations Unit, which is responsible for investigating the backgrounds of potential recruits, on Saturday after Internal Affairs were sent social media posts that indicated she was at the rally, The Philadelphia Inquirer reported, citing department sources.
Philadelphia police spokesman Sgt. Eric Gripp, confirmed to Newsweek that a detective had been reassigned pending the outcome of an investigation. He did not confirm the detective's identity.
"At this time, we are aware of social media posts that allege that a PPD detective may have been in attendance at the events on Washington, DC on January 6th," Gripp said.
"An IAB investigation has been opened to determine if any PPD polices were violated by the detective, and if they participated in any illegal activities while in attendance. The detective's assignment has been changed pending the outcome of the investigation."
According to the Inquirer, the tip sent to Internal Affairs did not include evidence Gugger was part of the mob of Trump supporters that breached the Capitol building. Five people died as a result of Wednesday's violence, including a Capitol police officer who was reportedly hit by a fire extinguisher and a woman who was shot dead inside the Capitol by an officer.
Gugger could not immediately be reached for comment.
According to the Inquirer, Gugger posted photos of the Washington Monument and a small crowd in the street on Facebook, using the name Jenny Lynn, and tagged friends she said were at the rally. The post has been taken down, but a screenshot was reviewed by the newspaper.
The friends Gugger tagged later posted videos of Trump supporters as they gathered outside the Capitol.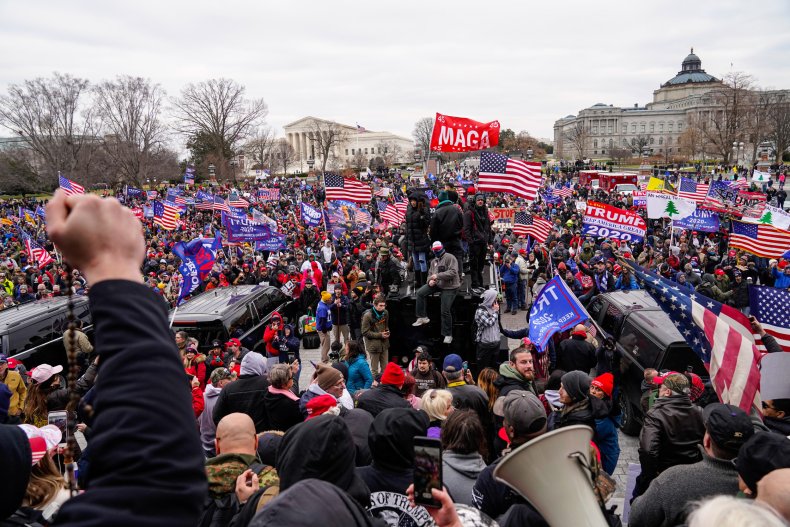 One friend described being near the Capitol steps when some stormed the building, and wrote that a "few Antifa scumbags wearing Trump stuff walking toward the Capitol with bats." Gugger reportedly responded with "Yep."
There is no evidence that Antifa, an umbrella term for left-leaning groups that oppose neo-Nazis and white supremacists, were involved in the events.
According to the Inquirer, Gugger's Facebook profile photo until recently referred to QAnon, a convoluted pro-Trump conspiracy theory. QAnon adherents were seen among the mob that stormed the Capitol. The FBI has classified that QAnon and other conspiracy theories are domestic terrorist threats.
Meanwhile, police departments across the U.S. are investigating officers who many have taken part in the riot at the Capitol. The Washington Post reported that police departments in Washington, California and Texas have announced probes based on tips, social media posts and other evidence.
Two Seattle police officers have been placed on administrative leave—and Interim Police Chef Adrian Diaz has vowed to fire any officers found to have been "directly involved in the insurrection at the U.S. Capitol."
Dave Ellis, the police chief in Troy, New Hampshire, is facing calls to resign after his attendance at Wednesday's rally was reported by New York Magazine.
This article has been updated to include a statement from Sgt. Eric Gripp.