Two Seattle Police Officers Put on Leave Over D.C. Rally, Will Be Fired If They Joined Capitol Riot
The Seattle Police Department (SPD) has said an investigation is underway into the alleged involvement of two of its officers in Wednesday's protests in Washington D.C.
The department said that if any of its officers are found to have been involved in later "insurrection" at the U.S. Capitol, they would be fired straight away.
It is believed to be the first report of law enforcement officials from outside of D.C. being involved in the earlier rally, according to ABC News.
Seattle police chief Adrian Diaz said that his department supported expressions of freedom of speech as enshrined by the First Amendment of the Constitution.
However, in a news release he noted that some events after the protests "were unlawful and resulted in the death of another police officer." U.S. Capitol Police officer Brian Sicknick died a day after the protests after suffering injuries in the violent siege.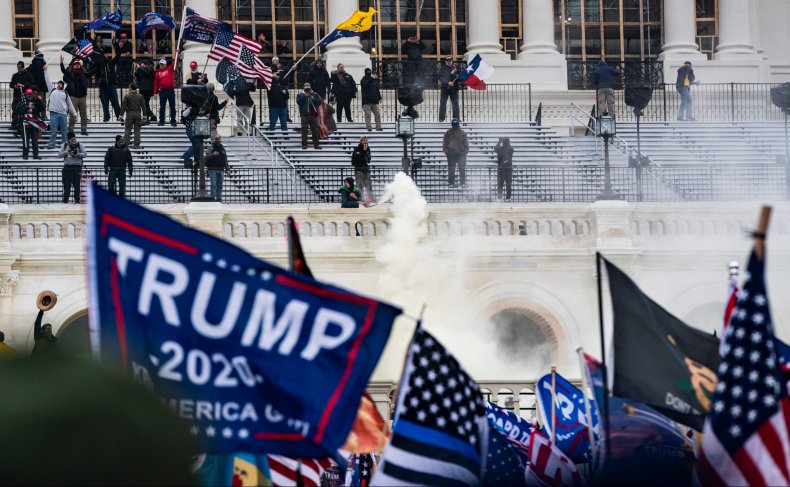 In a statement, Diaz said that the Office of Police Accountability (OPA) was undertaking an investigation to see if any Seattle Police Department policies were violated and if there needed to be a further probe into illegal activities which would be referred for criminal investigation.
"If any SPD officers were directly involved in the insurrection at the U.S. Capitol, I will immediately terminate them," Diaz said in the statement, adding that the officers had been placed on administrative leave pending the investigation.
Newsweek has contacted the SPD for further comment.
A federal murder investigation, conducted jointly between the FBI and the D.C. Metropolitan Police Department, has been launched into the death of officer Sicknick.
Acting U.S. Attorney General Jeffrey Rosen said the Department of Justice "will spare no resources in investigating and holding accountable those responsible."
House Speaker Nancy Pelosi has ordered all flags at the Capitol to be flown at half-staff in memory of Sicknick, who was one of five people to die in relation to the riots.
Rep. Don Beyer (D-Va.) has called for Sicknick to lie in state at the Capitol as a tribute for his actions of "protecting those trapped in the Capitol amid a violent assault on our democracy itself."
The FBI is working to identify those involved in the protests, with Assistant Director Steven M. D'Antuono, telling reporters that even if they had left the DC region, "you can still expect a knock on the door if we find out that you were part of criminal activity inside the Capitol."
The graphic below by Statista shows how Americans feel about the use of violence to promote political goals.