In Pictures, George Floyd Celebrated in L.A. Streets Once Rocked by Rodney King Riots
Photos curated by Diane Rice, Newsweek
Eight days from now, April 29 will mark the 29th anniversary of the Los Angeles riots that followed the acquittal of the four officers who beat Rodney King. In 1992 the intersection of Florence and Normandie avenues saw the beginning of the six-day uprisings that started with smashed windows, burned buildings, and the beating of a delivery truck driver. At this same spot nearly three decades later, Angelenos find themselves there once again following an incident of police brutality toward another Black man—except this time they're celebrating.
Yesterday's verdict found former Minnesota police officer Derek Chauvin guilty on all three counts for the May 25, 2020 murder of George Floyd. Chauvin, who held his knee on Floyd's neck for nine minutes and 29 seconds after he claimed Floyd was resisting arrest, was found guilty of second-degree murder, third degree murder, and manslaughter in the second degree.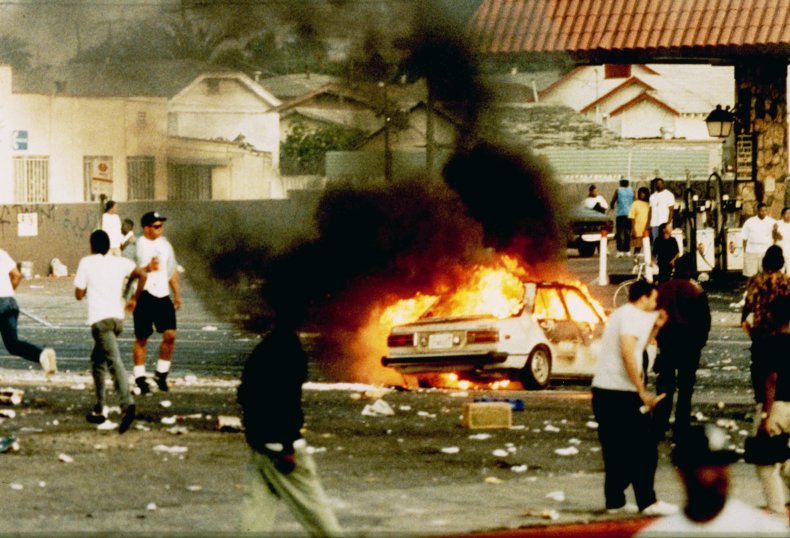 This photo marks the aftermath of a breaking point for racial tensions in Los Angeles. Along with King's beating, Black Americans in Los Angeles had also witnessed a judge sentence convenience store owner Soon Ja Du to five years probation after the murder of 15-year-old African American Latasha Harlins, who was falsely accused of attempting to steal a $1.79 bottle of orange juice. The murder of Harlins and the beating of King followed historically oppressive levels of policing in Los Angeles following the 1984 Olympics.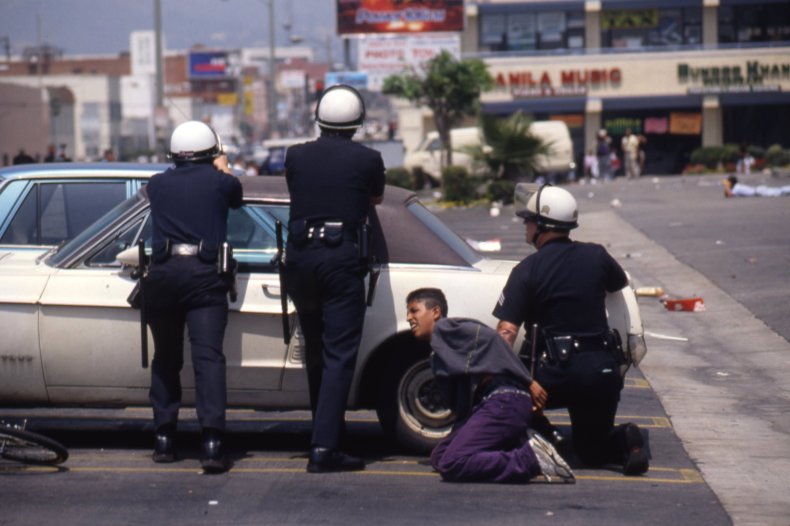 The George Floyd movement led to conversations in America around the role of policing and the accountability of police. While the King protests forced LAPD to adapt their practices from a paramilitary approach to a community policing style, African American continue to be disproportionately arrested in Los Angeles County. This fact echoes a recent message by Vice President Kamala Harris on Twitter that: "We still have work to do."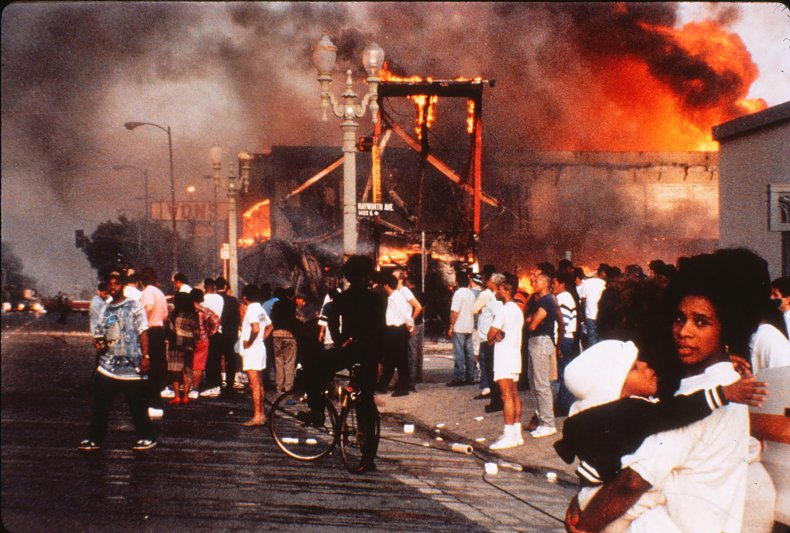 While social media and other online organizing facilitated the spread of George Floyd-related protests across the nation, the movement following the murder of King primarily took place in L.A. The lack of movement by the woman featured in the photo and those surrounding her reflects the level of shock associated with the moment.
The cost of destruction associated with the Floyd protests resulted in an estimated $1 billion to $2 billion worth of insurance claims. The King protests, concentrated primarily in L.A., resulted in claims worth $775 million, not adjusted for inflation.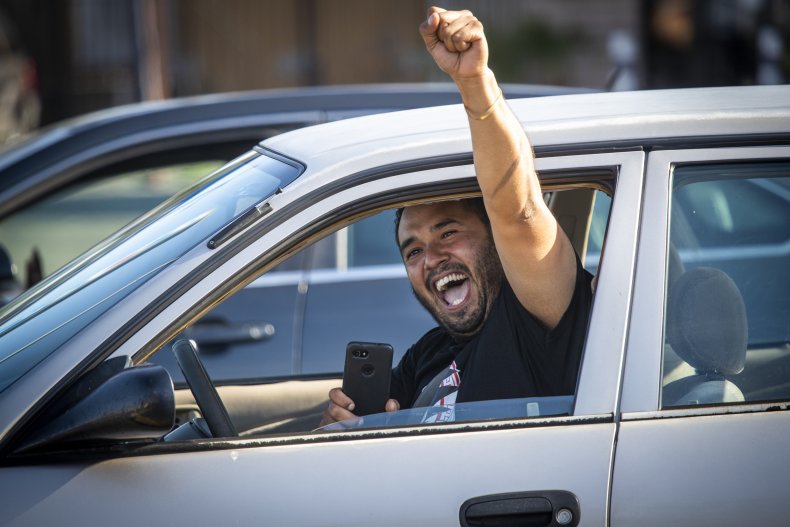 At the corner of Florence and Normandie a driver raises his fist in solidarity with those celebrating nearby following news of the verdict. The raised fist as a sign of Black pride and solidarity became popular in the 1960s during the rise of the Black Power Movement. Groups like the Black Panther Party raised the fist as a sign of strength in overcoming oppression. Like the Black Power Movement of the 1960s, the George Floyd protests have been marked as a turning point for race relations in America.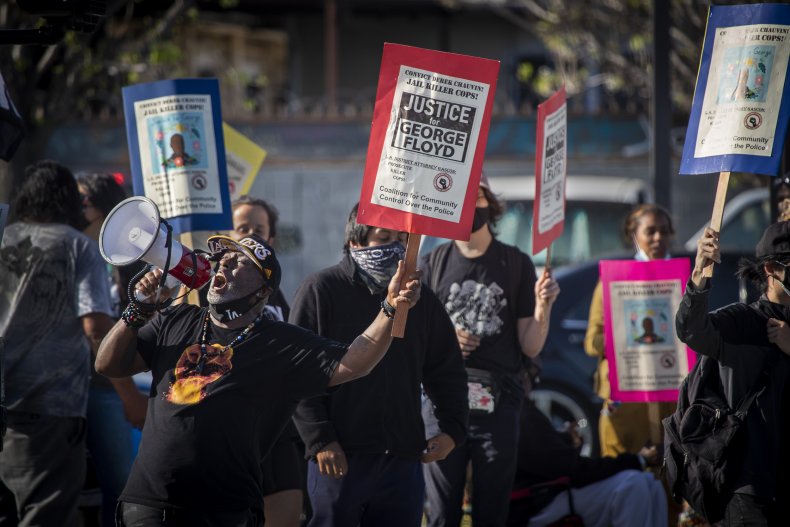 Grass roots activism by groups such as Black Lives Matter played a central role in facilitating protests across the United States. Local activists were responsible for coordinating rallies and marches and providing protective materials, like goggles and face masks, to those protestors who faced violence at the hands of police. Here, Los Angeles activist Kenneth Davis celebrates the verdict which some consider to be a partial product of the summer of activism.
After two months of consistent protests and over eight more months of political action in between, Justin Stephenson smiles, knowing the trial of George Floyd's murderer has ended with justice. While a number of cases of police violence toward African Americans, including those of Daunte Demetrius Wright and Ma'Khia Bryant are yet to be decided, the people at Florence and Normandie avenues enjoy a rare moment of victory, as historically just 1% of fatal police shootings ever results in an arrest.