No Piers Morgan, White Girls Can't Say 'Niggas' Just Because Kanye West Did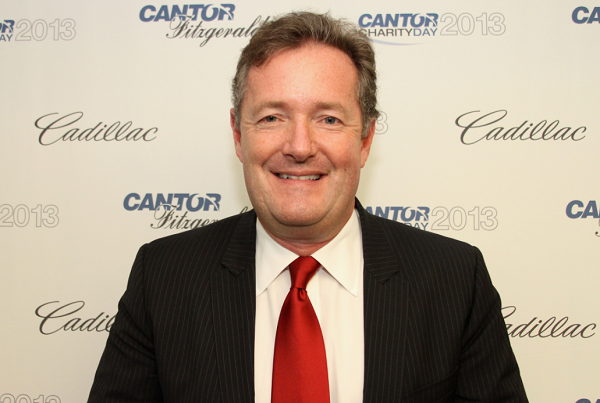 On Thursday, TV personality and ultimate thirst-bucket Piers Morgan published an article in the Daily Mail insinuating that it was OK for white girls to use the word "nigga," because Kanye West used the term in a song. According to Morgan, if West said the word in a song—2005's chart-topping "Gold Digger"—why on Earth would anyone be offended by a couple of white girls singing the lyrics?
Morgan's concern for white girls using the word came after a video went viral of Alpha Phi sorority girls at the University of New Hampshire happily singing the lyrics, "Now I' ain't sayin' she a gold digger. But she ain't messin' with no broke niggas." The video sparked instant outrage.
Morgan was utterly bewildered by the fact that in 2017 America, people would be irate by young white women chanting the lyrics to a Kanye West song. As Morgan tells it, the white girls were merely reciting the lyrics to a song that spent 10 weeks at the top of the Billboard charts. Who were we to condemn them for not censoring their language when the song's very own creator, West—a black man from Chicago whose ancestors were slaves or "niggers," as they were commonly referred to—was so comfortable using the word?
The word 'nigga,' or "nigger"—however, you want to spell it—is categorically and historically a racist slur.
Granted, usage has changed, to a degree, in modern times.
There are some black folks who use the word to refer to one another as 'niggas' and even use it as a lighthearted greeting. Whereas "nigger" has always been considered a demeaning and malicious term coined by racists looking to solidify their supremacy by labeling blacks. It's a term that was designed to belittle the very people whose backs this country was built upon, and the use of it only memorializes the disgusting and crude scars of American history that run deeper than the lashes from master's whip.
To Morgan's defense, he admits that the word "nigger" is a racist term. However, he appears to be confused by some black Americans' intolerance of the word but others' acceptance and use of it. He also points out that there are some black Americans who only seem to be bothered when white people use the word 'nigga'—umm, obviously.
Regardless of the version, in post-Jim Crow America, (especially one that is still incredibly and cohesively racist, considering the Charlottesville rally and the still-thriving neo-Nazis) it is completely unacceptable for white people to use the term.
Morgan alleges that the UNH students probably didn't give any thought to the words they were singing when they so loudly recited the chorus of "Gold Digger."
"They're young, free and partying," he writes. They also benefit from their white privilege, which allows them to be unaware of the years of pain, suffering and inequality black Americans experienced—the injustices and disparities that black Americans are suffering still to this day because of the history of that word.
It doesn't matter if Kanye West used the word in his song. It doesn't matter if 'nigga' is used on social media over 500,000 times a day by young black Americans. It's also completely irrelevant if Piers Morgan, a white, British man, sees "no difference" between 'nigga' and 'nigger.'
Simply put, no one should use the word, especially not those whose ancestors used it to subjugate an entire race.