Piers Morgan Claims Meghan Markle Complained to His Bosses Ahead of Firing
Piers Morgan has claimed Meghan Markle "personally complained" to his bosses before he was unceremoniously dismissed from Good Morning Britain.
The TV personality sparked an avalanche of headlines when he stormed off the set of the ITV breakfast show in March, after insisting he didn't believe claims made by the Duchess of Sussex during her bombshell interview with Oprah Winfrey.
In a new interview with Australia's 60 Minutes, set to air on Sunday, Morgan doubled down on his accusations of dishonesty, while airing his views on the royal couple and sharing that Prince Harry's wife got personally involved.
In a teaser clip for the special, he is seen telling his interviewer, Karl Stefanovic: "Meghan Markle had personally complained to the boss of my company."
Broadcaster ITV reported in March that the Duchess of Sussex had issued a formal complaint about Morgan, after he questioned her claims of not having had support from Buckingham Palace while battling mental health issues.
According to ITV, Markle had concerns about the way his dismissal of her claims in the interview may affect others who might be experiencing problems with their mental health.
In the new interview, Morgan calls Markle out for lying, addressing her claims to Winfrey that she and her husband actually had a private ceremony officiated by the Archbishop of Canterbury, Justin Welby, three days before their televised nuptials took place on May 19, 2018.
"There were downright lies," Celebrity Apprentice 2008 winner Morgan told Stefanovic. "That would make the Archbishop of Canterbury a criminal."
Weeks after Markle's interview was aired, it was revealed that the couple's prior exchange of nuptials was not a religious or legally binding ceremony.
The Archbishop told Italian newspaper la Repubblica: "The legal wedding was on the Saturday. I signed the wedding certificate, which is a legal document, and I would have committed a serious criminal offence if I signed it knowing it was false."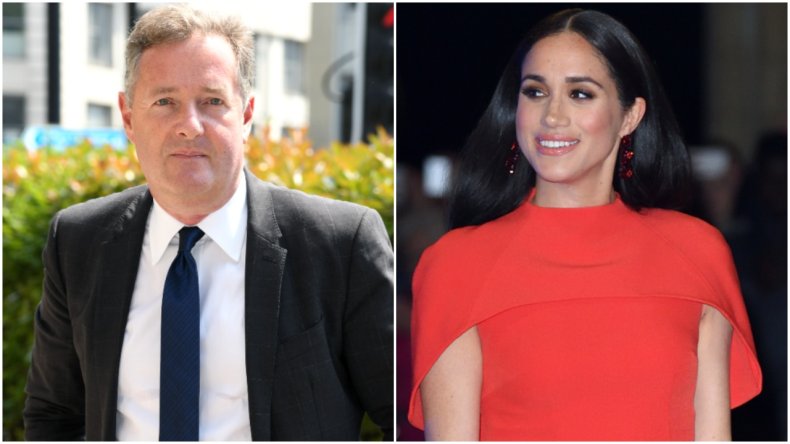 Elsewhere in his 60 Minutes interview, Morgan spoke out in defence of freedom of speech, while taking a swipe at "woke" individuals.
"Freedom of speech is more important than the Meghan Markle debacle," he said.
"Who are these 'woke' people, marching around like they're Kim Jong-un with a dash of Vladimir Putin?"
At one point, Stefanovic was seen saying to Morgan: "You're just an angry old man," which drew laughs from the British columnist.
And as Morgan implored: "Come on everybody—take a chill pill," Stefanovic quizzed: "Are you going to take one?"
Morgan's claim of Markle filing a complaint about him comes after he suggested that she used mental health claims to get him dismissed from his anchoring slot on Good Morning Britain.
Separately, in his column for the U.K.'s Daily Mail, Morgan criticized tennis champion Naomi Osaka after she cited mental health issues for bowing out of media interviews at the French Open. She later quit the tournament altogether.
"This is straight out of the Meghan and Harry playbook of wanting to have the world's largest cake and eating it, by exploiting the media for ruthlessly commercial self-promotion but using mental health to silence any media criticism," he wrote.
He then went on to assert that mental health is frequently used to excuse "deplorable behavior," as he took another swipe at the royal couple.
"The Duke and Duchess of Sussex use it constantly as a protective shield to launch savage attacks on the royal family, and to get journalists like me who don't believe them fired," he stated.
In the years since the Duke and Duchess of Sussex tied the knot, Morgan has risen to the fore as one of the couple's most vocal critics.
That criticism has increased since they stepped down from royal duties and settled in Markle's native California.
Newsweek has contacted representatives for Piers Morgan and the Duke and Duchess of Sussex's Archewell Foundation for comment.