Piers Morgan Says He and Donald Trump Had Furious Argument Off-Camera
Piers Morgan said he and Donald Trump had an argument before the pair officially began their interview, which has sparked controversy even before being broadcast.
Morgan spoke on ITV's Lorraine show on Thursday to explain the backlash following the release of the trailer for his interview with the former president. Morgan also called on his critics to watch the full interview to gauge for themselves whether the trailer was misleading.
The interview is set to air on his new show, Piers Morgan Uncensored, that launches next week on TalkTV, a subsidiary of Rupert Murdoch's News Corporation.
On Wednesday, Morgan released a 30-second trailer of the interview, where Trump can be seen asking to "turn the camera off" before apparently storming out of the interview when asked about Trump's stolen election claims.
Morgan said that Trump had received a message showing the negative things the former Good Morning Britain host had said about him.
"I was supposed to have 20 minutes with him, we had a very heated argument before we even got on air," Morgan said while speaking on Lorraine.
"Somebody close to Nigel Farage, who works for a competitor, sent Mr. Trump a 3-page dossier of all the criticism I have made of him during the pandemic and after the election."
Farage, the former leader of the U.K.'s Brexit party, is now a presenter on GB News, a British network.
Morgan went on to emphasize that he always attempts to be fair when it comes to discussing the former president. He also said one of the issues that arose between himself and Trump, during the interview, was the 2020 election.
"I have tried to be more balanced then probably most journalists. People are either totally in the tank for him or totally in the tank against him. I have always tried to be somewhere in the middle," Morgan said.
"This interview is a a very good example of that actually because we got 70-odd minutes in the end compared to the 20 I was supposed to get. It is a riveting interview, it is fascinating, revealing and a lot of it is fun.
"We have some laughs about certain things, I agree with him on a number of things and the bone of contention, that the promo is about, is simply when I get to this part of the interview which I think is at the key of what is going on with Donald Trump."
Morgan continued: "Is Donald Trump the right guy [for the Republican Party in 2024] if he refuses to accept he lost the last free democratic election, should he be entitled to run again? That is what this is all about.
"He is surrounded by a lot of people who keep telling him 'you are right, Mr President, it was stolen', I looked him straight in the eye, as you see in the promo, and said I don't think you did [have the election stolen]."
Trump has repeatedly made baseless claims alleging that the election was "rigged" and that he should have won with the 72 million ballots cast for him and running mate Mike Pence.
The belief that the election was stolen from Trump became the grounds on which a pro-Trump mob stormed the Capitol building on January 6, 2021 in an effort to block Congress from certifying the electoral college votes, which would go on to cement President Joe Biden's victory with 306 votes to Trump's 232.
Following the trailer going viral, Trump issued a statement in which he criticized Morgan and said the video was deceptively edited. Trump's Director of Communications, Taylor Budowich, shared the statement to his Twitter page.
"Piers Morgan, like the rest of the Fake News Media, attempted to unlawfully and deceptively edit his long and tedious interview with me," Trump said in the statement.
"He wanted to make it look like I walked out on the interview when my time limit of 20 minutes went over by an hour.
"The good news is that the interview was taped by us as a means of keeping him honest. The interview was actually very strong on the 2020 Election Fraud, with me calling him 'a fool' if he truly believed those results."
"The evidence is massive and irrefutable (check out Truth the Vote and the Dinesh D'Souza documentary, which will all be coming out soon). For those who want to make Piers look bad, compare his video promo and how it was doctored to the real thing.
"Hopefully they will now be doing some big changes to their final product. It just shows, however, what I have to deal with in the Fake News Media. He went out of his way to deceptively edit an interview and got caught. That is a big story, isn't it?"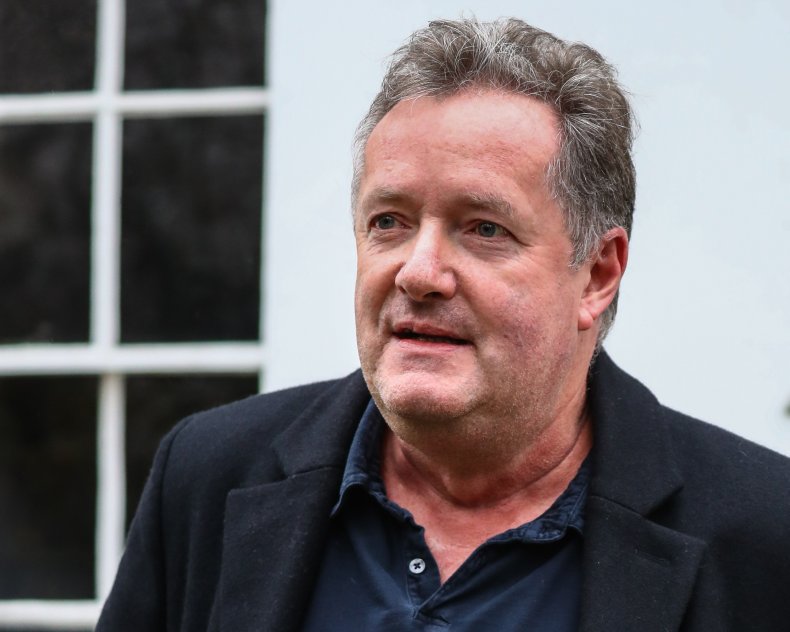 Update 04/21/22 at 9:30 a.m. ET. This article was updated to add a statement from Donald Trump.