Piers Morgan Called 'Hypocrite' For Slamming Angela Bassett Oscars Reaction
Piers Morgan has been called out for double standards after he criticized Angela Bassett's "sour response" to losing at the Oscars.
Bassett was nominated for Best Supporting Actress at the 95th Academy Awards on Sunday but lost out to Jamie Lee Curtis in a result that came as a shock to many. However, she then went viral as she was caught on camera looking disappointed and not clapping as a result.
Outspoken journalist and TV personality Morgan has slammed Bassett for her behavior, though Twitter users were quick to point out that he's not always been a gracious loser in the past.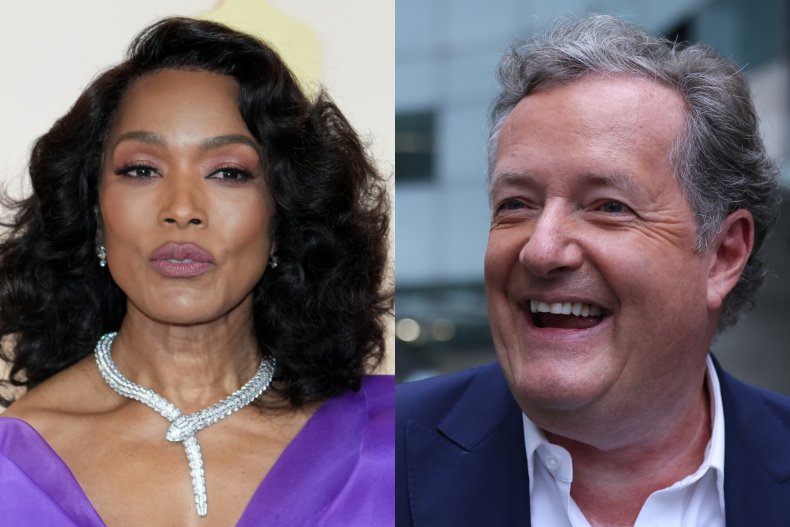 "When you lose, you've got to try and pretend you're happy for the people who win, and this is something Angela Bassett did not get the memo on," Morgan said on his Talk TV show Piers Morgan Uncensored. "I mean it's like she was literally sucking or inhaling a large bottle of particularly toxic vinegar," Morgan quipped as he shared a zoomed-in clip of Bassett's reaction at the moment of the result. "She could not contain her disgust.
"You're supposed to be an actress. Surely in that moment, what you do is act your way out of it. You pretend you're happy for Jamie Lee Curtis don't you?"
The snippet from Morgan's show was shared on Twitter, and a number of people pointed out what they saw as the hypocrisy in his words.
"You're a fine one to talk Piers," Twitter user @queenmiserable wrote, sharing a clip of Morgan losing at a British awards show. At the National Television Awards, Morgan's Good Morning Britain lost an award to rivals This Morning. When the camera panned to Morgan, his co-host Sussana Reud was smiling but Morgan remained stone-faced. It's unclear whether he was maintaining his sour face in this moment as a joke.
"Speaking of sore losers..." @Michael81182739 wrote, sharing a screenshot of Morgan's fury at the NTAs.
"I really love you Piers but I do remember when you and the GMB team lost out [...] your face was a picture," @Israelradioguy wrote on Twitter to Morgan. "Yes, remind the old hypocrite," @sthlondongirlie added.
Civil servant Anurag Shrivastava retweeted Morgan's video and questioned his logic. "Why fake happiness?" Shrivastava wrote before adding, "If you are disappointed someone else got it, it's OK to show it. That's what a genuine person would do."
Just four days earlier, Morgan had tweeted out a quote from Vince Lombardi that massively contradicted his stance on Bassett. When discussing the soccer player Cristiano Ronaldo reacting badly after losing a game, Morgan wrote: "'Show me a good loser and I'll show you a loser.'"