Piers Morgan Blasts Megan Rapinoe's 'Arrogance,' Demands She 'Try Winning' Before Criticizing Donald Trump
On the eve of the 2019 World Cup championship match, British television host Piers Morgan blasted the "arrogance" of U.S. Women's National Soccer Team co-captain Megan Rapinoe, citing reports she and a majority of players won't visit the White House if invited by President Donald Trump.
Morgan, a self-proclaimed friend of Trump, responded to Rapinoe's claims to reporters Saturday that "not many, if any" of the U.S. women's soccer team players would celebrate a World Cup win with the president.
Update: On Sunday, Rapinoe and the U.S. Women's national soccer team did, in fact, win the World Cup against the Netherlands. Piers Morgan has not remarked on the victory as of Sunday afternoon.
The Good Morning Britain host and outspoken sports critic echoed Trump's complaint that Rapinoe should "WIN first before she TALKS!" before the U.S. faces the Netherlands for the World Cup title.
Morgan was responding to an Associated Press reporter's tweet: "Megan Rapinoe claims 'not many if any players' will go to the White House to see @realDonaldTrump if they win #fifawwc, 'but I haven't spoken to everyone about it.'"
"The arrogance of this is breathtaking. Try winning it first, Ms Rapinoe - then inform us of your latest tiresome political activism," Morgan tweeted Saturday.
However, Morgan failed to take into account that Trump has already personally invited Rapinoe and the rest of the women's soccer team to the White House "win or lose."
Morgan was among Britain's most outspoken complainers after U.S. women's soccer team co-captain Alex Morgan simulated sipping a cup of tea after she scored the go-ahead goal against the British team last week. On Twitter, Morgan wrote, "Come on @Lionesses - make these cocky yanks choke on it."
The British TV personality previously lashed out at Rapinoe after she scored the first goal in the women's quarterfinal against France on June 28, less than two days after Trump first railed against the soccer star on Twitter for a comment she had made months earlier that she would not be "going to the f***ing White House if we win."
Morgan posted a picture showing the co-captain with her arms spread open and remarked, "Ms Rapinoe sure does love herself. Can't wait to see our Lionesses dent that stupendous ego."
However, Morgan's "Lionesses" did little to dent the U.S. team's ego, losing to the Americans 2-1 in the July 2 semifinal, even with Rapinoe sidelined by an injury for the entire match.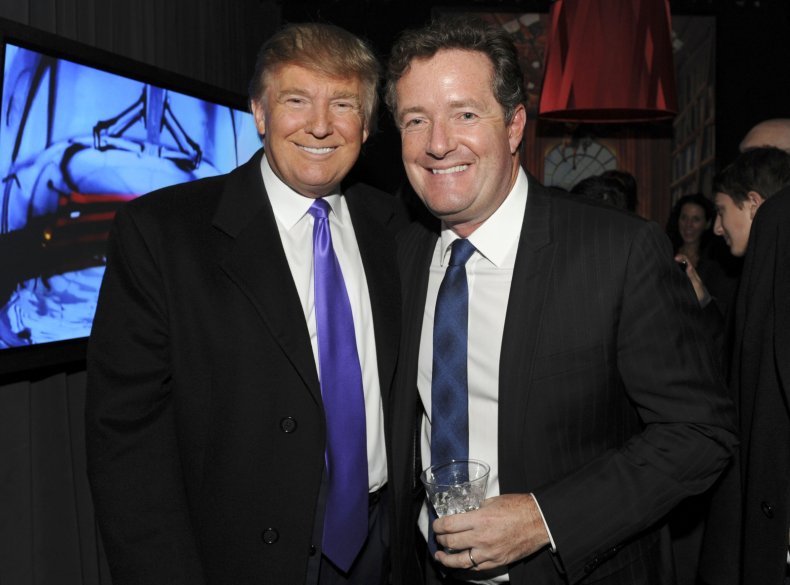 In a June 26 Twitter rant, Trump accused Rapinoe of dishonoring the United States and demanded she be "proud" of the U.S. national anthem in which she remains silent in protest.
"Women's soccer player, @mPinoe, just stated that she is "not going to the F...ing White House if we win." Other than the NBA, which now refuses to call owners, owners (please explain that I just got Criminal Justice Reform passed, Black unemployment is at the lowest level in our Country's history, and the poverty index is also best number EVER), leagues and teams love coming to the White House," Trump tweeted.
"I am a big fan of the American Team, and Women's Soccer, but Megan should WIN first before she TALKS! Finish the job! We haven't yet........invited Megan or the team, but I am now inviting the TEAM, win or lose. Megan should never disrespect our Country, the White House, or our Flag, especially since so much has been done for her & the team. Be proud of the Flag that you wear. The USA is doing GREAT!"
Within minutes of Trump's response to Rapinoe, several of his most staunch allies on Fox Business Network showed their support for the president and not the World Cup competitors. Many critics claimed Rapinoe was simply refusing to see how much effort the president has put into boosting his administration's relationship with the LGBTQ community.
"Marriage is now legal across the country, it's a federal statute," said Fox News host Martha MacCallum, highlighting an Obama-era advancement. "This president is far more out there than most presidents have ever been, it's unique, but rise above it. It's not about you."
Fox Business Network host Stuart Varney was even more blunt with his knee-jerk reaction, demanding the U.S. women's soccer team "fire her" outright.