Piers Morgan Says Prince Harry, Meghan Markle RFK Award Is 'Disgusting'
Piers Morgan described Prince Harry and Meghan Markle as "greedy little grifters who ditched royal duty" as he said they should not be given a human rights award in the name of Robert F. Kennedy.
The Duke and Duchess of Sussex are due to attend the Ripple of Hope gala where they will be named among this year's laureates on December 6, in New York City.
Robert F. Kennedy Human Rights named the couple for what its president, Kerry Kennedy, described as their "willingness to speak up and change the narrative on racial justice."
However, the move has angered some commentators who did not feel the recognition was justified.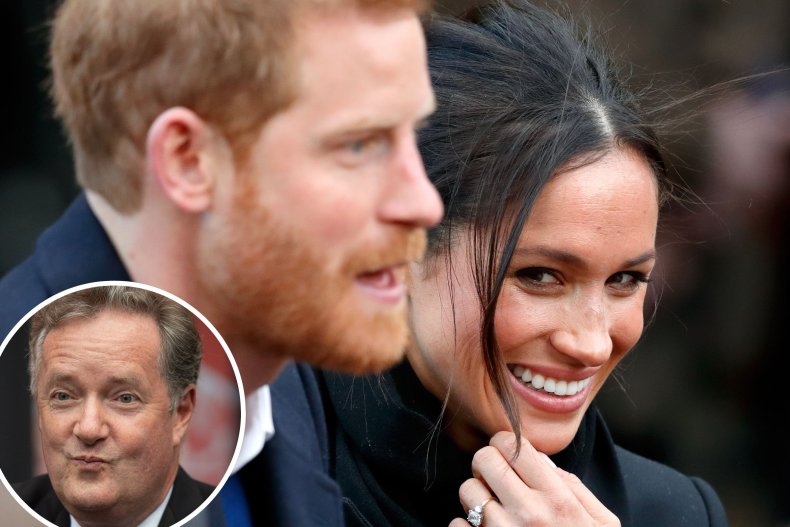 Morgan wrote in his column for The Sun newspaper in the UK: "It's disgusting, and shame on Kerry Kennedy for promoting the farcical notion that Meghan and Harry are any kind of human rights heroes. They're not. They're selfish money-grabbing hypocrites intent on causing as much damage to the Monarchy as they can whilst simultaneously cashing in on their royal status."
"It's hard to imagine two less heroic public figures in modern history," he wrote, "than the Duke and Duchess of Sussex, a pair of greedy little grifters who ditched royal duty, and in Harry's case his country, to fleece their titles for gazillions to the highest commercial bidders.
"They preach about equality and poverty from their £11 million mansion in California, they preach about carbon footprints from private jets, they preach about privacy in self-promoting interviews and podcasts, and they preach about peace and unity as they constantly trash their families in public," Morgan said.
"What part of any of this lives up to the ideals of Bobby Kennedy?"
Shola Mos-Shogbamimu, author of This is Why I Resist: Don't Define My Black Identity, told Newsweek: "You know that the only person I think is disgusting here is Piers Morgan. Bravo to Harry and Meghan. It is important to recognize that it takes real courage to stand up to the powers that be, especially when you are part of that institution.
"By blood, by family, they are part of the institution. It took real courage for them to speak out against what they had experienced and then to continually do so," she said.
"So, not only from the perspective of them sharing their own personal experience about comments about their son Archie, about the lack of support it got from the royal family, about all the racist and negative press coverage, but they have also spoken widely about the Commonwealth."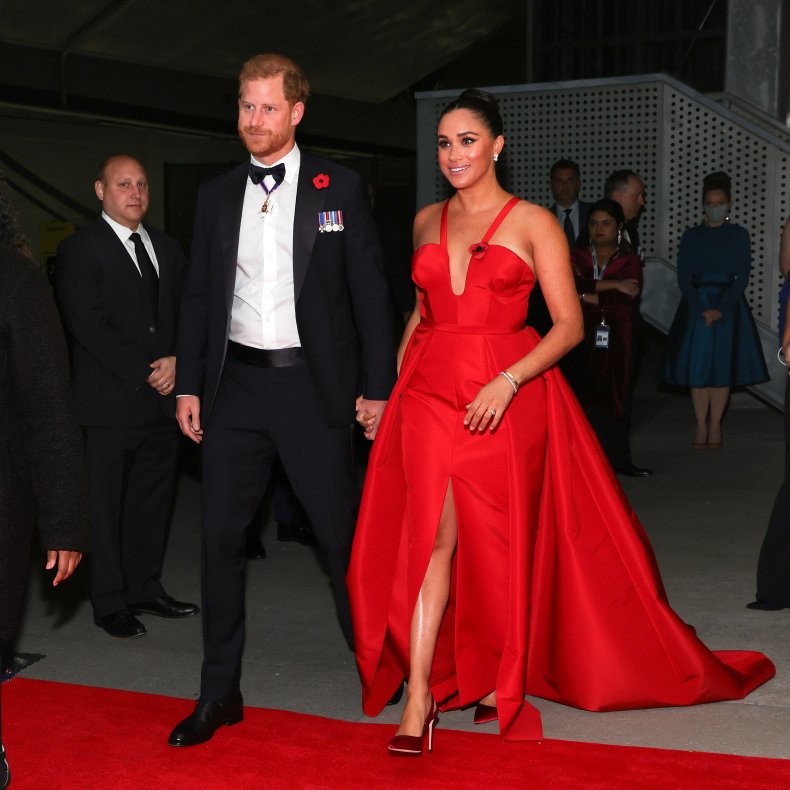 Meghan famously told Oprah Winfrey in March 2021 that an unnamed royal family member expressed concerns about how dark her unborn child's skin might be before he was born.
In the summer of 2020, Harry and Meghan together urged Britain to confront its colonial past for the sake of the future of the Commonwealth during a discussion for the Queen's Commonwealth Trust.
"When you look across the Commonwealth, there is no way that we can move forward unless we acknowledge the past," Harry said.
"It's not just in the big moments, it's in the quiet moments where racism and unconscious bias lies and hides and thrives," Meghan said.
Mos-Shogbamimu told Newsweek: "There are people who were doing this before Harry and Meghan who were not given the platform that Harry and Meghan have, Black people and brown people who were speaking out against the institutional racism, the impact of the colonialism that the royal family symbolizes and represents.
"The fact that it's Harry and Meghan getting the award and not those other people reflects that there is something Harry and Meghan bring to the table because they were part of that institution."
Author and biographer A.N. Wilson, whose latest royal book is titled Lilibet: The Girl Who Would Be Queen, wrote in the Daily Mail: "Surely the first thought which should have occurred to the Sussexes is that they should turn down this Ripple of Hope nonsense?
"By accepting it, they are directing another Exocet missile at Harry's father, his brother and cousins. What heroic deed have the Sussexes ever done together in their dealings with the Royal Family? They have sulked, and squabbled and made trouble and thrown childish tantrums," he said.
The 2022 Ripple of Hope Award Gala will also honor Ukrainian President Volodymyr Zelensky, Frank Baker, the co-founder and managing partner of private equity firm Siris, and Brian Moynihan, chair of the board and chief executive officer of Bank of America, among others.
Do you have a question about King Charles III, William and Kate, Meghan and Harry or their family that you would like our experienced royal correspondents to answer? Email royals@newsweek.com. We'd love to hear from you.