Royal Author Calls Meghan's Oprah Interview 'Worse Than a Crime': 'Shut Up'
Meghan Markle and Prince Harry's 2021 interview with Oprah Winfrey has been called "worse than a crime" by prominent royal biographer Lady Antonia Fraser, who also revealed that she wrote a supportive letter to the duchess before her marriage.
Fraser has written a number of historical biographies, finding significant success in the U.K. with her accounts of royal figures such as the six wives of Henry VIII, King Charles II and Marie Antoinette.
The author's comments come as the Duke and Duchess of Sussex have announced that they will make an unexpected return to the U.K. as part of a European visit in early September to participate in charity events.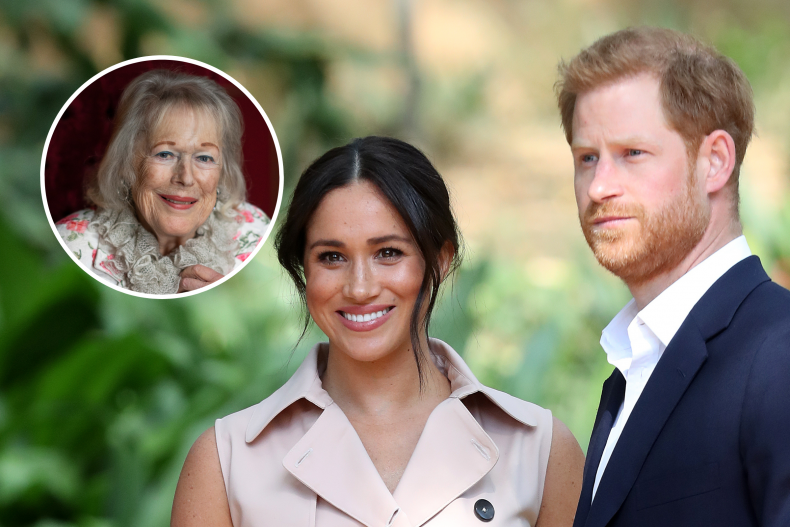 Given her royal knowledge and to mark her 90th birthday this year, Fraser was asked her opinion on the current generations of the British monarchy and in particular her thoughts on Markle in an interview for The Daily Telegraph.
"When Meghan first came to this country, I was very much in favor of her as an independent force—in order to remain the same, you must change," she said of the duchess's introduction into the royal fold.
"I wrote her a letter," Fraser continued. "I said, 'Do not reply'; I was just talking about independent women in history I've written about."
She added, "I sent it to Frogmore [where the Sussexes then lived]. It came back, saying, 'Not known at this address.'"
But Fraser's opinion of Markle altered with the broadcast of her landmark March 2021 interview with Winfrey, alongside Prince Harry.
The interview took place in the United States, where the couple had been living since stepping down as working royals in March 2020. They discussed their experiences with the British press and a lack of support from the royal "firm."
'Now I'm afraid [the interview with] Oprah Winfrey was worse than a crime; it was a mistake," Fraser said. She grouped Meghan and Harry with Prince Andrew, who, following his association with convicted sex offender Jeffrey Epstein and the settling of a sexual assault lawsuit by Epstein accuser Virginia Giuffre, had to step down from his role as a working royal and relinquish the use of the HRH (his royal highness) title.
"I just wish vainly she'd shut up," Fraser said. "And Prince Harry. And Prince Andrew."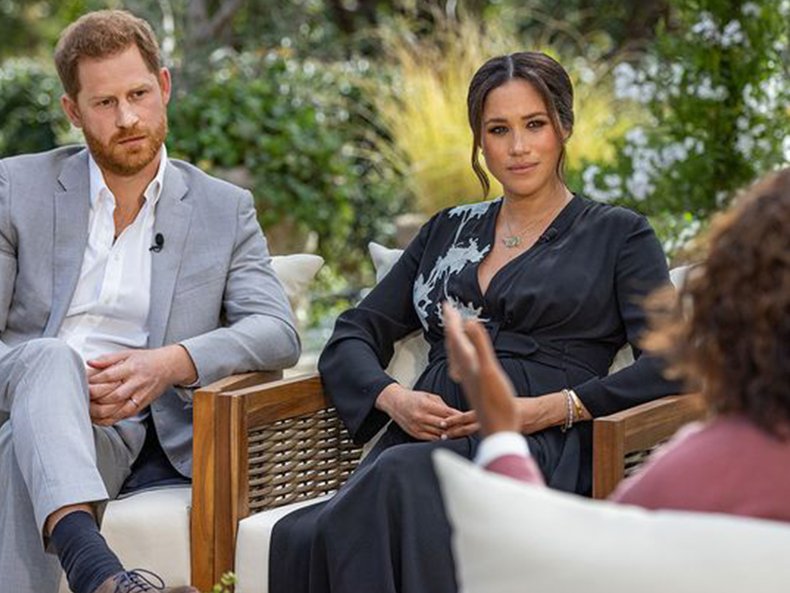 Fraser expressed far more flattering appraisals of other female members of the royal family, including the queen; Camilla, Duchess of Cornwall; and Meghan's sister-in-law, Kate Middleton.
"I'd like to see another photograph by the Duchess of Cambridge rather than read another thing about Prince Harry," she said.
Fraser is not the only royal commentator to have recently expressed distaste for the Sussexes' sit-down with Winfrey, despite its winning the couple a large amount of public sympathy on social media.
Tom Bower, the author of the excoriating biography Revenge: Meghan, Harry and the War Between the Windsors, said that the interview was part of his motivation for writing his book, calling it "disgraceful."
Speaking to the U.K.'s GB News at the time of the book's release, Bower said: "I wouldn't have written this book if [Meghan] hadn't appeared on the Oprah Winfrey show. I thought that was just so disgraceful what she said and what Harry said."
He continued, "I am a monarchist, and I just don't think she should have been allowed to say those things unchallenged by Oprah Winfrey. It was scandalous."
Bower added, "I embarked on this book to actually understand what sort of person actually launches that sort of unfair, untrue attack on the royal family, and that's very much my motive. I tried to find out the truth."
Neither Buckingham Palace nor representatives of the Sussexes have made any official comment on the book or its numerous claims, although palace sources have questioned some key points.
Newsweek reached out to representatives for Fraser and Markle for comment.