A former top editor of a Russian radio station critical of Russia's invasion of Ukraine said someone left a pig's head in a wig by his front door.
Alexei Venediktov, the ex-editor-in-chief of Echo of Moscow, posted a photograph of the alleged incident on his Telegram channel. A picture of Ukraine's official coat of arms with an antisemitic message written on it was also attached to his door.
Echo of Moscow, an independent station, was closed on March 3 after Russian authorities began a crackdown on media criticism of the attack on Ukraine. Before Echo of Moscow was shut down, Russia's prosecutor general's office blocked the station's broadcasts due to its coverage of the conflict.
"They decided to intimidate me and my family? Me, whom Dudayev's militants took to be shot?" Venediktov wrote on Telegram, apparently making a reference to Dzhokhar Dudayev, a Soviet military leader and the president of the Chechen Republic of Ichkeria until his 1996 assassination.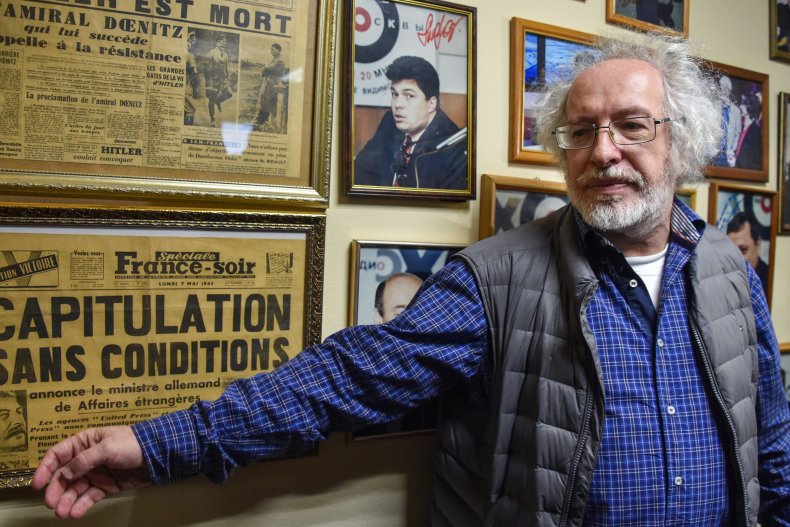 Max Seddon, the Moscow bureau chief of the Financial Times, posted a photo of Venediktov's Telegram message on Twitter. He explained the message on Venediktov's door, "Judensau," is German for Jewish pig—a centuries-old antisemitic term.
When Echo of Moscow first ran into trouble with Russian authorities, Venediktov told Reuters that the station's independent voice would not be stifled. "Our editorial policies won't change," he said.
Following Echo of Moscow's shutdown, White House press secretary Jen Psaki condemned such censorship by the Kremlin as "a full assault on media freedom and the truth."
Echo of Moscow was majority owned by Gazprom-Media holding, a subsidiary of the Russia state-owned Gazprom corporation. Prior to its closing, the station had been operating since 1990. Echo of Moscow's radio frequency has since been given to Sputnik Radio, a Russia state station.
Venediktov is a decorated and well-known journalist in Russia who has received multiple awards and honors during his career. In 2012, he founded the magazine Diletant.
A critic of Russian President Vladimir Putin, Venediktov was known to host opposition leaders on the station. He resigned in 2012 from the station's board of directors as a protest against changes put forth by Gazprom. Two years later, Venediktov returned to the board, only to resign again in 2018.
During a 2012 meeting with journalists, including Venediktov, Putin denounced Echo of Moscow. He accused the station of being biased, saying it was "pouring diarrhea" on him "from morning till night."
Newsweek contacted Venediktov for comment but did not hear back in time for publication.
Update 03/24/22 3:52 p.m. ET: This story has been updated to include more background information on Venediktov.