Pilot Attempted Loop Maneuver Over Relative's House Before Fatal Crash Into It: Authorities
An investigation by the National Transportation Safety Board (NTSB) found that the pilot involved in a fatal plane crash in October was attempting to fly in a loop over a relative's home.
The incident occurred on October 23 in the northwestern Wisconsin town of Marengo when a single-engine plane crashed into a house. Two siblings who were onboard, Aaron Mika, 29, and Aleah Mika, 21, died in the crash. No one on the ground was hurt.
"On October 23rd, 2021 at approximately 2:40 PM, the Ashland County Communications Center received multiple 911 calls reporting a single-engine aircraft had crashed near a residence in the Town of Marengo," the Ashland County Sheriff's Office said in a statement shared on Facebook. The sheriff's office added that authorities arrived on the scene shortly afterward.
"The Ashland County Sheriff's Office offers its deepest condolences to the family of the victims and will share further information with the public regarding this incident as it becomes available," they wrote.
The pilot of the craft had called a sister-in-law to tell her that he would be flying over her home, according to the newly-released NTSB reports. It was that house that he would eventually crash into.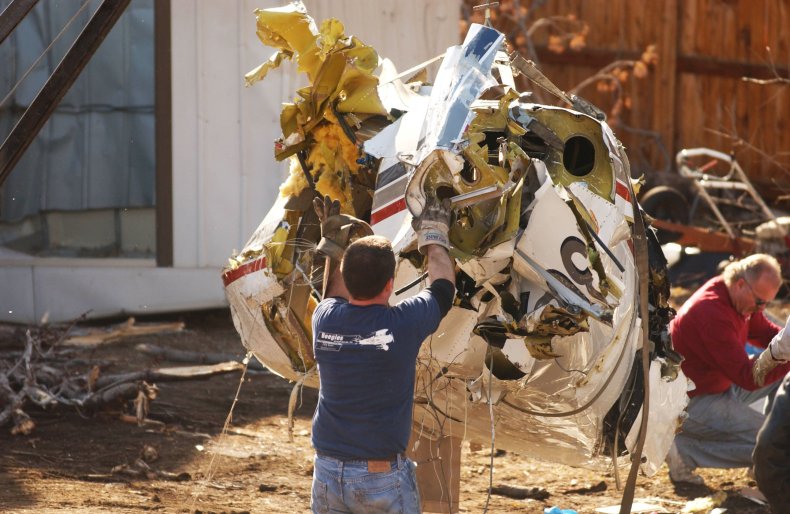 The pilot reportedly circled over the home several times while descending in a loop maneuver. Witnesses described the craft as flying low during this time. The report noted that no sign of mechanical failure has been found in the craft to indicate a cause of the accident.
It is unclear based on available information whether Aaron Mika was the pilot of the craft. The flight had been bound for Eden Prairie, Minnesota, after taking off from Ashland, Wisconsin.
The investigation into the incident remains ongoing. Newsweek reached out to the NTSB for a comment on this story.
On Saturday, meanwhile, an 11-year-old girl was the sole survivor of a commuter plane crash in northwestern Michigan. According to the child's mother, Christina Perdue, her daughter remembered her father wrapping his arms around her as the craft went down over Beaver Island in Lake Michigan.
"We are heartbroken with the loss of my husband, a father, brother, son and friend," Perdue said in a statement. "He gave the best bear hugs, and I believe he grabbed our daughter and protected her. It's her last memory before the crash."