Haters Unite, a Man Has Made a Pizza Including Base and Toppings Entirely From Pineapple
Debate has long raged over whether pineapple belongs on a pizza, with ongoing arguments between those pitching for and against the controversial Hawaiian topping.
But, now one man may have united the haters after making a pizza entirely out of pineapple.
Laurence, a budding chef who posts under the handle Whathowhytry, shared a clip to his YouTube account of the unique recipe.
Hailing from the U.K., he has shared numerous videos of himself making the takeaway staple out of a variety of foods, including sushi, Reese's cups, chips, Oreos, and even cereal.
However, it's his fruit-themed clip which has caused a stir.
The foodie uploaded a clip to his YouTube page on Sunday, entitled: "Pineapple only pizza." It has garnered more than 1,500 views. But the 11-second clip then amassed 3.5 million views after being uploaded to viral meme site, Gfycat.
It was also shared across Reddit, where it racked up 56,000 upvotes. "I made pizza where every ingredient is pineapple," Laurence explained in the Reddit posting.
The short video shows him blending dried pineapple to form a powder, which he then appears to mix with pineapple juice and yeast, which he rolls into a dough for the base.
For the sauce, he shuns classic tomato to blend pineapple chunks and juice from a tin, which he then spreads on the dough. Lastly, he tops the creation with whole pineapple chunks, presumably left over from the can.
Laurence then pops the dish in the oven, bakes until golden and slices with a pizza cutter before taking a bite.
He jokingly said: "It's the only pizza you can order in hell."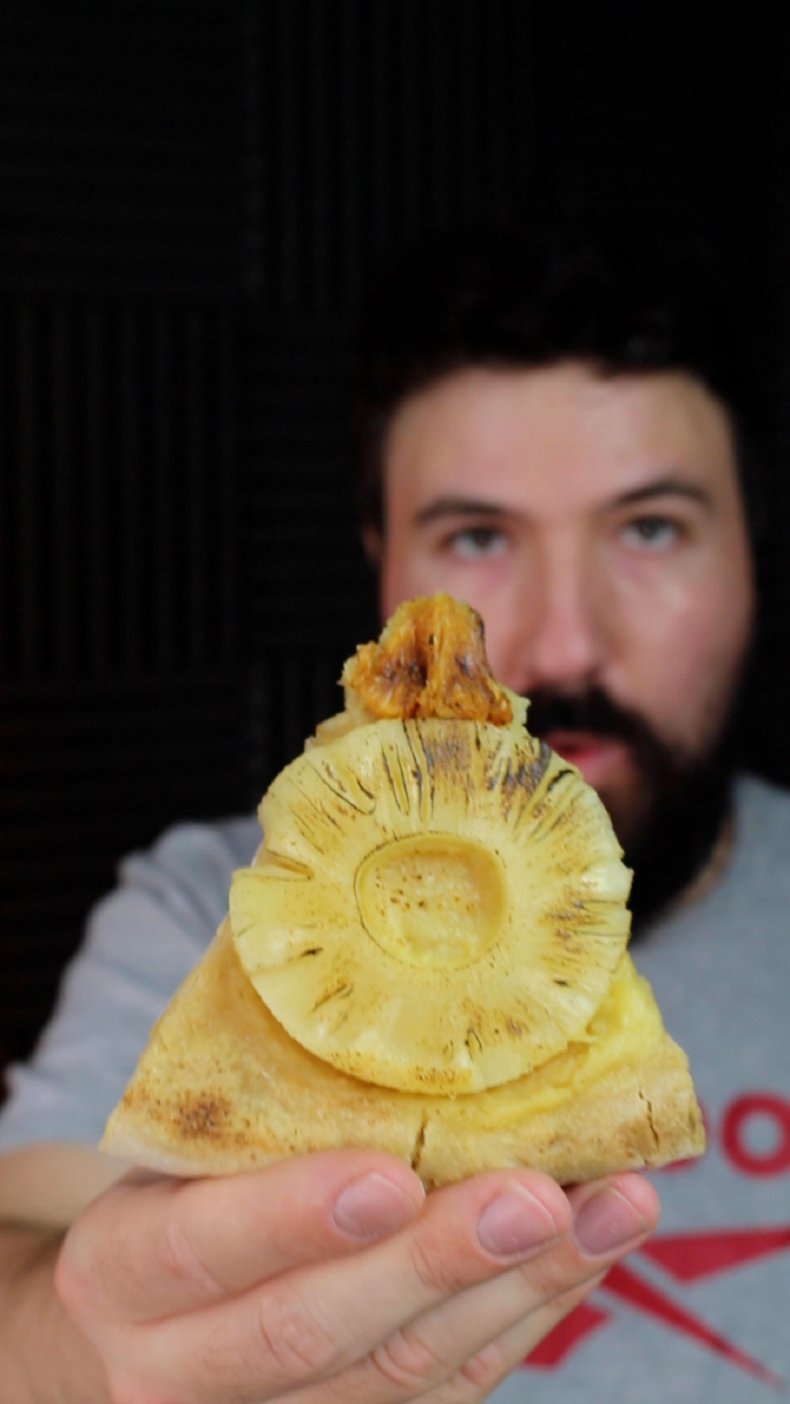 Speaking to Newsweek, Laurence said: "I am a content creator and I make lots of different stuff from cool props to strange foods. The pizza is part of my series 'lets try' where I try different combinations of foods."
The fruity recipe divided opinion online, as Redditor Brut4llyHonest exclaimed: "I've never seen so many war crimes committed in such a short period of time."
CynicalAltruist wrote: "Depending on your point of view, this is either the most vile and despicable thing ever done to pizza... Or you want a slice."
Karmanoid raged: "I can't stand pineapple in anything, not many things ruin pizza for me but pineapple will have me avoid an entire pizza."
"My point of view is I want a slice, but you better not call that pizza," TBOJ commented.
SGM_Royal asked: "If every ingredient is pineapple can you really call it a pizza?"
While Censor-design added: "What fresh hell is this?"