Pink Slammed for Seemingly Shading Christina Aguilera Over 'Lady Marmalade'
Pop star Pink seemingly threw shade at former collaborator Christina Aguilera over one of the biggest hits in both of their careers.
The "So What" singer, 43,— whose given name is Alecia Beth Moore Hart— was asked to talk about her experience filming the music video for "Lady Marmalade."
The 2001 song featured the two singers along with Mya and rapper Lil' Kim as the first single for the soundtrack from the Baz Luhrmann film Moulin Rouge!.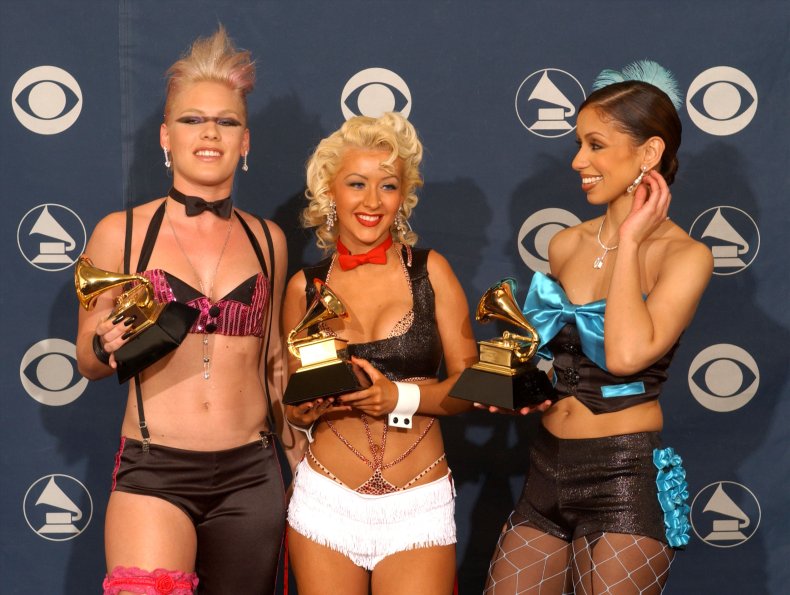 Produced by Missy Elliot and Rockwilder, the 21st century version was a cover of Patti Labelle's R&B group Labelle's 1974 hit of the same name.
Pink and Aguilera's version was a chart topper, spending five weeks at No. 1 on the Billboard charts. It also won the Grammy for Best Pop Collaboration with Vocals and its video was even described as "one of the most iconic music videos of our time," according to People magazine in 2021.
But Pink didn't recall her time shooting the video so fondly during a recent interview with Buzzfeed. She was asked to rank her favorite music videos from her career and placed Lady Marmalade at number 12.
"It wasn't very fun to make; I'm all about fun, and it was a lot of fuss," she said holding a photo of herself from the video.
"There were some personalities... Kim and Mya were nice."
Pink added: "I guess it is iconic, but I remember I kept crying because my skin didn't like the makeup. It was just... There [were] some annoying things happening that day."
Fans rushed to speculate Pink's meaning and suggested she was throwing shade at Aguilera, with many slamming her comments.
"I thought they talked it out, move on Pink... move on," wrote one person.
Another added: "Of course she didn't enjoy being upstaged by Christina."
And a third wrote: "The fact she still shades Xtina about this 20 years later."
But Pink was having none of the criticism and denied she was throwing shade at Aguilera.
"Y'all are nuts Xtina had shit to do with who was on that song. If you don't know by now – I'm not 'shading' someone by telling it over and over and over what actually happened," she wrote on Twitter.
"I'm zero percent interested in your f****** drama. If you haven't noticed- I'm a little busy selling... And by selling- I mean tickets and albums and bake sales and s***."
The singer concluded by referring to a time the singers played spin the bottle together: "Also – I kissed xtinas mouth. I don't need to kiss her a**."
The alleged feud between the singers came to light in a 2009 VH1 Behind the Music special.
Pink told VH1 that a record executive had asked: "What's the high part? What's the most singing part? Christina's going to take that part."
Pink then claimed to tell them: "I stood up, and I said 'Hi. How are you? So nice of you to introduce yourself. I'm Pink. She will not be taking that part. I think that's what the f****** meeting's about.'"
The pair later made amends in 2016 when Pink served as an adviser for Team Christina when she worked on The Voice as a judge.
"We were super young and super new at the whole thing," Pink told Andy Cohen on Watch What Happens Live.
"I think I'm an alpha and she's an alpha. I'm used to taking my altercations physical and she's used to having them verbal. We just are very different."