Pit Bull's Adorable Reaction to New Nursery Décor Indicates It's 'Approved'
A dog named Ollie has melted hearts after a video of him "testing" his soon-to-be sister's new nursery rug went viral on social media.
In the video, shared on TikTok on Saturday by the dog's pregnant owner, under the username Alliewears, the pit bull can be seen rolling over on a colorful new nursery rug as if trying to test it out.
The heartwarming video comes with the captions: "Unboxing her nursery rug," and "Pittie approved."
According to some of the owner's previous posts, Ollie and her baby have shared a special bond since she first discovered she was pregnant. In fact, he was the first one to know about it, even before the baby's dad.
Ollie's owner, Allie, told Newsweek: "We rescued our pit bull, Oliver, from Wake County Animal Center in Raleigh, NC in 2018 and he was the best addition to our family. He has brought so much joy to our life and the two of us are inseparable—he's a total mama's boy.
"We're welcoming our first child any day now and I've been slowly introducing Ollie to all the baby things to safely prepare him for this new phase. He loves lounging in her nursery and as I was rolling out her new rug, I caught him loving it as much as I do."
According to the American Kennel Club, dogs have the ability to sniff out changes in the human body, can develop skills in detecting diseases like cancer and diabetes and can most likely identify pregnancy too.
The AKC website states: "During pregnancy, your hormones shift and are released in different patterns and quantities, and these changes are sure to be noticed by your dog.
"It is unlikely he connects it to the reason why, and it's likely he will still be curious about your bundle of joy when he or she comes home."
The video quickly went viral on social media, attracting animal lovers from across the platform, and so far receiving over 622,000 views and 67,000 likes
One viewer, Ellie Van Cleave, commented: "Love that you're including real color in your nursery, not just neutrals!!"
And Hi! said: "My pitties are obsessed with my son. They didn't want to leave his room, and now they won't leave his side. Such a special love!"
Kcorbettchen17 wrote: "He's going to be a big brother."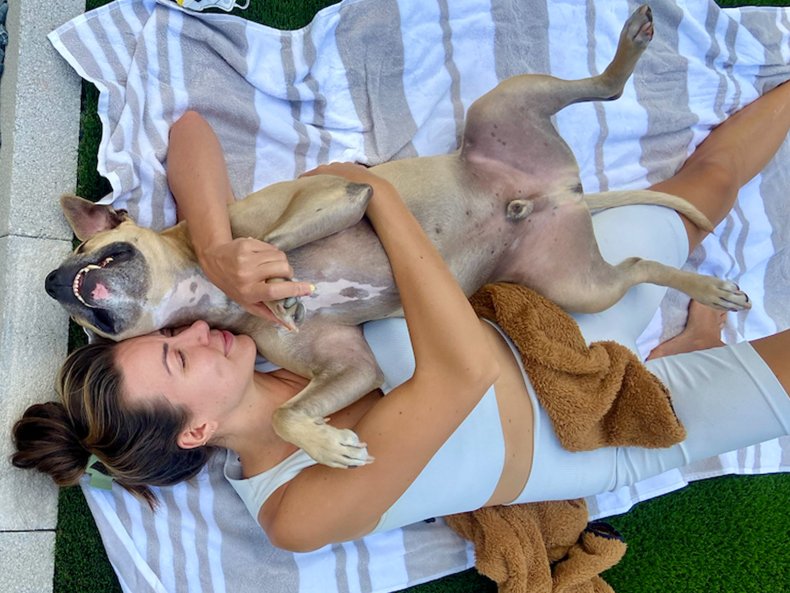 Another user, Lauren McQueen, commented: "Rug is perfect, puppy is an angel."
Thenoelove said: "I mean she does need a soft place to lay when she's guarding the baby."
And mvee __21 wrote: "My two pitties did the exact same thing when I rolled my daughter's rug out. Now they sleep on it all the time!"
Ashee joked: "That's such a nice nursery for your pitty."
Newsweek reached out to Alliewears for comment. We could not verify the details of the case.
Do you have funny and adorable videos or pictures of your pet you want to share? Send them to life@newsweek.com with some details about your best friend and they could appear in our Pet of the Week lineup.