Internet Obsessed With Dog's Outfit for -35 Degree Outdoor Walk: 'The Hat'
A dog named Otis has left the internet in stitches after a video of him walking outside in the snow with his mom, all wrapped up in winter clothes and boots went viral on social media.
In the video, shared on TikTok on Thursday by the dog's owner, under the username Delaneypater, the pit bull can be seen taking a walk in the snow with his owner, wrapped up in a dog jacket and boots, and a hat with bunny ears on his head. The dog is walking fast as his mom films him, as if he couldn't wait to be back home, away from the frosty Canadian snow.
The hilarious video comes with a caption that says: "Walking your dog in Canada be like: we love -35 hey Otis? Girl if you don't take this thing off my head. Not gonna stop us though." Followed by: "We love a good -35 outdoor stroll. Jokes—we're both ready for summer lmao."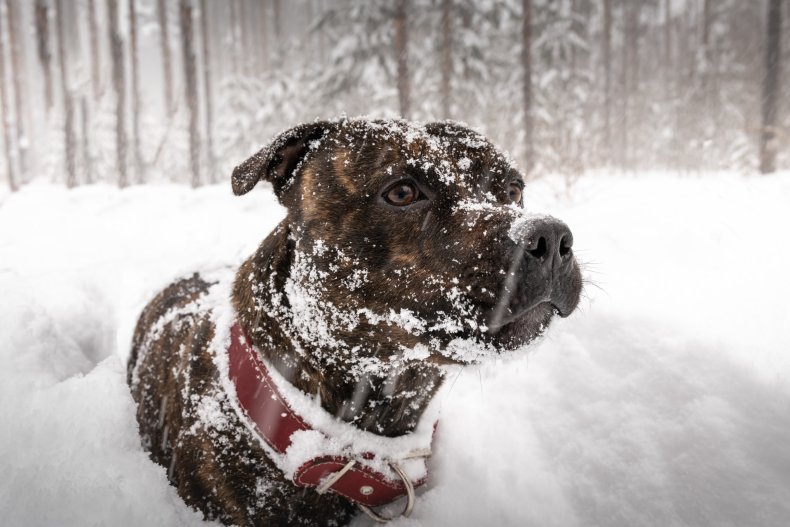 Hair helps a dog retain its body warmth, but because of their short fur, pit bulls are more sensitive to cold temperatures than other dogs, so they shouldn't be left outdoors alone unsupervised, according to WX Research.
However, the website states that pit bulls can still thrive in the cold, with the appropriate care and adequate warmth. Making sure a pit bull has a "jacket and booties" will help them remain warm in colder temperatures, according to WX Research.
The video quickly attracted animal lovers from all over the platform, receiving over 257,000 views and 32,500 likes so far.
One user, Tay, commented: "He's like 'girl let's just get this over with." And Saeko said: "The doggo: WALK FASTER MOMMY FASTER IT'S COLD." Ffriday added: "I love how he has a taste of the snow."
Jay wrote: "The frosted jowls." And Funky added: "I'm so happy to see the paw boots. A lot of ppl forget how cold their pads can get." Amy Wesley said: "He's walking like let's get this over with."
Twist101013 wrote: "Bro can't wait to get home." And Christina Singleton said: "At least this precious guy lets you out boots on him!!!! Good job mommy!!" My Dog Canvas added: "Otis: not now mom not now." Katie Caillier joked: "THAT JACKET, THE HAT."
Newsweek reached out to Delaneypater for comment. We could not verify the details of the case.
Do you have funny and adorable videos or pictures of your pet you want to share? Send them to life@newsweek.com with some details about your best friend and they could appear in our Pet of the Week lineup.