Pit Bull Owners Outraged After Being Told to Remove Pets or Face Fine
Pit bull owners in Iowa are furious after they were reportedly ordered to get rid of their dogs within days.
Local reports claim pet owners in Keystone were sent written notices from the Benton County Sheriff's Office and the City of Keystone to remove their animals.
It's thought the notices went out Friday, ahead of the long weekend, with residents given three days to comply. Anyone wishing to appeal the notice was given two days to formally lodge their intention; however, the municipal offices are thought to be closed until Tuesday, due to Labor Day.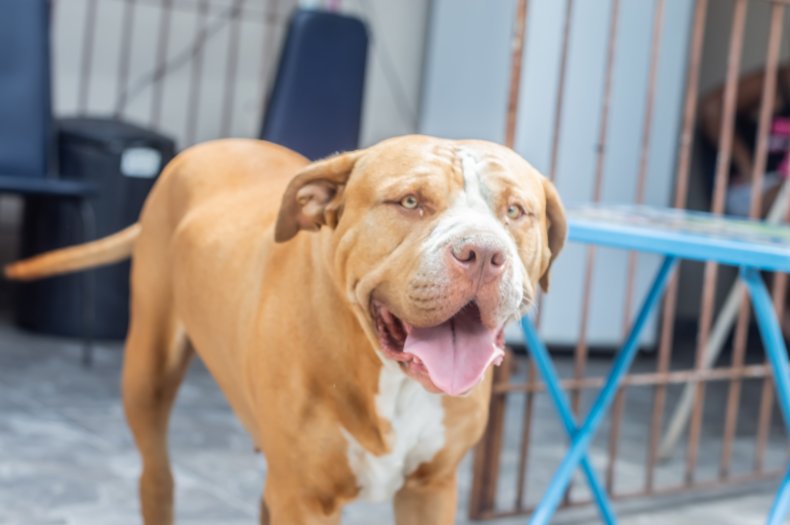 The Gazette quoted the notice, which states that if anyone "fails to remove the dog as directed and within the prescribed time" of 72 hours, "the City of Keystone will take such steps as necessary to remove said animal from the city limits."
As well as facing having their pets taken away, non-compliant owners also face a $750 fine.
The Gazette quoted Humane Society State Director Preston Moore, who said: "On a Friday afternoon leading to a holiday weekend, no less. My heart hurts for these families."
The move comes after weeks of "uncertainty" for dog owners in the area following verbal warnings in July, the paper stated.
The Gazette cited the attack of a 2-year-old girl in June by a "pit bull style dog," which was later euthanized and its owners never found, as a possible catalyst in the recent decision.
While Benton County Sheriff's Office is yet to share a post on their Facebook account relating to the decision, residents voiced their concerns on the page.
Responding to their most recent, unrelated posts, Lisa Peluso wrote: "Disgusting how a town can be so prejudice! How can you tell dog owners they have to surrender their pits to be euthanized???? Shelters are already overcrowded! How about you try to help families keep their dogs instead of turning against dog owners! Absolutely disgusting town."
Patti Martin said: "You guys should tell your City Counselors to Back Up The Bus. The new No Dog (pits) ordinance is a cowardly way and a little (way over the top) way to do a Power Play. You can't lump All of a certain breed of dog into just a group and say, they're all viscous, get them gone. Yep, your town has gone Nationwide for having the worst leaders in states."
Kathryn Sandler commented: "The whole banning of dogs over a holiday weekend is really shady. Maybe you guys should rethink some of what you are doing. The can of worms you are opening... Maybe have another town meeting and rethink things. I really hope you guys took the right steps to put this ordinance into place. You know had the right town meetings where everybody was informed before you put the ordinance into place if not the people of the town have the right to push back and apply for a referendum to have this overturned."
It's thought the issue is set to be discussed at a meeting on Thursday. Benton County has a statewide ordinance, number 37, on animal protection and control.
It states "the purpose of this ordinance is to protect human beings, livestock and domesticated animals from the perils of dangerous and vicious animals within the confines of Benton County, Iowa and to protect animals from the dangers of abuse, cruelty and neglect."
A "dangerous animal" includes lions, alligators, snakes and other creatures, as well as "any dog which has the appearances and characteristics of being of the breed of Staffordshire Terrier, American Pit Bull Terrier, American Staffordshire Terrier, any breed commonly known as pit bulls, pit bull dogs or pit bull terriers, or a combination of any of these breeds."
Other cities in Iowa have similar bans, with Dayton's list of dangerous animals including "Staffordshire terriers-known as pit bulls," and a cross breed with "similar characteristics."
The chart below, provided by Statista, shows dangerous dog breeds based on attacks.
Algona has a more extensive list in its animal control regulations list, citing a vicious dog includes "Staffordshire terrier," "American pit bull terrier," "American Staffordshire terrier" and mixed breeds "known as pit bulls, pit bull dogs or pit bull terriers."
The American Kennel Club (AKC) stated there are 75 banned or restricted breeds in the U.S., as they said: "AKC does not recognize the "pit bull" as a specific breed."
The Centers for Disease Control and Prevention (CDC) carries figures for dog-bite-related fatalities.
Albeit covering 1979 to 1996, "pit bulls" were cited as responsible for deaths in 60 instances, the highest figure. The next highest was the Rottweiler breed, named in 29 deaths.
Newsweek reached out to Martin, Sandler, Peluso, Benton County Sheriff's Office and Keystone City Council for comment.