Pittsburgh Mass Shooting Sees Two Killed at Airbnb Party
Two people are dead and several others are injured after a shooting in Pittsburgh in the early hours of Sunday morning, police said.
The shooting happened during a party at a short-term rental property in the city's North Side, Pittsburgh Public Safety said in a news release.
Officers responded to the 800 block of Suismon Street just after 12:30 a.m. following multiple ShotSpotter alerts, the release said.
"As responding units arrived on scene, additional shots were being registered in the immediate vicinity and several young people were observed fleeing the area on foot and by vehicle from an AirBnB property that had been rented on Suismon Street at Madison Avenue," it added.
Police said some also tried to escape the shooting by jumping out of windows.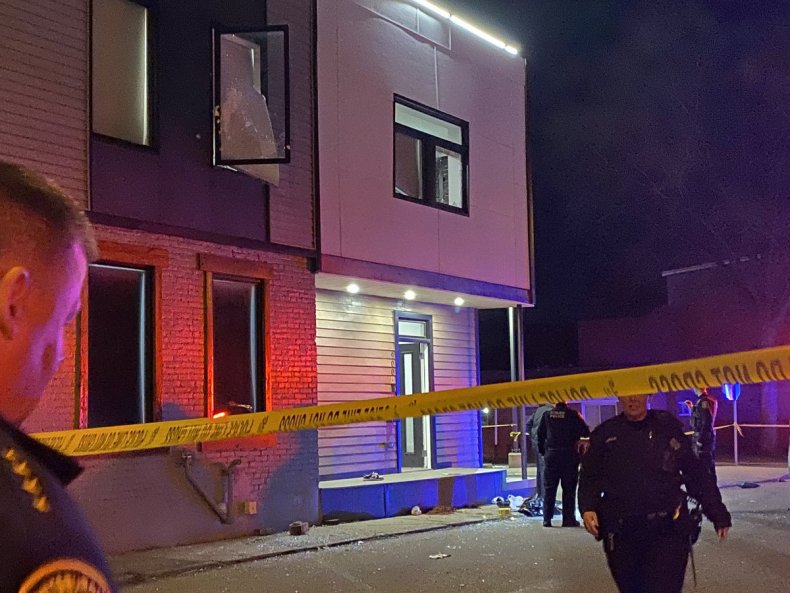 Multiple people were transported to local hospitals, including at least 11 with gunshot wounds. Two male gunshot victims, both juveniles, died at the hospital, police said. Neither were immediately identified.
There had been more than 200 people inside the party, many of them underage, police said. As many as 50 rounds were fired inside, and several more shots were fired outside the home.
Evidence is being processed at as many as eight separate crime scenes, and investigators are interviewing witnesses and reviewing video footage, police said.
Authorities have not yet provided any information about any suspects.
In a statement earlier this month, Pittsburgh Police Chief Scott Schubert said he was "profoundly troubled" by a recent spate of violent crimes in the city.
"While the number of violent crimes has been rising around the United States since 2020 and the onset of the pandemic, this is an oversimplified explanation. This is unacceptable in Pittsburgh. This is not reflective of the city we know and love. People are clearly hurting," Schubert said.
He added that officers "will investigate all crimes, but we are also there to help, listen, and connect people with valuable social services before a crisis occurs. We urge citizens to utilize Pittsburgh Police as a resource. We are here to help.
"We need to do this together. We need to look out for one another and take care of one another. Only then will we begin to heal the deep trauma that is at the root of violence."
Sunday morning's incident comes after multiple people were injured in a shooting at a mall in Columbia, South Carolina, on Saturday afternoon.
Earlier this week, a shooting inside a subway station in the Brooklyn borough of New York City left 10 wounded.
There have been 137 mass shootings in the U.S. so far this year and at least five mass killings, according to the Gun Violence Archive (GVA).
The Gun Violence Archive defines a mass shooting as four or more people shot in a single incident not including the shooter, and mass murder as four or more people killed in a single incident not including the shooter.
Update 4/17/22, 4:05 a.m. ET: This article has been updated with additional information.
Update 4/17/22, 6:00 a.m. ET: This article has been updated with additional information.