'We Got Him': Eric Adams Praises Police for Arrest of Frank James
A triumphant New York Mayor Eric Adams announced the arrest of the suspect behind Tuesday's shooting of a Brooklyn subway station that left 10 wounded.
City officials during a Wednesday press conference described the end of the nearly 30-hour manhunt for Frank James, who now faces federal charges for allegedly opening fire on rush-hour commuters. Adams praised law enforcement agencies and thanked New Yorkers for offering tips, pointing to his earlier pledge to keep the city safe.
"We got him," said Adams, who had tested positive for COVID-19 and appeared by video link. "I said to New Yorkers, 'We are going to protect the people of this city and apprehend those who believe they can bring terror to everyday New Yorkers.'"
James, 62, was arrested in Manhattan at 1:42 p.m. without incident, New York City Police Commissioner Keechant Sewell told reporters.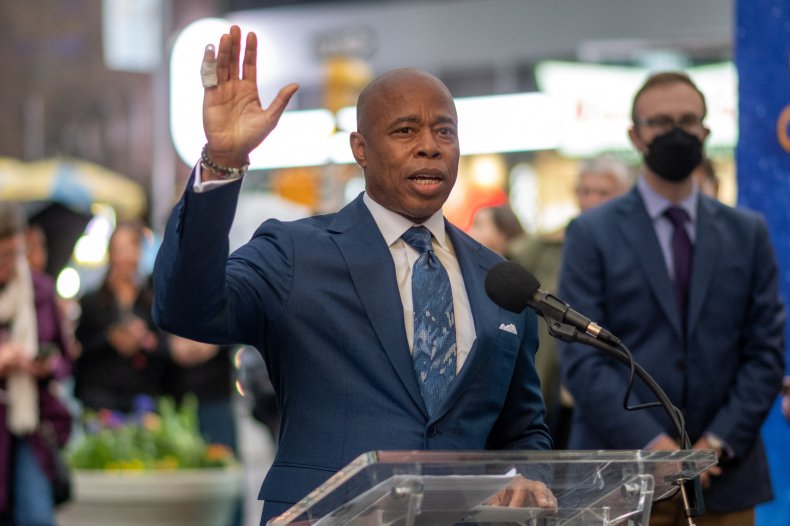 Describing the manhunt as an "all hands on deck investigation," she said "literally hundreds of NYPD detectives worked doggedly" with federal agencies to process evidence she said links James to the shooting.
"We were able to shrink his world quickly," she said. "There was nowhere left for him to run."
When asked about reports that James had called Crime Stoppers on himself, Sewell said someone did call him in to the hotline but police are still reviewing who exactly.
NYPD Chief of Detectives James Essig said James has over a dozen arrests in New York and New Jersey throughout the 1990s and 2000s for charges that include possession of burglary tools, criminal sex act, theft of service, trespassing, disorderly conduct and others.
Law enforcement recovered video of James prior to the incident entering the Kings Highway subway station, said Essig. James also has the same black car that was recovered from the crime scene, and the U-Haul truck he rented in Philadelphia was found nearby, said Essig.
The gun allegedly used in the shooting, a 9mm Glock pistol, was recovered at the crime scene, said Essig. Police traced the gun back to James who purchased it in 2011 in Ohio, he said.
Additionally, law enforcement recovered from a garbage bin the distinct orange jacket and construction helmet James was allegedly wearing during the shooting, according to Essig.
"This case was quickly solved using technology video canvassing and then getting that information out to the public," said Essig, who thanked the FBI, ATF and the U.S. District Attorney for the Eastern District of New York for their help.
Breon Peace, U.S. Attorney for the Eastern District of New York, told reporters that James has been charged in Brooklyn federal court with committing a terrorist attack on a mass transit system, facing a possible life sentence.
"The government will prove among other things that James traveled across state lines in order to commit the offense, and transported materials across the state line in aid of the commission of the offense," said Peace.
Earlier, police said James threw two smoke canisters on the platform of the 36th Street stop in Sunset Park before firing 33 rounds. Police recovered the gun, three extended-ammunition magazines, a hatchet, fireworks and a container of gasoline at the scene. They also found a set of keys to a U-Haul van left behind at the scene that were later linked to James.
No one was killed in the shooting. Five people are in critical condition but expected to survive.
The shooting followed Adams' promise to improve public safety—particularly surrounding transit—after the retired police officer was elected mayor of the nation's most populated city.
In the runup to the shooting, James posted videos on YouTube criticizing Adams' plan to end gun violence and address homelessness on the city's subways.
"Mr. Mayor, I'm a victim of your mental health program," James said. "I'm 63 now full of hate, full of anger and full of bitterness."
Newsweek reached out to the NYPD.