Pittsburgh Tree of Life Synagogue Rabbi Warned About Need for Gun Control Months Before Shooting: 'Where Are Our Leaders?'
Three months before Pittsburgh's Tree of Life Synagogue became the latest target of a deadly mass shooting, the rabbi leading the congregation warned of the need for gun control laws, lamenting the lack of action from the country's leaders. Multiple casualties in addition to six wounded, among them four police officers, were reported after a shooter opened fire in the synagogue in Pittsburgh's Squirrel Hill neighborhood Saturday morning.
"Despite continuous calls for sensible gun control and mental health care, our elected leaders in Washington knew that it would fade away in time," Rabbi Jeffrey Myers wrote in a blog post in July. "Unless there is a dramatic turnaround in the mid-term elections, I fear that the status quo will remain unchanged, and school shootings will resume. I shouldn't have to include in my daily morning prayers that God should watch over my wife and daughter, both teachers, and keep them safe. Where are our leaders?"
A suspect was apprehended following the shooting and later identified as 46-year-old Robert Bowers. Social media accounts attributed to Bowers were full of hateful messages targeting Jews as well as refugees. In his final message on social media platform Gab, Bowers claimed that a Jewish refugee organization was bringing individuals into the country who would slaughter Americans. "Screw your optics, I'm going in," he concluded.
As well as concerns about rising numbers of anti-Semitic incidents in the United States over the past two years, the shooting prompted a return to the issue of gun control.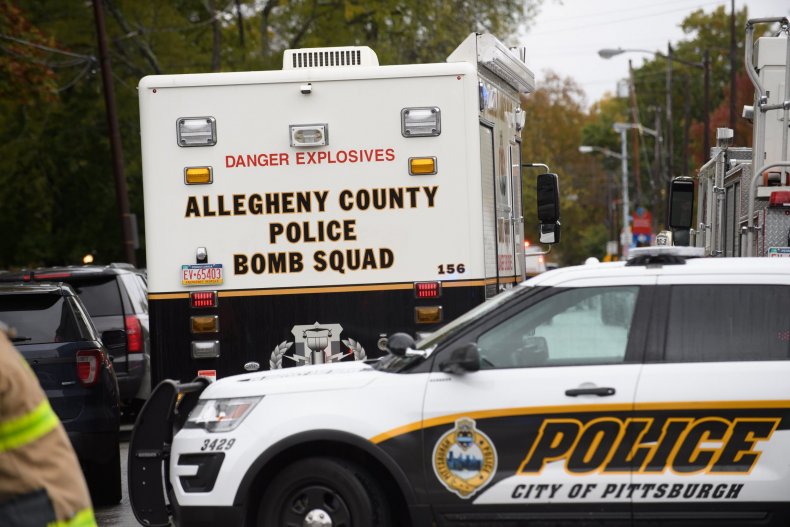 Following the shooting, President Donald Trump was asked about the need for stricter gun control laws. Not for the first time, the president suggested that the answer was more guns, rather than fewer.
"If they had protection inside, the results would have been far better," Trump said before boarding Air Force One. "If they had some kind of protection inside the temple, maybe it could have been a much different situation. But they didn't."
Trump added that possibly "no one would have been killed" if there had been an armed guard inside the synagogue.
Pressed again about whether legislation was needed Trump suggested the death penalty could be the answer.
"I think one thing we should do is stiffen up our laws in terms of the death penalty," he said. "And I think they should very much bring the death penalty into vogue."
The message from Trump was similar to that which he provided after a shooting at Parkland High School in Florida in February when he called for teachers to be armed.
Myers concluded his blog post from July with the message: "We deserve better."