An enormous solar tornado around 14 times as large as the Earth was spotted on the sun over the weekend.
The huge column of solar plasma was spotted by NASA's Solar Dynamics Observatory (SDO) on March 17, before dispersing into space on March 18.
"I spent 3 hours yesterday with my solar telescope pointed at a tall tornado-y looking thing on the sun," astrophotographer Andrew McCarthy, who shared a video he took of the tornado tweeted on Saturday. "This 14-Earths-tall swirling column of plasma was raining moon-sized gobs of incandescent material on the sun. I can't imagine a more hellish place."
Solar tornadoes, also known as solar prominences, are enormous windstorms of plasma formed from the solar atmosphere. While on Earth, tornados result from twisting air currents, solar tornadoes occur due to magnetic fields whipping up the sun's plasma.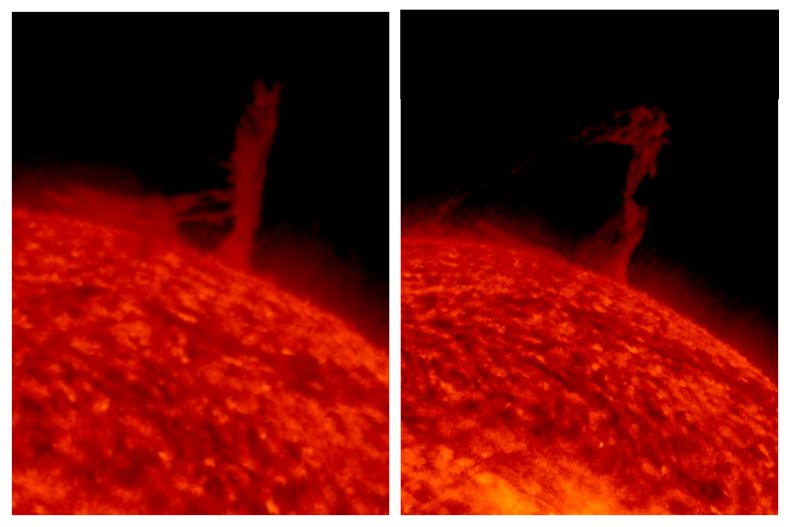 In contrast to the 300 miles per hour top speed of tornadoes on Earth, solar tornadoes can have wind speeds of up to around 310,000 mph and usually occur towards the sun's poles, where lines of magnetic force point out into space, the journal Science reported in 1998. Solar plasma may be caused to rush along some of the sun's misaligned magnetic field lines, bursting out into space as a solar tornado.
These prominences are around 450,000 degrees Fahrenheit, which is much higher than the temperature of the sun's surface at roughly 10,000 degrees Fahrenheit.
Whether or not these tornadoes actually rotate is a topic of debate in the field: Research from 2018 and 2021 found that despite the twisting appearance, these solar tornadoes aren't actually rotating at all, rather consisting of vertical flows of magnetized gas moving past each other in a narrow loop.
"We found that despite how prominences and tornadoes appear in images, the magnetic field is not vertical, and the plasma mostly moves horizontally along magnetic field lines," Nicolas Labrosse, an astronomer at the University of Glasgow, said in a 2018 statement from the European Week of Astronomy and Space Science conference.
"However we see tornado-like shapes in the images because of projection effects, where the line of sight information is compressed onto the plane of the sky."
Arturo López Ariste, another member of the research team, said in the statement: "The overall effect is similar to the trail of an aeroplane in our skies: the aeroplane travels horizontally at a fixed height, but we see that the trail starts above our heads and ends up on the horizon. This doesn't mean that it has crashed!"
Despite their strange appearance, these solar tornadoes are relatively frequent.
"These are pretty common, I shoot a handful of them each year," McCarthy tweeted.
As this giant tornado tired itself out, it hurled a cloud of magnetized plasma into space from the sun's North Pole. Thankfully, it will not collide with the Earth and lead to any radio blackouts.
Do you have a tip on a science story that Newsweek should be covering? Do you have a question about solar weather? Let us know via science@newsweek.com.