Shocking footage of a beach in Guatemala completely overwhelmed with plastic garbage, from water bottles to old shoes, has gone viral on TikTok.
The video, which has been viewed 10 million times and liked by nearly 500,000 users, was posted by 4ocean, an environmentally friendly company that makes bracelets, drinkware and apparel. The company has pledged to recover one pound of plastic from the oceans, rivers and other water bodies for every product sold.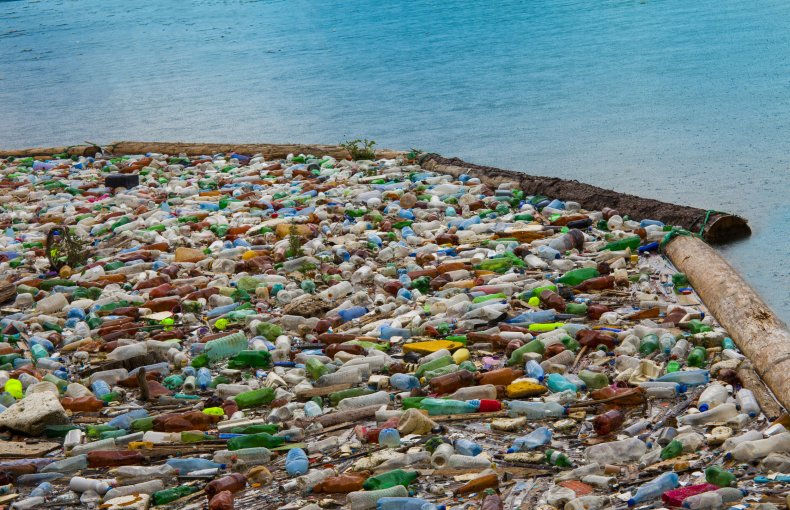 The footage was shot at the estuary of the Rio Motagua, a 300-mile-long river that flows from the western Guatemalan highlands to the eastern coast and border with Honduras.
In an Instagram post of the Guatemala beach, 4ocean said: "During the rainy season, millions of pounds of plastic waste washes on the shores of Guatemala after traveling down the Rio Motagua, one of the most polluted rivers in the world."
Roughly 11 million metric tons of plastic waste enter the ocean every year, a figure that is expected to nearly triple by 2040 without sustained action. According to a report by Pew, while progress has been made in terms of plastic waste production, "commitments by governments and industry will reduce the annual volume of plastic flowing into the ocean by only about seven percent by 2040."
Most new regulations, Pew says, focus on specific plastic items like drinking straws or plastic bags, rather than fundamental changes to the system. "Businesses are focused mainly on recycling or otherwise disposing of plastic, but significant efforts are also needed to eliminate its use," the report said.
The Rio Motagua is currently contributing around 2 percent of the world's total plastic emissions to oceans, with 22,000 tons of plastic being estimated to flow through the Rio Motagua and into the ocean annually.
The Rio Las Vacas, a tributary of the Rio Motagua, is surrounded by an urban landfill north of Guatemala City. Locals also frequently dump their rubbish into the waters of the river. During the rainy season, all this rubbish gets washed down into the Rio Motagua, and subsequently into the ocean, washing up en masse on the shore.
4ocean is currently in the process of cleaning up the beach pictured in the videos, filling up enormous white sacks with the plastic waste. "We recycle everything that we can, and what can't be recycled is either stored or turned into energy," 4ocean wrote in response to a commenter on one of their TikToks asking where the rubbish goes after they've collected it.
The Ocean Cleanup, a Netherlands-based startup known for its mission to clean up the Great Pacific Garbage Patch, also operates in the Rio Motagua. On June 1, it posted a video to Twitter showing a plastic trap it has developed to help collect garbage in the river.
Newsweek has contacted the Guatemala Ministry of Environment and Natural Resources for comment.