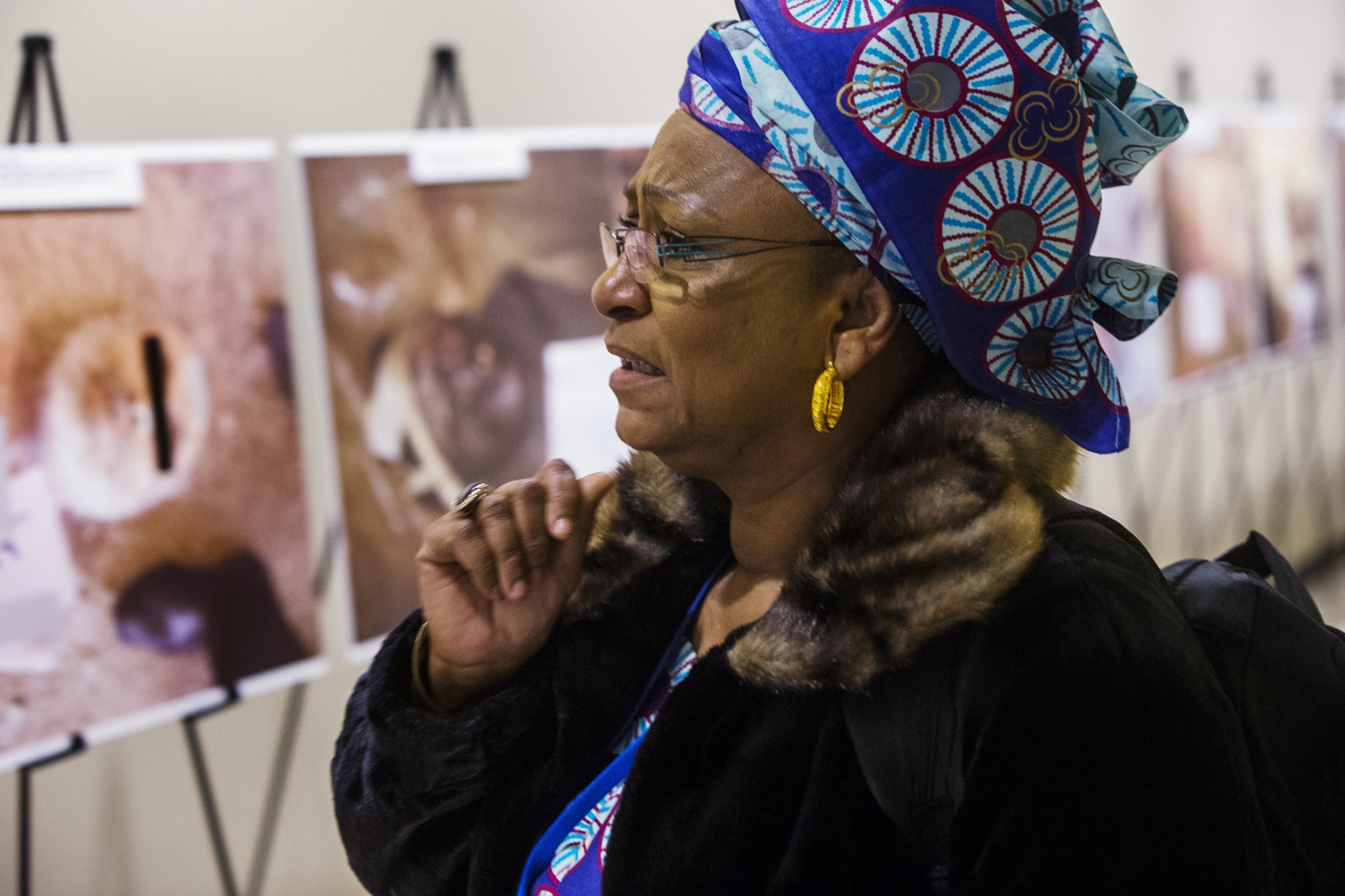 Diplomats, journalists and other visitors to the United Nations Secretariat Building this week are being greeted with gruesome images of torture and execution. A series of photographs that line a bright, shiny hallway show men, women, children and elderly civilians killed by the Assad regime in Syria. At one end, a stark white sign sitting on an easel reads "Warning" in red capital letters, and below: "The following images are disturbing."
The startling exhibit, Caesar Photos: Inside Syrian Authorities' Prisons, which opened Tuesday evening, is co-hosted by the U.N. missions of the United States, France, Qatar, Saudi Arabia, Turkey and the United Kingdom, and co-sponsored by those of Belgium, Denmark, Germany, Italy, Kuwait, Lithuania, Luxembourg, Norway, Sweden and the United Arab Emirates. It was arranged at the urging of the Coalition for a Democratic Syria and opened just a few days before the four-year anniversary of start of the Syrian uprising.
"There are no words–no words–to describe the images depicted in this exhibit behind us," Michele J. Sison, U.S. deputy representative to the United Nations, said at the opening. "There is no vocabulary that captures what the victims portrayed in them felt before their excruciatingly painful deaths.… These images are the graphic depiction of how the Assad regime treats its citizens."
"We know that it is far easier to walk rapidly down this corridor, far easier to look away," Sison said. But "it is imperative that we at the United Nations not look away."
The roughly 30 photos come from a trove of 55,000 images smuggled out of Syria on flash drives. A former Syrian military photographer who now goes by the codename Caesar had been asked to document the bodies between 2011 and 2013.
Prior to the uprising of forces opposed to Assad's regime, Caesar's role within the military police had been to photograph crime scenes. But soon after it began, he was called to a military hospital in Damascus and asked to photograph prisoners who had been tortured to death, Mouaz Moustafa, senior political adviser to the Coalition for a Democratic Syria, told Newsweek in October.
Caesar, who was eventually documenting dozens of bodies at a time, fled Syria more than two years into the civil war and secured asylum in a European country. Details about his identity and whereabouts have been guarded to ensure his and his family's safety.
A handful of the photographs went up at the Holocaust Memorial Museum in Washington in October, shown for the first time to an American audiences at the museum's physical location and on its website. The goal of bringing Caesar's photos to the museum and now to the U.N. for a 10-day exhibit, Moustafa says, is to "show the world what the Assad regime is capable of." He hopes the display will raise awareness of what's happening so that people will put pressure on governments, especially the U.S. government, to take action.
Since the USHMM exhibit, Moustafa says a Facebook page called "Stand with Caesar: Stop Bashar al-Assad's Killing Machine" has been created. Close-ups of victims' faces are posted on the page, which asks for help identifying those killed by the Assad regime. The aim is twofold: to facilitate closure for families and potentially pursue cases in national courts if any of those identified are from outside of Syria. The team is also looking into possibilities for future exhibits, and hopes in particular to display the photos at the U.S. Congress.
An inquiry team of legal and forensic experts that included former United Nations war crimes prosecutors found in a January 2014 report that the photos were clear evidence of systematic torture and killing, and determined that the trove depicted roughly 11,000 deaths.
The FBI has completed its standard authentication analysis of 27,000 of the photos, according to State Department spokesperson Pooja Jhunjhunwala. The FBI says that it "cannot definitively rule out the possibility of tampering, but that it has not uncovered any evidence that indicates the photos have been altered in any way that changes the meaning of the contents," Jhunjhunwala writes in an email to Newsweek. However, previous comments by State Department spokeswoman Jen Psaki, U.S. ambassador-at-large for war crimes Stephen Rapp and others indicate officials do not doubt the authenticity of the photos and the atrocities they illustrate.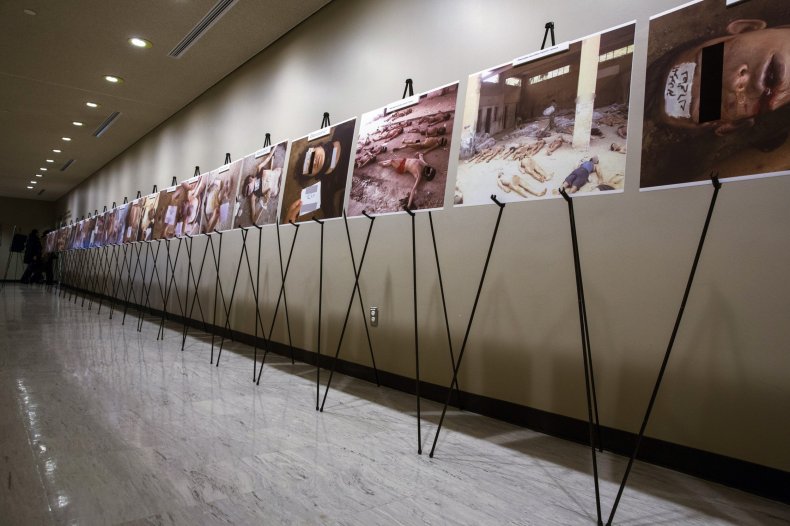 "One could take the responsibility for these killings clear to the top of the regime," Rapp said at the exhibit opening. But "it will take an international court or Syrian court to really bring justice."
The case against Syrian president Bashar Assad is stronger than those that indicted former Serbian president Slobodan Milosevic and former Liberian president Charles Taylor in international tribunals, Rapp said. Nevertheless, justice could take decades. The U.N. Security Council attempted last year to refer Syria's case to the International Criminal Court, but was blocked by a veto from Russia, a permanent member of the council and an ally of Assad's regime.
The Caesar Photos exhibit "places a spotlight on the need for justice for the Syrian people and accountability for these crimes of the Assad regime," writes the State Department's Jhunjhunwala. The regime, she writes:
bears overwhelming responsibility for a truly catastrophic humanitarian disaster in Syria and in the region. His regime's relentless destruction, brutal and indiscriminate tactics, and gruesome atrocities against the Syrian people have fueled a conflict that has killed an estimated 200,000 people, displaced more than half of Syria's pre-war population–including 3.8 million refugees–and has left a vacuum that is now being exploited by violent extremist groups, such as ISIL.
"As we have said since August 2011, Assad has lost all legitimacy and must go. There can never be a stable, inclusive Syria under his leadership," she writes. "We've been clear that our goal is helping the Syrian people reach a negotiated political transition that fulfills Syrians' aspirations for freedom and dignity."
When asked what specific steps the U.S. has taken to respond to the atrocities committed by Assad's regime, Jhunjhunwala cited its "strong support" at the U.N. General Assembly in November for a resolution on Syria "calling for an end to atrocities and seeking to ensure accountability for human rights violations and abuses and for violations of international humanitarian law."
The U.S. has also been working with Syrian activists to develop transitional justice tools and to determine what processes such as tribunals, legal reforms, truth commissions, reparations and sites of conscience would look like.
"It will be critical that such mechanisms are led by the Syrian people, with the support of the international community," she writes.
But Moustafa says he's seen very little being done while an estimated 150,000 remain in detention. "We've seen plenty of outrage," he says, but he and his colleagues at the coalition are looking for action rather than statements. The U.S. "mobilized an international coalition against ISIS" when the group killed two journalists who were in Syria "covering the plight of the people suffering under Assad," he says. "Yet we haven't moved a finger [to stop] this industrial-scale genocidal massacre."
"When something like this is happening on this scale, we have to do something about it," he says.