Pokémon Direct Announced for Thursday - Sleep & Home Information Incoming?
The Pokémon Company is getting fans ready for 2020 with a brand-new Nintendo Direct that will focus solely on the Pokémon franchise.
Announced Tuesday, fans enjoy 20 minutes of new information regarding Pokémon this Thursday, January 9, at 9:30 a.m. EST. Fans can watch the broadcast on the official Nintendo Direct site or on the Nintendo or Pokémon Company Twitch and YouTube channels.
The Pokémon Company and Nintendo didn't reveal what fans can expect to see, but, if you've been following the news closely, you may have a good idea about what will be shown.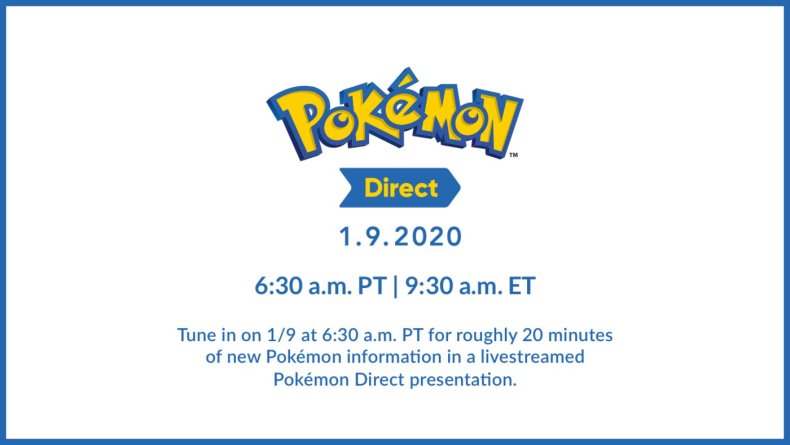 Pokémon Home is the likeliest feature to be highlighted during the January 2020 Pokémon Direct. This new app acts like Pokémon Bank for the next generation, allowing Pokémon from past generations to be used in Sword and Shield. The release date and a subscription price (if any) is likely to be revealed during the upcoming showcase.
The code for the Starter Pokémon of past regions like Bulbasaur and Litten are in Sword and Shield so it's likely they'll become obtainable once Pokémon Home goes live.
Another possible announcement is Pokémon Sleep. This new experience is supposed to monitor sleeping habits with an element of fun, similar to Pokémon Go. Not much was revealed when it was first announced last year, but if The Pokémon Company wanted to give fans more information, this would be a good time to do it.
What's less likely is the reveal of a brand-new Pokémon game. While fans have received a new Pokémon game each of the last four years, there was previously a time when more than a year came between titles.
Many fans are speculating a sequel to Pokémon Let's Go Pikachu and Eevee set in the Johto region will release in 2020, while others feel Diamond and Pearl remakes are on the way. However, with the move to the Nintendo Switch, fans may endure longer update cycles for game development, especially in Sword and Shield.
The Wild Areas and Max Raid Battles in Sword and Shield are a perfect place for GameFreak to update the game with more Pokémon and new forms. Perhaps more Legendary Pokémon will begin appearing this year or some of the unreleased Gigantamax forms will make their way to the Wild Area over the coming months.
What do you think will be shown on Thursday? What do you hope is revealed? Let us know in the comments section.