'Pokémon Sword and Shield' Shiny Magikarp Max Raid Event Offers Easy Shiny
There is a brand-new Max Raid event in Pokémon Sword and Shield that trainers will want to take advantage of, as an increased chance to catch a Shiny Magikarp is officially in effect.
Max Raids in the Wild Area of Sword and Shield are always great to hunt for strong and rare Pokémon, but for a few days trainers will see an increased number of Magikarp Raids. There will also be an increased chance of finding a Shiny Magikarp, which is one of the most iconic Shinies in the franchise.
If you want all the information necessary to catch a Shiny Magikarp, read on for all the details.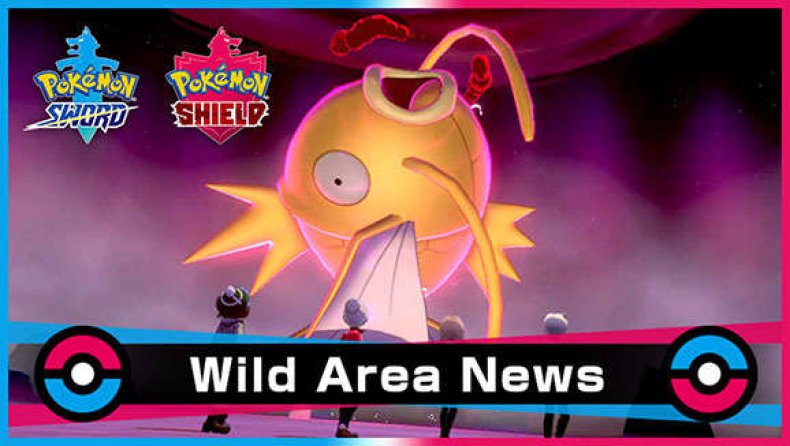 POKEMON SWORD AND SHIELD SHINY MAGIKARP EVENT TIME
The Shiny Magikarp Raid event begins Tuesday, December 31 and ends January 3 at 6:59 p.m. EST.
HOW TO CATCH A SHINY MAGIKARP IN SWORD AND SHIELD
The first thing you'll want to do is update you Wild Area News. To do so, access the menu (X) and go to Mystery Gift. After that, trainers should select "Get the Wild Area News" and then connect to the internet if they haven't already.
Once updated, ride around the Wild Area and check your dens. The dens with a Dynamax Pokémon will have the red beam of light coming out of them.
After selecting the den, you'll see a silhouette of the Pokémon. If you see the Magikarp, you can enter by yourself or invite others to help take it down. You won't know if it's a Shiny Magikarp until you enter the battle, so enter as many as possible during the event window. You'll know it's a Shiny Magikarp because it changes from its usual red coloring to gold.
You can also try to hop into other people's Raid Battle by connecting to the internet. You can learn more about that in our Sword and Shield online guide.
WHAT TO LOOK FOR
So what should you be looking for with these Magikarp raids? Well, Magikarp comes with a few abilities that are worth obtaining. The first is Swift Swim, which upon evolving into Gyarados, turns into Intimidate. This ability is one of the most powerful in all of Pokémon, especially in Double Battles, as it decreases the attack of your opponent's Pokémon.
The other is Magikarp's Hidden Ability, which is Rattled. Upon evolving into Gyarados, Rattled transforms into Moxie, which increases Gyarados' attack stat every time it knocks out a Pokémon.
You don't have to worry about your Shiny Magikarp's Nature or IVs, as you can manipulate them using various means. You can read more about that in our training guide.
Pokémon Sword and Shield are available now for Nintendo Switch.
'Pokémon Sword and Shield' Shiny Magikarp Max Raid Event Offers Easy Shiny | Newsgeek